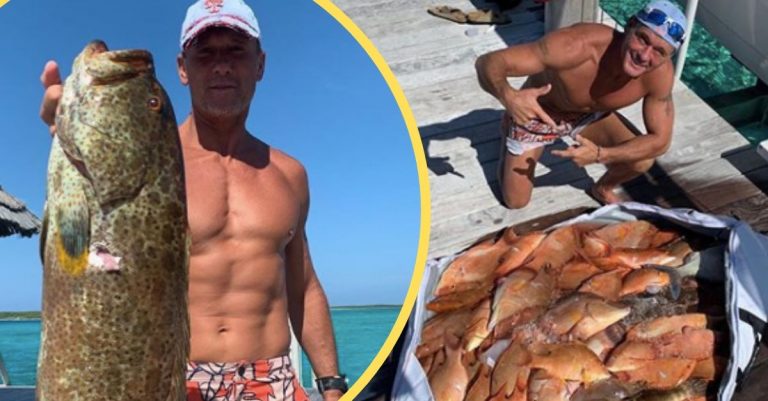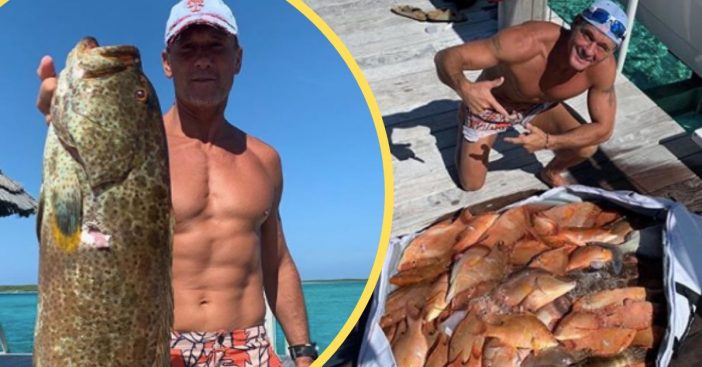 Last month, 52-year-old Tim McGraw posted a photo on his Instagram showing off his newly caught yellowfin grouper. However, his fans were too busy looking at his abs! His following made that known by posting several comments about the way his abs look, and we can't argue with their opinions!
"I'm sure no one even notices the fish," one person writes. "Nice….. and the fish is pretty impressive too," another person says. One person asks, "Did anyone else suddenly feel hot…. I'm sweating." A lot of these comments are just too funny!
See the photo everyone's talking about… Tim McGraw's abs
https://www.instagram.com/p/ByAxSL2gKKt/?utm_source=ig_embed
McGraw is pretty big on spear-fishing and has shared some of his secrets in the past. He says he uses an old-fashioned spear, forgoes a tank, and does a free dive down. The singer also is sure to explain that everything he's doing is legal and the fish gets shared and eaten by all the local people. He notes that "nothing is wasted."
He didn't say where he was vacationing at the time, but many are presuming it was at their home in the Bahamas. McGraw and his wife, Faith Hill, have their own 20-acre island, which they call "L'île d'Anges." The home was theirs in 2008.
https://www.instagram.com/p/BxyApIChnx2/
When they showed off their home to Architectural Digest in 2017, his wife reveals that they had "no idea we had to build everything else." They said they essentially had to "build a little town," including staff houses. They also installed their own running water and electricity. How cool is that, being able to build your own home from scratch?
"It just took our breath away. It still does, every time we go there. Every time we land the plane and walk onto the beach and head up to the house, we turn to each other and say, 'This is the best place in the world,'" McGraw says upon the completion of their home.
https://www.instagram.com/p/Bx5naJWgyj3/
McGraw's Instagram is filled with tons of photos with his catch of the day. He's also no stranger to posting about his family. He recently posted a photo collage of his daughter for her 22nd birthday. It's safe to say that this beautiful family is enjoying themselves and starting off summer the right way!
https://www.instagram.com/p/Bw-EHJfHGZE/
Oh, yeah, definitely doing it the right way! We're so jealous.
Can you believe that Tim McGraw and Faith Hill have been married since 1996? That is incredible!