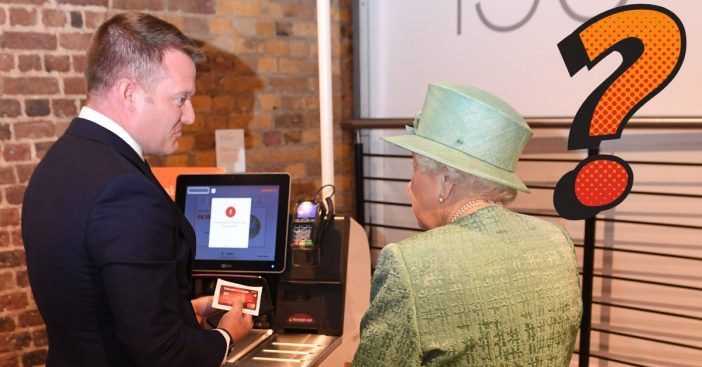 Queen Elizabeth obviously doesn't grocery shop on her own. In fact, she only has been to the supermarket a few times in her lifetime! Recently, she went to a grocery store and saw a self-checkout machine for the first time. Those self-checkout machines have been around for a while, and the Queen had a very retable response to them!
When she learned what they were, she asked, "don't people cheat it?" The 93-year-old had a funny response when she saw these self-checkout machines. She kept asking if people trick or cheat the system and get things for free. That is a very good question!
The reason the Queen was seen at a grocery store
The 93-year-old Queen visited Sainsbury's in London's Covent Garden in honor of their 150th anniversary. A regional manager for the Sainsbury's store was showing the Queen how to use the self-checkout lane when she asked, "And you can't trick it? You can't cheat then?"
The manager laughed and told her that the weighted bagging area ensures that you bag what you scan and pay for. Many self-checkout lines also have cameras and workers watching to make sure people don't sneak and steal something. He also told her that many customers love the convenience. She had a very wise response.
She agreed, adding, "I'm sure they do. Everybody wants to hurry." Very true in this day and age! Do you miss the good old days when people moved a little slower?
Normally, the Queen visits supermarkets for official business. Although, she has been seen slipping away to shop during summer break. That sounds like something she would love to do! She looked as beautiful as ever during the visit as well. Watch the video below to see her visit to the Sainsbury's last week. It looked like a very special event!