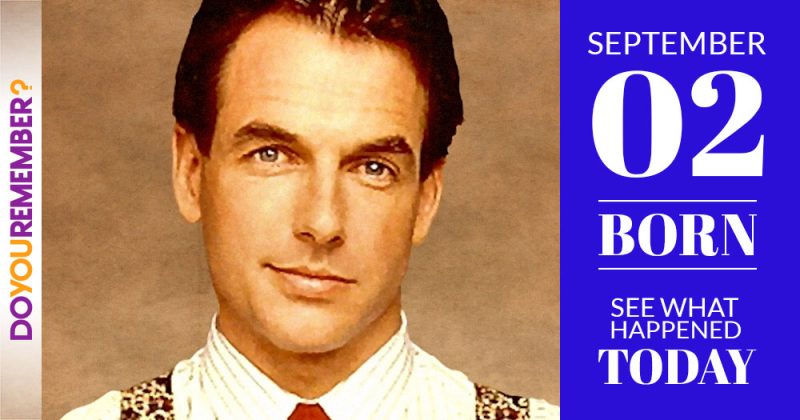 "Born Today"
Aimee Osbourne (32)

Katt Williams (44)

Cedric "K-Ci" Hailey (46)

Camille Grammer (47)

Cynthia Wtros (47)

Tamra Barney (48)

Salma Hayek (49)

Tuc Watkins (49)

Lennox Lewis (50)

Keanu Reeves (51)

Linda Purl (60)

Mark Harmon (64) Pictured Above

Harvey Levin (65)

Robert Shapiro (73)

Mary Jo Catlett (77)
"Died Today"
J.R.R Tolkien (Born: January 3, 1892 / Died: September 2, 1973)

Henri Rousseau (Born: May 24, 1844 / Died: September 2, 1910)

Bob Denver (Born: January 9, 1935 / September 2, 2005)
"Movies"
"Music"
1957 – Elvis Presley had the #1 R&B song with "(Let Me Be Your) Teddy Bear"
1959 – The Isley Brothers released the single "Shout"
1965 – The Beatles earned a Gold record for the single "Help!"

1967 – After five short weeks, "Ode To Billie Joe" by Bobbie Gentry was #1.  The Beatles' former #1 "All You Need Is Love" remained at #2 but the Supremes were #3 "Reflections"
1967 –

Sgt. Pepper's Lonely Hearts Club Band

by the Beatles was the #1 album for the 10th week in a row.  

Headquarters

by the Monke

es

was second followed by

Flowers

from the Rolling Stones.

1968 – The Turtles released the single "Elenore"
1970 – Genesis put out an ad in

Melody Maker

, looking for applications. Drummer Phil Collins responded and eventually got the job.

1972 – The Eagles were on their first tour as a group; they played at the Dane County Coliseum in Madison, Wisconsin.

1972 – Gilbert O'Sullivan spent a sixth week at #1 on the Easy Listening chart with "Alone Again (Naturally)"
1974 – Elton John released the single "The Bitch is Back"
1978 – Teddy Pendergrass gave a "Ladies Only" concert at Avery Fisher Hall in New York City. What guys wouldn't give to have been Teddy on that night.

1978 – The Grateful Dead performed before 66,000 at Giants Stadium in New Jersey.

1978 – Boston's second album

Don't Look Back

debuted at #10.

1978 – The Commodores held on to #1 on the Adult Contemporary chart with "Three Times A Lady"
1978 – Boston moved from 36 to 19 with the title track "Don't Look Back"
1978 – George Harrison married Olivia Trinidad Arias in a private ceremony.  Olivia was with him until the day he died.

1985 – Starship released the single "We Built This City"
1987 – Bruce Springsteen, Sting, Tracy Chapman and Peter Gabriel performed at Wembley Stadium in London as part of the Amnesty International Tour.

1989 – "It's No Crime" by Babyface was the #1 R&B song.
1989 – "Right Here Waiting" from Richard Marx was #1 on the Adult Contemporary chart for a fifth week.  It ranks as the sixth Top AC song of the 1980's.
1989 – The great album

Repeat Offender

moved into the #1 slot for Richard Marx.  

1991 – Garth Brooks released the album

Ropin' the Wind

.

1995 – Michael Jackson reigned on the R&B chart with "You Are Not Alone"
1995 – Michael Jackson debuted at #1 with "You Are Not Alone", holding off the hot song "Gangsta's Paradise" from Coolio and the great movie

Dangerous Minds

.  Seal's "Kiss From A Rose" was #3
https://youtu.be/cpGbzYlnz7c
2000 – Toni Braxton won the Aretha Franklin Award for Entertainer of the Year at the Soul Train Lady of Soul show in Santa Monica, California.  Destiny's Child, Angie Stone and Mary J. Blige each captured two statuettes each.
"TV/Radio"
1965 – The Rolling Stones recorded a performance for the BBC-TV show

Ready Steady Go!

1993 – Neil Young and Pearl Jam performed Young's song "Rockin' In The Free World" at the MTV Video Music Awards.
"Other Important Events…"
1989

– Rev Al Sharpton leads a civil rights march through Bensonhurst

1993

– 10th MTV Video Music Awards: Pearl Jam, En Vogue wins