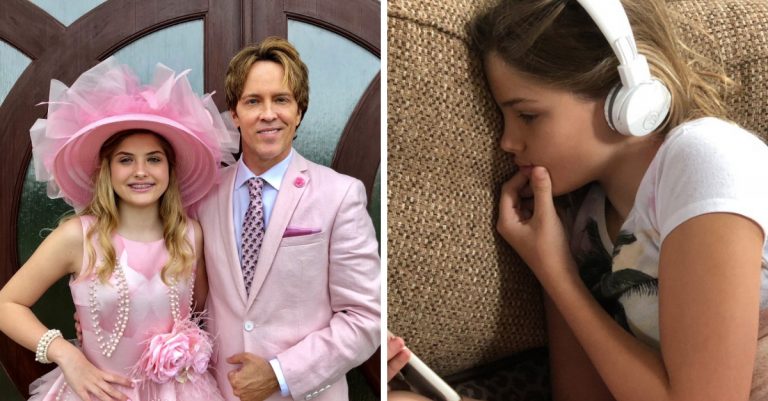 Dannielynn Hope is the daughter of Larry Birkhead and the late Anna Nicole Smith. Dannielynn is 12 years old and her mother died of an accidental drug overdose when she was just five months old. Now, Larry is living the single parent life taking care of his daughter. He has opened up about the reality of being a single parent whose mother of his daughter is Anna Nicole Smith.
The two recently celebrated the Kentucky Derby over the past weekend, as it is a tradition for them to make an appearance each year. Birkhead loves to do everything he can to make his daughter's life as fun and as normal as possible.
What a @KentuckyDerby ! Had a great time courtesy of The Barnstable-Brown Gala. Didn't have the winning horse, but Dannielynn was a winner in her Mom's hat. #prouddadtireddad pic.twitter.com/Ofb93iobLA

— Larry Birkhead (@larrybirkhead) May 4, 2019
Birkhead works as a photographer and also dabbles a bit in real estate. He does everything he can to not put his daughter in the face of Hollywood limelight. During a 20/20 interview in 2017, he said, "I've had companies call me since [Dannielynn appeared in a Guess campaign] and ask for her to model, and that answer's no. She doesn't show any interest in it. She wants to be a kid."
Birkhead also revealed that Dannielynn is just not interested in all that hype. She enjoys typical tween girl things such as participating in Girl Scouts, going on Snapchat, eating French fries, and taking care of her pets.
When you ask your kid enough times what they are watching on their phone, then they quietly add the headphones. #youarentslick #dannielynn pic.twitter.com/iUAUmsu6Ss

— Larry Birkhead (@larrybirkhead) October 14, 2018
"I think here in Kentucky is as normal as you can get," he also said back in 2017. "She loves school. She loves her friends. I just hope that she dreams big and accomplishes a lot." He also adorably revealed that Dannielynn tries to push her father to go out on dates and pursue a love life.
"It's cute when she tries to push me out of the house and get me to date and do things," he says. He says that Dannielynn has suggested Hollywood stars for him to date, including Britney Spears and Ariana Grande.
Wishing Dannielynn a Happy 12th Birthday! Her Mom would be so proud. The celebration is about to start! pic.twitter.com/ThlekFKGNm

— Larry Birkhead (@larrybirkhead) September 7, 2018
Birkhead knows that everything about Anna Nicole Smith is readily available on the Internet. Dannielynn will often cling to her girlfriend's moms and say things like, 'Do you want to adopt me? Would you be my honorary mother?' It must be hard to grow up without a motherly figure.
With that being said, Birkhead has revealed that he's placed a block on his daughter's computer so she doesn't have to see all of this talk about her mother. "We go to the store and she sees magazine covers and stuff and we sit down and I have a talk with her and say, 'You know, you're gonna see these things that come out about your mom and not everything that you're gonna see is true.''
Headed to the Barnstable-Brown Gala with Dannielynn in her Junona ( @junonafashion ) dress,
ready to crash the dessert room #gobigorgohome #KentuckyDerby #Barnstable-Brown #prouddad #freshbraces Thanks to @theDrybar for her poppin' curls, I had to draw the line somewhere 😂 pic.twitter.com/0urnVx9YFP

— Larry Birkhead (@larrybirkhead) May 5, 2018
Be sure to SHARE this article with your friends and family!
Check out the video below of Larry Birkhead's interview with Wendy Williams about his love life with Anna Nicole Smith, his private life with his daughter, and more: