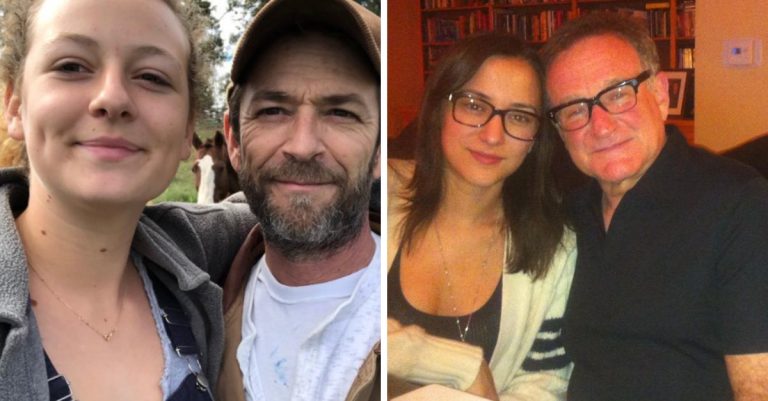 Sophie Perry, the daughter of the late Luke Perry, recently shared a post getting back against online bullies. Zelda Williams, the daughter of the late Robin Williams, reached out in support. It is so nice to see that Sophie has the support of Zelda, who knows what she is going through.
Sophie took to Instagram to share a photo of herself with a long caption about what has been going on. She said that since her father passed away, she has been getting a lot more attention. Unfortunately, some of the attention has been negative, including shaming Sophie for the way she is grieving.
Read Her Entire Post
https://www.instagram.com/p/Bu4fYWRAL5H/?utm_source=ig_embed
Sophie said, "Since my dad died I have received a lot of attention online. And most of it has been positive but of course, some people just can't be nice. And I'm here to say that I did not ask for this attention, I did not ask to be thrown into some virtual spotlight, and while I don't mean to offend anybody, I'm also not going to cater to anyone else's needs and beliefs. I'm 18. I swear like a sailor and sometimes I dress like a hooker. And I support causes and you may not."
https://www.instagram.com/p/Buo6FIuAhfB/
The post continues, "And most importantly. I am going to laugh and smile and live my normal life. YES, I am hurt and sad and crying and beside myself with what happened to my dad. It's the worst thing to ever happen in my life. And I am torn the f*ck up over it. But I'm not going to sit in my room and cry day in and day out until the internet has deemed it appropriate for me to do otherwise. And if you knew my dad you would know he wouldn't want me to. So you shouldn't either. So to those of you shaming me for my language and my wardrobe and most disgustingly, my grieving process, do us both the favor and just unfollow. It's a waste of both of our time."
Find Out What Zelda Commented
https://www.instagram.com/p/BUQRnwsgv5-/
Zelda jumped in at Sophie's defense. She commented, "There will always be keyboard trolls waiting to tell you how to 'properly' publicly mourn to suit their impossibly silly standards, and while I will never understand their reasoning, know that however you decide to for you, that's completely ok!"
She continues, "There are hundreds, THOUSANDS, more supportive people than there are a—- in this world thankfully, but I've been there, and that sudden, horrible spotlight at the worst moment of your life SUCKS HARD," she continued. "Do what YOU need, when you need it, and take care of your heart first. And laugh, as loud and as often as you can. You've got this, and when you don't, the people that love you have got you. Sending you and your family a big hug in this hard time."
https://www.instagram.com/p/BlbQ0cjH4cv/
Sophie responded to Zelda saying that it was so inspiring to hear from her and thanked her for her kind comment. Perhaps these two will bond over their shared experience and become friends. Zelda has talked out in the past about having a hard time dealing with the media and fans after her father's death. Robin Williams died from suicide in 2014. 
What do you think about Sophie's post and Zelda's comment? We wish both of these girls the best and hope they continue to heal from their father's passings. If you found this article interesting, please SHARE with your friends and family!