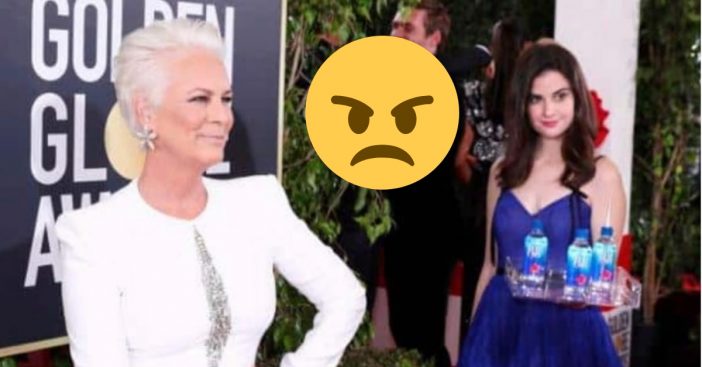 Many laughed over the photos of Kelleth Cuthbert, otherwise known now as the "Fiji Water Girl," photobombing celebrities on the Golden Globes red carpet. However, Jamie Lee Curtis was not thrilled. In fact, she was pretty furious about the whole thing.
Jamie Lee posted a photo on Instagram with a caption that read, "I specifically moved away from the blatant promotions by Fiji and Moet where young women with their trays filled with their wares stood near a designated camera. I knew why there was a photographer poised there and I moved away as I said out loud that I didn't want to be doing advertising for either."
Then Jamie Lee's Husband Found Something Else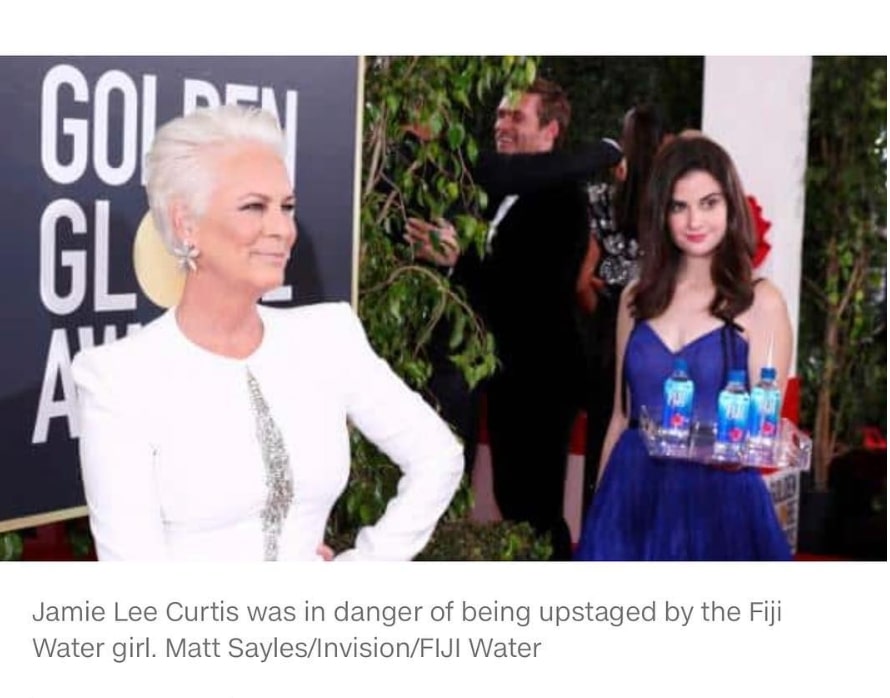 Later, Jamie Lee's husband, Christopher Guest, found a photo on CNN of Jamie Lee with the "Fiji Water Girl" in the background. CNN joked that Jamie Lee was in danger of being upstaged by the girl holding a tray of waters and Jamie Lee was not having it.
https://www.instagram.com/p/BsUPN-rnX7P/
She went on to say, "Clearly this angle shows that I moved from her being behind me and yet from the side it still happens. The sponsors of events need to get permission from people when they get them to take their picture next to products."
Find Out How Much Fiji Earned In Free Advertising
https://www.instagram.com/p/BsbETzqH4kg/
It was reported that Fiji water earned an estimated $12 million in free advertising from their stunt on the Golden Globes red carpet. Fans of Jamie Lee rushed to her defense online agreeing that it was rude and very disrespectful to put Jamie Lee in advertising photos without her consent. What is your take on this? Is it all in good fun or blatantly disrespectful?
One fan even said wrote back to CNN on their comment that Jamie Lee was in danger of being upstaged. The fan commented on Instagram, "@curtisleejamie is in danger of being upstaged by NO ONE. Even Michael Myers takes a backseat okay."
https://www.instagram.com/p/BsT-BM4HO5c/
This comment refers to Jamie Lee's most recent film, Halloween, where she reprised her role as Laurie Strode fighting back against Michael Myers. As for the Golden Globes, Jamie Lee looked gorgeous in a white dress and showed off her naturally gray hair. We think she looks amazing!
https://www.instagram.com/p/BsUYVzGnLzZ/
Do you agree with Jamie Lee Curtis or do you think she is overreacting? If you found this article interesting, please SHARE with your friends and family who love Jamie Lee Curtis and see what they think about this!