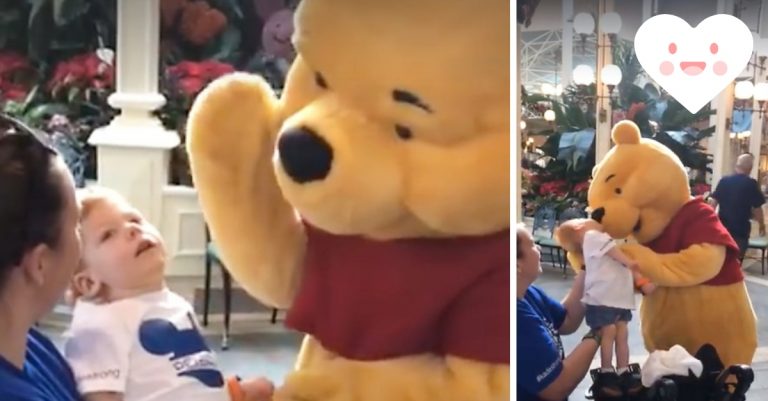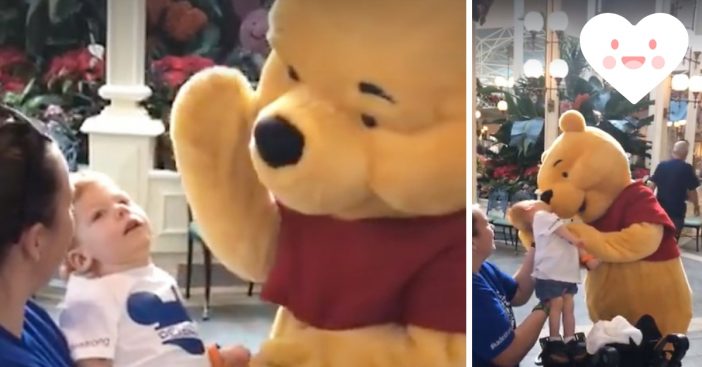 The characters at Disney World can be entertaining and fun to meet. But, for some families with disabled children, it can be nerve-wracking to find out how their children will react to these sometimes strange looking characters. One Winnie the Pooh at Disney World knew exactly what to do when he met a baby with cerebral palsy.
A mom named Jessie Barber from Kentucky filmed the moment that Winnie the Pooh comforted her son at Disney World. They were at a character breakfast at the Crystal Palace in Disney World's Magic Kingdom. During their meal, Winnie the Pooh came over to the family and started snuggling the boy who was sitting in an adaptive stroller.
What Happened Next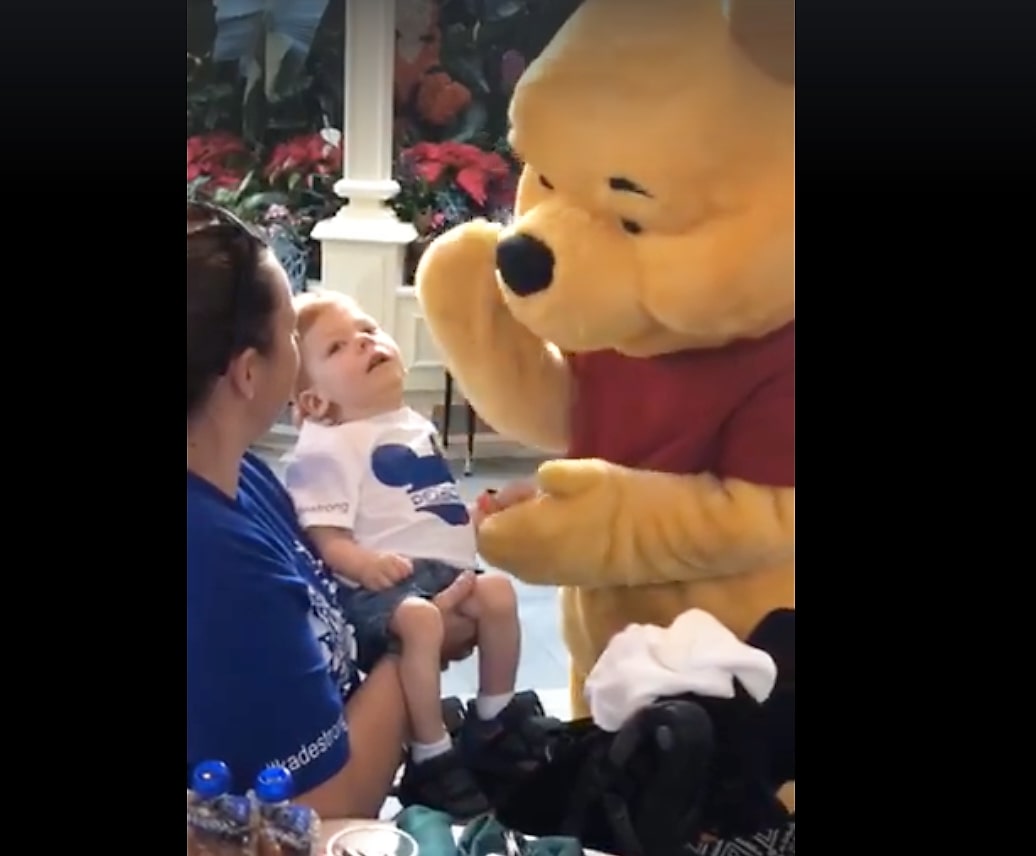 Even though her son is 18 months old, he functions as a 4 to 6-month-old because of his cerebral palsy. He mostly communicates through smiles and facial expressions and doesn't always like stimulating and crowded places like theme parks. However, from the video, you can tell how much he loves Winnie the Pooh and really responded to him. It is so sweet to see how well the person in the Winnie the Pooh costume knew how to interact with the little boy.
Here's What Jessie Shared On Facebook About The Encounter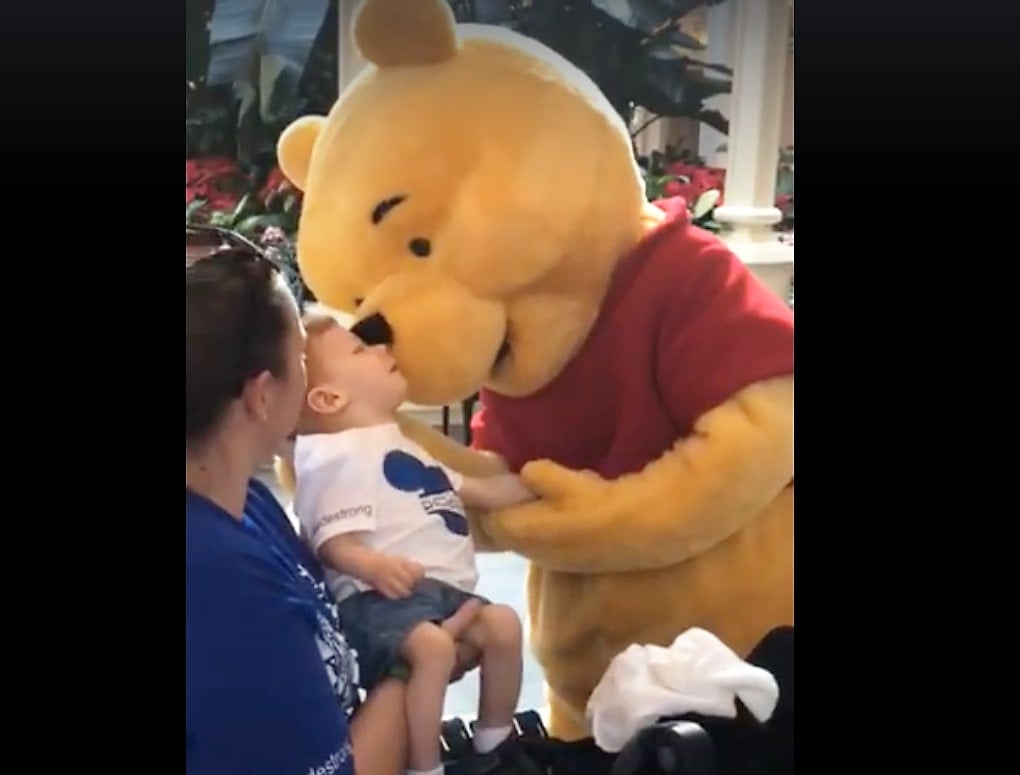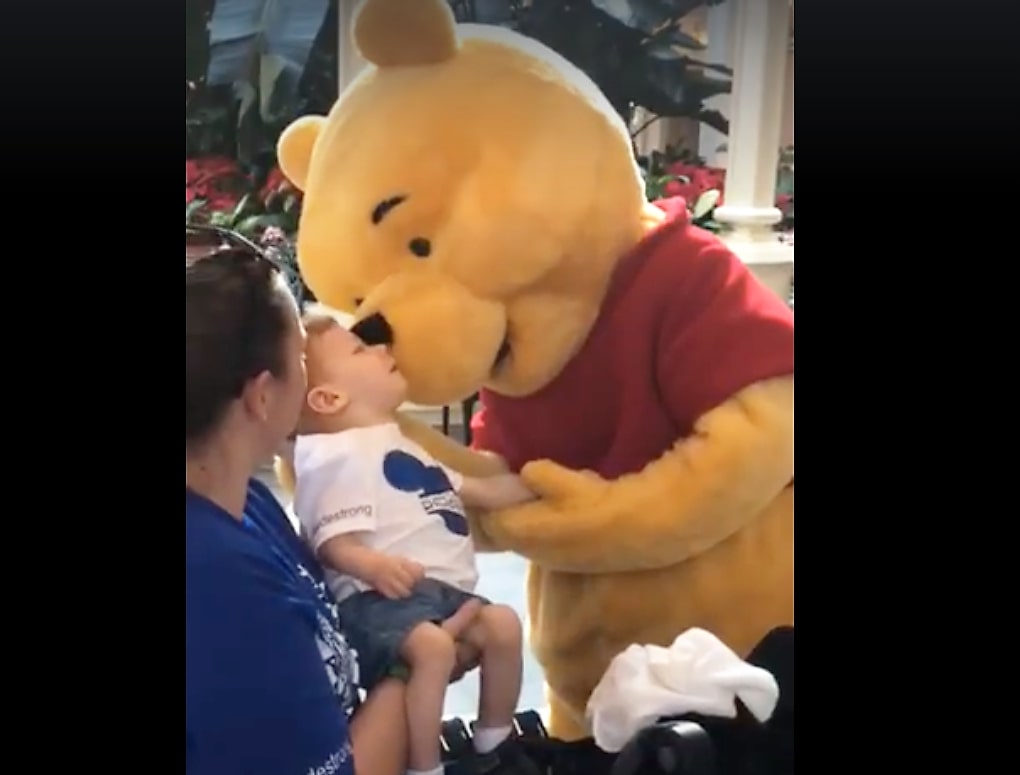 Winnie the Pooh even hung around their son for about ten minutes to help calm him. He wouldn't let go of his hands. Jessie shared the video on Facebook which now went viral and said, "For those of you who have disabled children know the feeling when people look but aren't sure how to interact with your kiddo. This Winnie the Pooh melted my heart and knew exactly what to do! He spent 10+ minutes with our little guy and he loved every second of it. Thank you, Pooh!"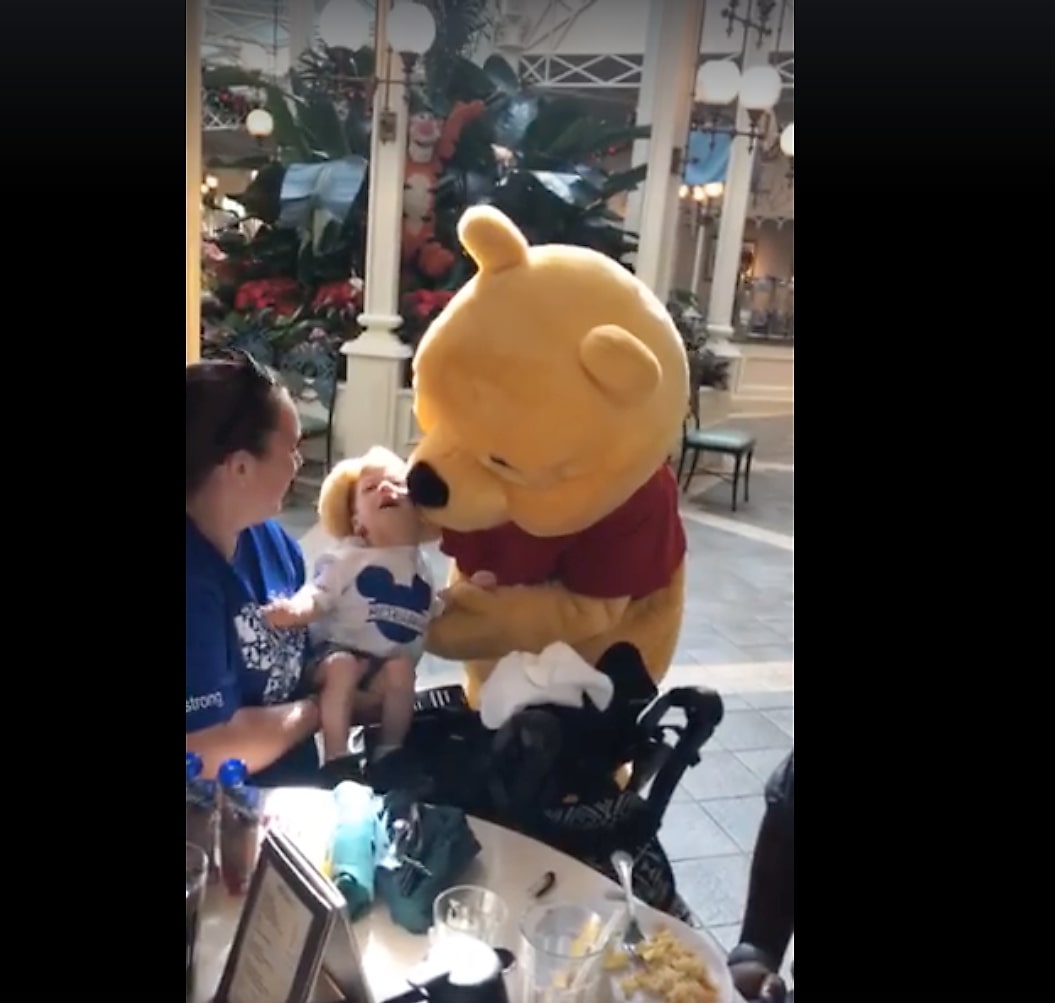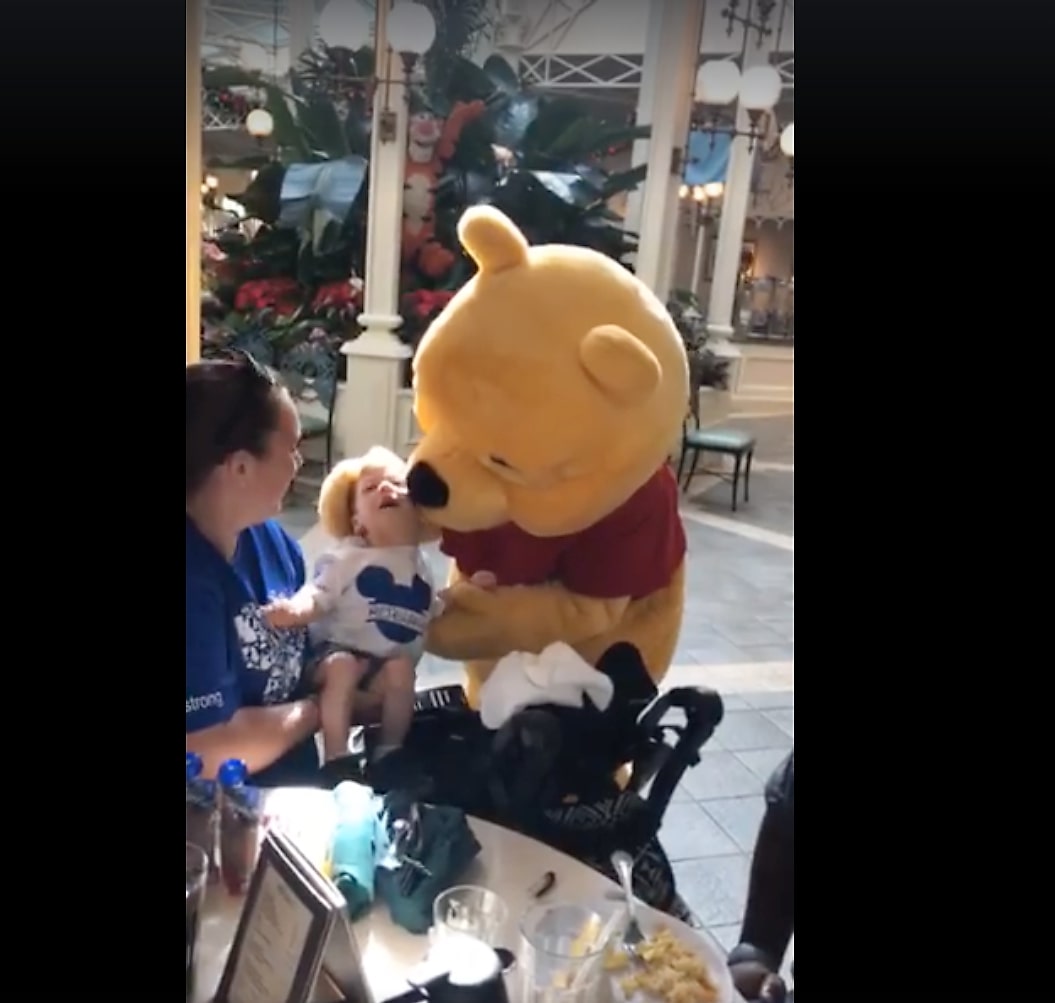 The next day the family saw Winnie the Pooh walking around again at a different restaurant. Her son saw him and started smiling. Jessie later bought a Winnie the Pooh pin for his stroller. She also reached out to guest services to share what a difference the worker wearing that Winnie the Pooh costume made. They wanted to make sure they were recognized. We hope that they were recognized for going above and beyond!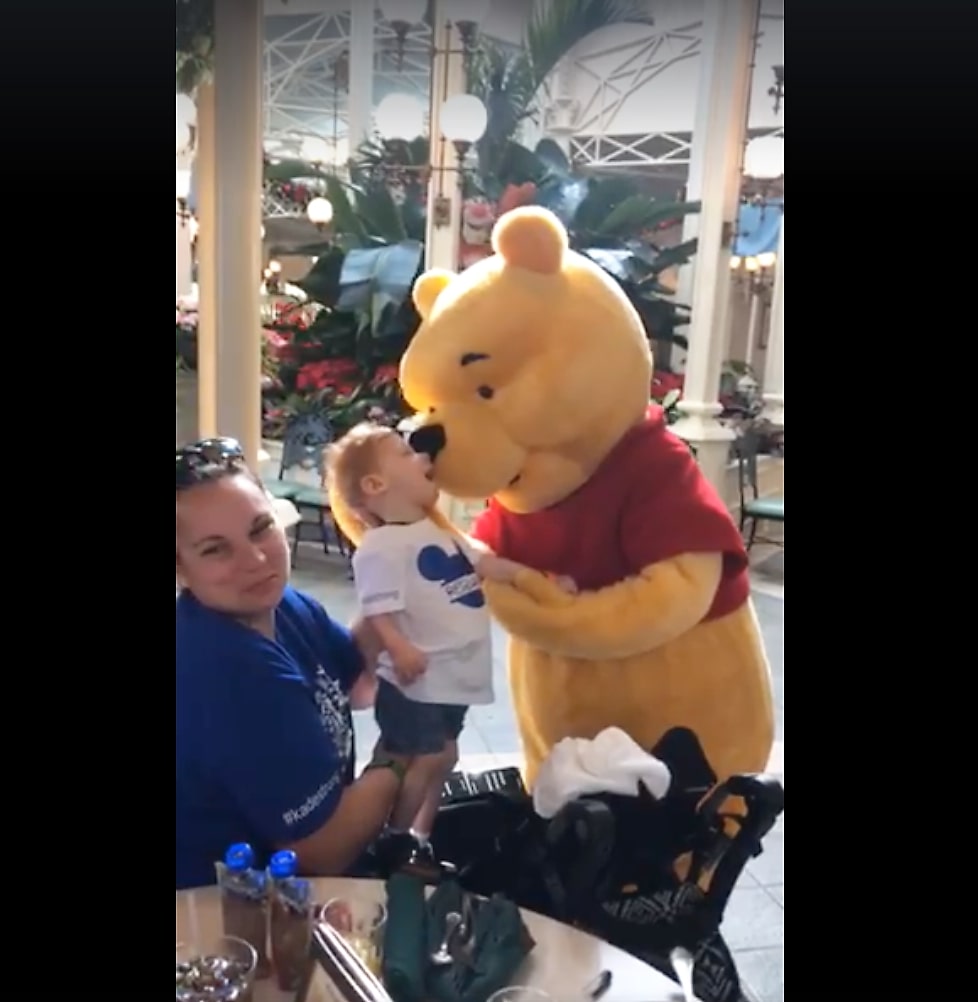 If you enjoyed this heartwarming story, please SHARE with all of your friends and family! Watch the complete video for yourself below and be prepared to shed some happy tears after watching this sweet moment:
RELATED: The "Real" Winnie The Pooh Is Actually A Girl And People Can't Believe It