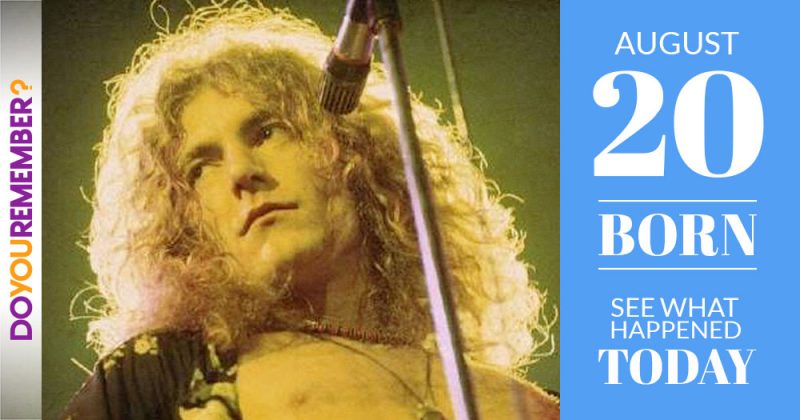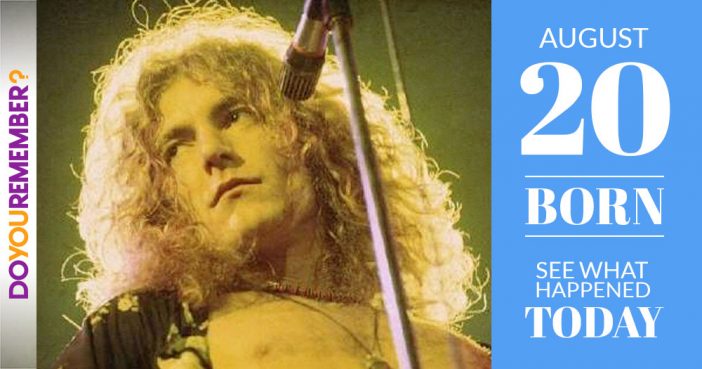 Born today-Robert Anthony Plant (20 August 1948) is an English musician, singer, and songwriter best known as the lead singer and lyricist of the rock band Led Zeppelin.

"Born Today"
Demi Lovato (23)

Alex Newell (23)

Brant Daugherty (30)

Andrew Garfield (32)

Meghan Ory (33)

Ben Barnes (34)

Jamie Cullum (36)

Nicole Curtis (39)

Amy Adams (41)

Misha Collins (41)

Santino Rice (41)

David Walliams (44)

Jonathan Ke Quan (44)

Fred Durst (45)

KRS-One (50)

Carole Radziwill (52)

James Marsters (53)

David O. Russell (57)

Joan Allen (59)

Al Roker (61)

Robert Plant (67)

Connie Chung (69)

Don King (84

Issac Hayes (RIP)

Benjamin Harrison (RIP)
"Died Today"
"Movies"
"Music"
1955 – "Maybellene" was Chuck Berry's first hit.

1965 – Davy Jones & The Lower Third released the single 'You've Got a Habit of Leaving' the last song that David Bowie (born David Jones), released before changing his name to avoid confusion with Davy Jones of The Monkees, and the first of two singles that he recorded with The Lower Third after leaving his previous band, The Manish Boys.

1960 – Connie Francis began her first movie

Where the Boys Are

in Fort Lauderdale, Florida.

1964 – Shirley Bassey recorded "Goldfinger" in London for an upcoming James Bond movie of the same name.
1966 –  "Ain't Too Proud To Beg" by the Temptations was #1 for the eighth week on the R&B chart.

1967 – A new noise reduction system for recording of both albums and tapes was developed by R. and D.W. Dolby, a modified version of the process already in use in recording studios.

1968 – Bobby Darin sold his music publishing company for a million dollars.

1969 – The Beatles were together in the studio for the final time as they finished recording of "I Want You (She's So Heavy)".

1973 – Gladys Knight & the Pips released the single "Midnight Train to Georgia"

1973 – The Allman Brothers Band released the single "Ramblin' Man"

1977 – Barbra Streisand topped the Adult Contemporary chart for a fourth week with "My Heart Belongs to Me"
1977 – The Emotions scored a #1 song with "Best of My Love"

1979 – Bob Dylan released his album,

Slow Train Coming

.

1979 – Donna Summer released the single "Dim All The Lights"
1983 – Madness, Joan Jett, The Police and R.E.M. all appeared at JFK Stadium in Philadelphia.

1986 – Huey Lewis & the News released the album

Fore!

1988 – Steve Winwood went to No.1 on the US album chart with his fifth solo album Roll With It

1988 – Iron Maiden, KISS, David Lee Roth, Megadeth, Guns N' Roses and Helloween all appeared at this year's 'Monsters Of Rock' Festival, Castle Donington, England. Two rock fans died while 'slam dancing' as Guns N' Roses played.

1988 – Elton John took a turn at #1 on the Adult Contemporary chart with his eighth #1 AC hit "I Don't Wanna' Go On With You Like That"
1994 – "I'll Make Love To You" by Boyz II Men took over the #1 slot on the R&B chart.
1994 – Lisa Loeb & Nine Stories had the #1 song "Stay (I Missed You)" for the third week but hot on their tails were Boyz II Men, who made an unbelievable jump from 31 to 2 with "I'll Make Love To You"

1999 – Bobby Sheehan, bass guitarist of Blues Traveler, was found dead in his apartment.

2000 – Janet Jackson hit No.1 on the US singles chart with "Doesn't Really Matter"
2000 – Spiller went to No.1 on the UK Singles chart with "Groovejet"
"TV/Radio"
1997 – BBC TV aired the documentary 'Oasis Right Here Right Now', with the group talking about their troublesome last year, plus performances of three new songs from the Manchester band.
"Other Important Events…"
1992 –  A US Doctor filed a $35m lawsuit against the Southwest Bell phone company. He alleged that his wife died because he could not reach 911 due to all lines being jammed by demand of Garth Brooks concert tickets.