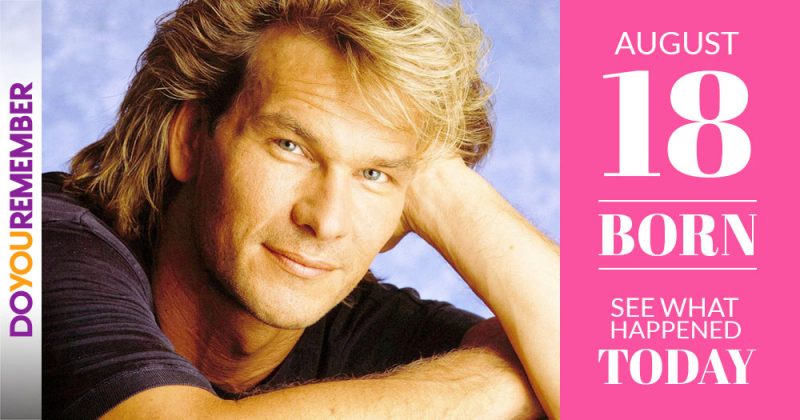 This Week Would've Been Patrick Swayze's Birthday and Also The Anniversary of his hit film Dirty Dancing.

"Born Today"
Frances Bean Cobain (23)

Mika (32)

Andy Samberg (37)

Malcolm-Jamal Warner (45)

Edward Norton (46)

Everlast (46)

Christian Slater (46)

Bob Harper (50)

Craig Bierko (51)

Eddie Santiago (60)

Bob Woodruff (54)

Madeleine Stowe (57)

Denis Leary (58)

Carole Bouquet (58)

Elayne Boosler (63)

Martin Mull (72)

Robert Redford (80)

Roman Polanski (82)

Rosalynn Carter (88)

Patrick Swayze (RIP)
"Died Today"
Ralph Byrd (Born:

April 22, 1909 / Died: August 18, 1952)

Bob Novak (Born:

February 26, 1931 / Died: August 18, 2009)

Cleo Ridgely (Born:

May 12, 1894 / Died: August 18, 1962)

Mildred Davis (Born:

February 22, 1901 / Died: August 18, 1969)

Beverly Bayne (Born:

November 11, 1894 / Died: August 18, 1982)

Persis Khambatta (Born:

October 2, 1948 / Died: August 18, 1998)
"Movies"
"Music"
1956 – "My Prayer" from the Platters, was #1 on the R&B chart.

1958 – The Kalin Twins had the top U.K. song with "When"

1958 – Don Gibson scored his second Country #1 hit with "Blue Blue Day" which remained on the Country charts for a total of six months.

1958 – Domenico Modugno posted the second #1 in the history of

Billboard

magazine with "Nel Blu Dipinto Di Blu (Volare)"

1962 – Ringo Starr debuted with the Beatles as their new drummer at a concert at the Horticultural Society Dance in Birkenhead, England.

1962 – Bobby Vinton posted his fourth week at #1 on the Easy Listening chart with "Roses Are Red (My Love)"
1969 – Mick Jagger was accidentally shot in the hand during the filming of the movie

Ned Kelly

in Australia.

1969 – Edward Bear opened for Led Zeppelin at the Rock Pile in Toronto, Ontario, Canada.

1973 – The Pointer Sisters released their first single "Yes We Can Can" in February, but on this date, the news was that it finally became their first hit, debuting on the charts.

1973 – Marvin Gaye hit #1 on the R&B chart with "Let's Get It On"

1973 – Diana Ross hit #1 again with "Touch Me In The Morning"
1973 – Conway Twitty & Loretta Lynn were at #1 on the

Billboard

country chart with "Louisiana Woman, Mississippi Man"

1976 – Marvin Gaye faced two consecutive five-day prison terms in the Los Angeles county jail for contempt of court after missing alimony and child support payments.

1977 – Waylon Jennings was at #1 on the US country album charts with

Ol' Waylon.

1979 – Moon Martin had the highest-debuting song with "Rolene"

1979 – Chic made it four weeks at #1 on the R&B survey with "Good Times"
1979 – Maxine Nightingale had one of the top Adult Contemporary songs of the 70's as "Lead Me On" hit #1 for a seventh week.
1982 – Liverpool, England named four streets after the Beatles- John Lennon Drive, Paul McCartney Way, Ringo Starr Drive and George Harrison Close.

1983 – The Police, Joan Jett & the Blackhearts and R.E.M. were at Shea Stadium in New York City.

1984 – Prince enjoyed eight weeks at #1 on the R&B chart with his classic "When Doves Cry"

1984 – Lionel Richie had the top AC song with "Stuck On You" for the third straight week.
1986 – Bon Jovi released the album

Slippery When Wet

1989 – Regal, Minnesota had the honor of being the smallest place Johnny Cash had ever played. The farm town, consisting of two bars, a church and a baseball field, only had a population of around 45 people, although a crowd approaching 5000 people, mostly from out of town, attended the show, billed as

Cornstalk '89.

1990 – Romeo Beresford (Jazzie B) from Soul II Soul was injured in a seven-car pileup while en route from Detroit, Michigan to Chicago, Illinois.

1990 – "Vision Of Love" gave Mariah Carey a #1 song on the R&B chart for a second week.
1999 – Johnny Byrne, guitarist with Rory Storm and the Hurricanes, died from motor neurone disease in Liverpool, Merseyside, England at the age of 59.

1999 – Alice Cooper claimed that the KISS song "Dreamin'" was copied from his 1971 song "Eighteen"
"TV/Radio"
1958

– Betsy Palmer joins Today Show panel

1967 – WCBS radio in NYC goes all-news
"Other Important Events…"
1958 – Vladimir Nabokov's novel "Lolita" was published.

1966 – The first pictures of earth taken from moon orbit were sent back to the U.S.

1997 – Patrick Swayze received a star on the Hollywood Walk of Fame.