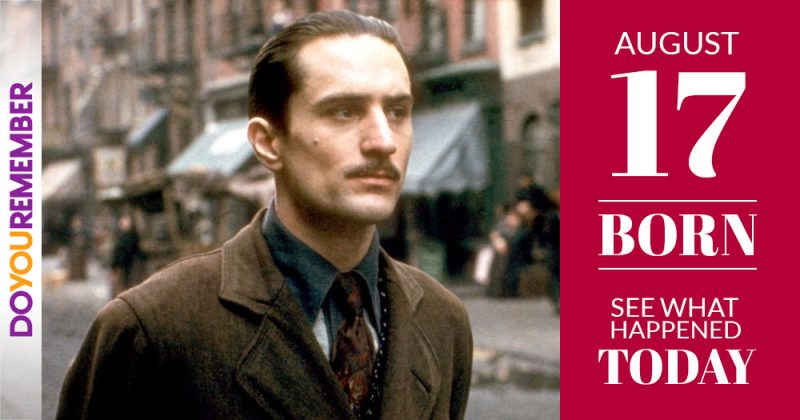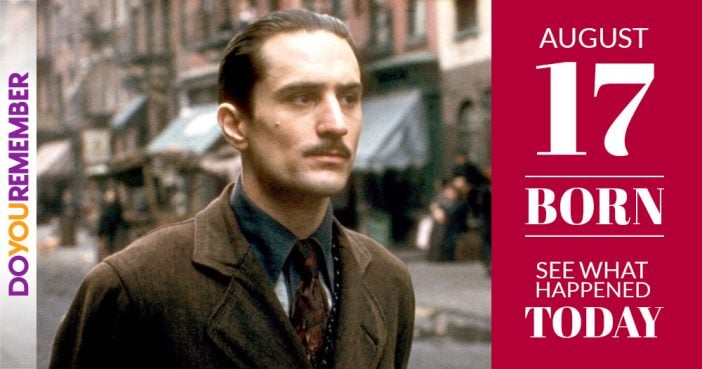 Born today-Robert Anthony De Niro (born August 17, 1943) is an American actor and a producer who has starred in over 100 films.

"Born Today"
Gracie Gold (20)

Taissa Farmiga (21)

Austin Butler (24)

Rachel Hurd-Wood (25)

Lil B (26)

Brady Corbet (27)

Bryton James (29)

Mark Salling (33)

Giuliana Rancic (41)

Donnie Wahlberg (46)

Helen McCrory (47)

David Conrad (48)

Gilby Clark (53)

Sue Hawk (54)

Sean Penn (55)

Belinda Carlisle (57)

Rick Hilton (60)

Judith Regan (62)

Kevin Rowland of Dexys Midnight Runners (62)

Martha Coolidge (69)

Robert De Niro (72)

Larry Elison (71)

Davy Crockett (RIP)

Mae West (RIP)

Maureen O' Hara (RIP)
"Died Today"
"Movies"
"Music"
1952 – Hank Williams was arrested in Alexander City, Alabama for public intoxication. The famous photo of Hank Williams shirtless was taken as he was let out of jail later in the day.

1959 – Elvis Presley hit #1 for the second straight week with "A Big Hunk O' Love"
1959 – Brook Benton remained at #1 on the R&B chart with "Thank You Pretty Baby"

1960 – The Beatles performed outside of their native England for the first time, taking up a three-month residency at Indra Club in Hamburg, Germany.

1963 – "Blowin' In The Wind" remained at #1 for a third week on the Adult Contemporary chart for Peter, Paul & Mary.  
1963 – "Fingertips -Pt. 2" by Little Stevie Wonder took another week at #1

1965 – Smokey Robinson & the Miracles recorded "Going To A Go-Go"

1966 – The Hollies wrapped up the recording of "Stop! Stop! Stop!" at Abbey Road Studios in London.
1967 – Twin Falls, Idaho's Gary Puckett & the Union Gap recorded their first single "Woman, Woman"

1968 – "Classical Gas," one of The Top 100 Instrumentals of the Rock Era, moved to #1 on the Easy Listening chart.

1968 –  "People Got To Be Free" by the Rascals, moved from 5 to 1 on this date.

1969 – Woodstock Music and Art Fair came to a close with a third and final day of performances. On its third day, Jimi Hendrix, Crosby, Stills, Nash & Young, Blood, Sweat & Tears, the Band, Johnny & Edgar Winter, Joe Cocker, Ten Years After, Country Joe and the Fish, Sha-Na-Na, the Paul Butterfield Blues Band and the Grease Band performed.

1973 – Paul Williams, who left the Temptations in 1971, was found dead by police in Detroit, Michigan. His death was ruled a suicide.

1974 – Patrick Moraz replaced Rick Wakeman in the group, Yes.

1974 – Fleetwood Mac won an injunction against another band touring under the same name.

1974 – Paper Lace rose to the final rung on the chart with "The Night Chicago Died"

1974 –

461 Ocean Boulevard

by Eric Clapton was the new #1 album, taking over from John Denver's

Back Home Again

.

1977 – The day after Elvis Presley's death, U.S. President Jimmy Carter said:

"Elvis Presley's death deprives our country of a part of itself.  He was unique, irreplaceable.  More than twenty years ago, he burst upon the scene with an impact that was unprecedented and will probably never be equaled.  His music and his personality, fusing the styles of white country and black rhythm and blues, permanently changed the face of American popular culture.  His following was immense.  And he was a symbol to people the world over of the vitality, rebelliousness and good humor of this country."

1977 – FTD Florists reported that the number of flowers to be delivered to Graceland in Memphis,Tennessee (the home and final resting place of Elvis Presley, who died August 16) exceeded the record for any event in the company's history.

1984 – Motley Crue made its live debut in the U.K. at the Monsters of Rock festival in Castle Donington, England.

1985 – Godley & Creme moved into the Top 40 with "Cry"

1985 –

Reckless

by Bryan Adams continued to set the pace on the Album chart with Tears For Fears poised to strike from the #2 position with

Songs From the Big Chair

.

1985 –

Highwayman

featuring Waylon Jennings, Willie Nelson, Johnny Cash and Kris Kristofferson was at #1 on the

Billboard

Country album chart.

1985 – Tears for Fears remained at #1 for a third week with "Shout"

1986 – 42 people were beaten at a Run D.M.C. concert in Long Beach, California.

1987 – Gary Chester, member of the Coasters, died of cancer at the age of 62.  Chester played on songs such as "It's My Party," "Under The Boardwalk," "Brown Eyed Girl" and "Walk On By."

1991 – Peabo Bryson had #1 R&B hit with "Can You Stop The Rain"

1991 – George Strait's "You Know Me Better Than That" was at #1 on the

Billboard

country singles chart, the second single from his 1991 album

Chill of an Early Fall.

1996 – Los Del Rio remained at #1 for a third week with "Macarena"

1998 – Carlos Santana received a star on the Hollywood Walk of Fame.
"TV/Radio"
1969 – Steppenwolf performed on

The Ed Sullivan Show

.

1979 – John Lennon and Bob Dylan starred in the PBS documentary

Eat the Document

.  Footage of Dylan's 1966 tour in the U.K. was originally slated to air on ABC-TV, but the network rejected the cut. The film was released in 1970, and shown at the Academy of Music in New York City on February 8 of 1971, but has rarely been seen since.
"Other Important Events…"
1903 – Joseph Pulitzer donated a million dollars to Columbia University. This started the Pulitzer Prizes in his name.

1939 – The movie "Wizard of Oz" premiered in New York. It had premiered in Hollywood on August 15.

1992 – Woody Allen admitted to being romantically involved with Soon-Yi Previn. The girl was the adopted daughter of Mia Farrow, Allen's longtime companion.

1998 – U.S. President Clinton admitted to having an improper relationship with Monica Lewinsky, a White House intern.