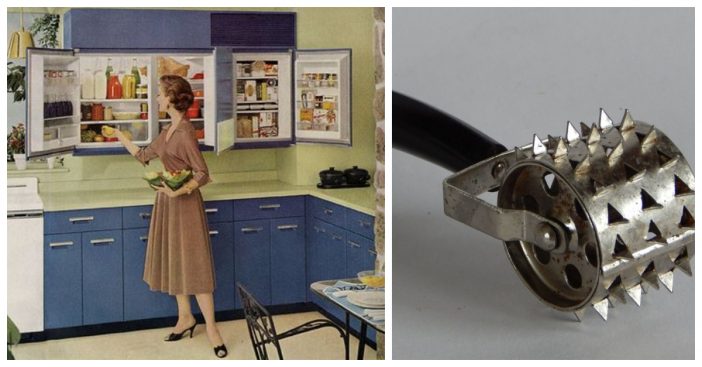 UPDATED 1/10/2023
The 1950s was a time of common kitchen items that, by today's standards, seem more like antiques. They're so special that you pretty much don't see them anymore, but stop by an antique shop and you're sure to come across some decorative breadboxes or other popular '50s items that may not even exist anymore.
Many of these objects still actually do exist, but have changed drastically over time in terms of their appearance and how they work. We're sure you'll recognize these 15 things that every '50s mom had in her kitchen!
1. Cookie Press
The '50s cookie press was perfect for pumping out some delicious, homemade cookies of any flavor. Definitely looks a lot different these days!
2. Wall-hung GE Refrigerator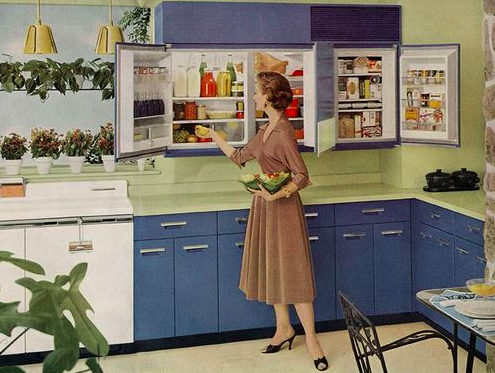 It may look like a cabinet attached to the wall, but in this case it's a GE refrigerator. Instead of being long and tall like they are today, they were actually aligned horizontally. Maybe it's us, but there's actually something appealing about the way this looks.
3. Cake Breaker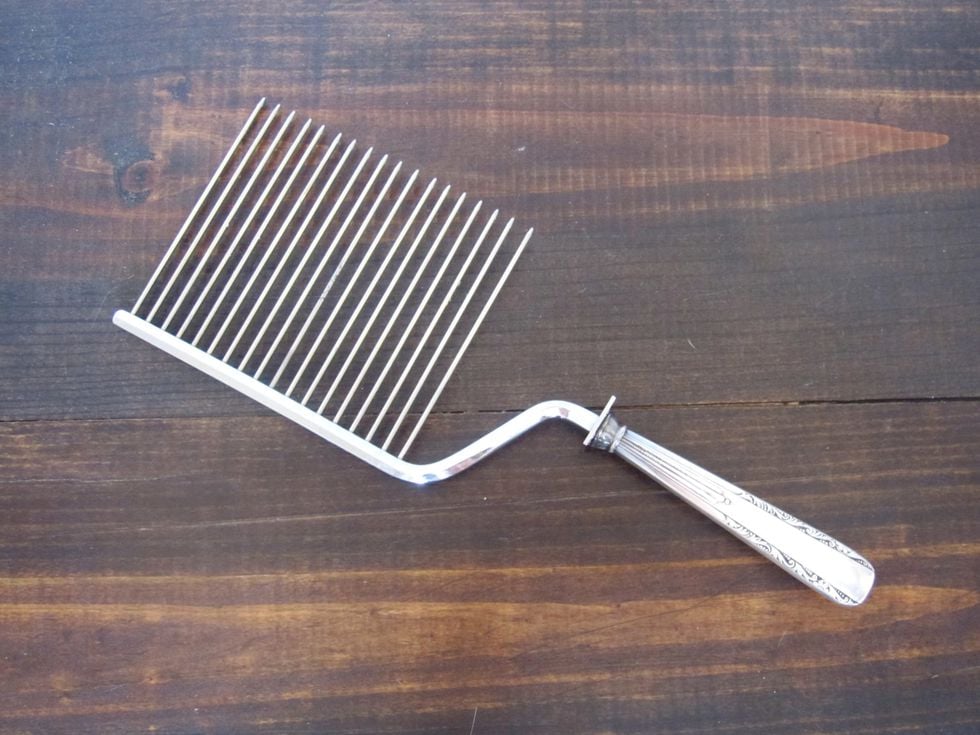 It's definitely a little intimidating to look at, but it sure was a great tool for cutting delicate cakes back in the day!
4. Flour, Sugar, and Tea Canisters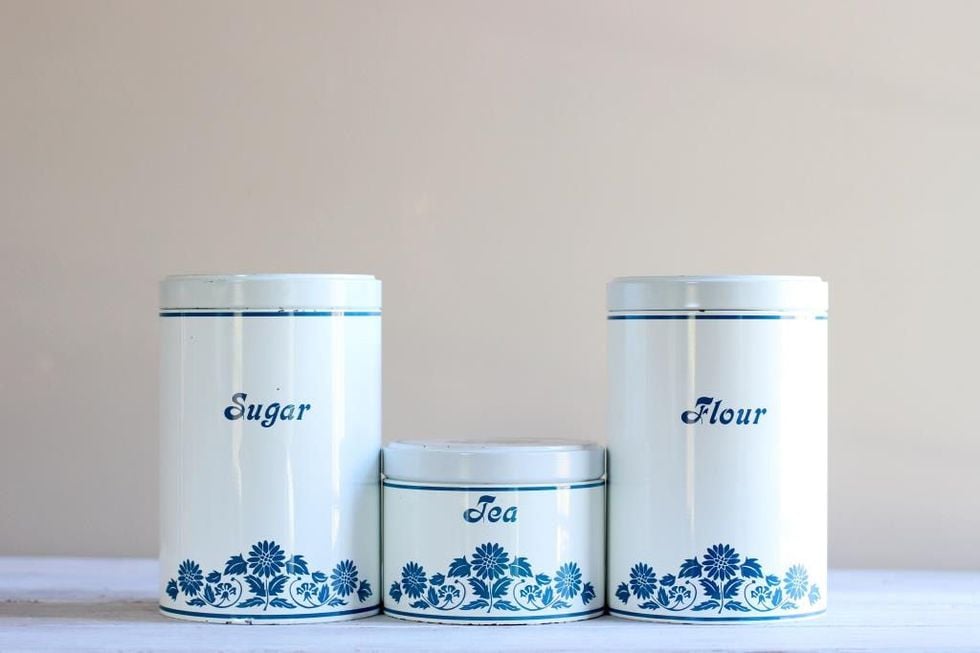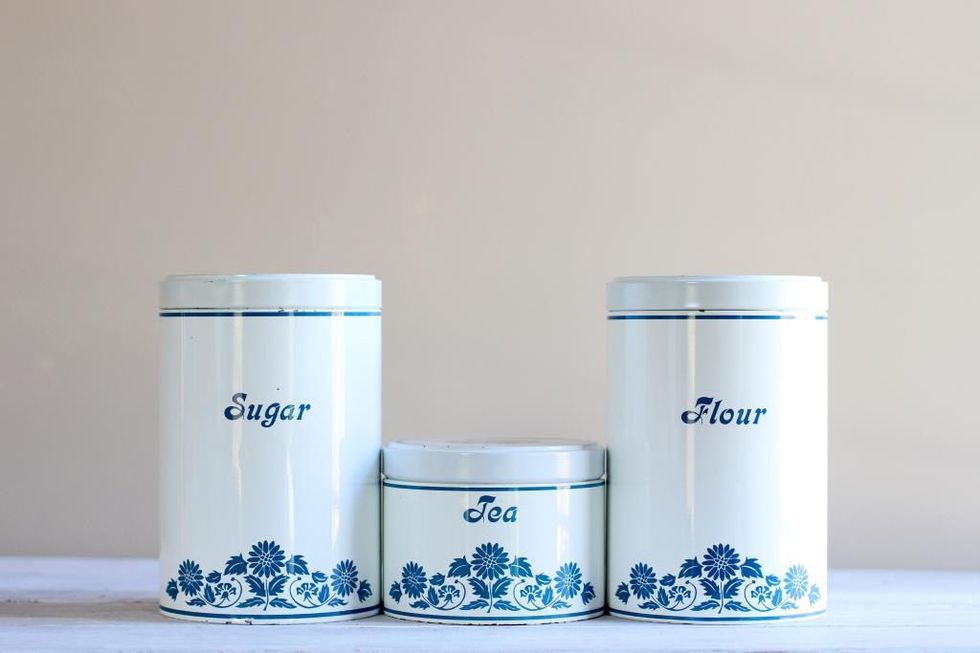 You could find anything you needed in one of these vintage canisters. You won't believe how much these can go for on eBay these days.
5. Butter Molds
What we know as a simple stick of butter today was actually crafted and molded beautifully by butter molds. Even though it ended up being cut into, the presentation is key.
6. Egg Poacher Pan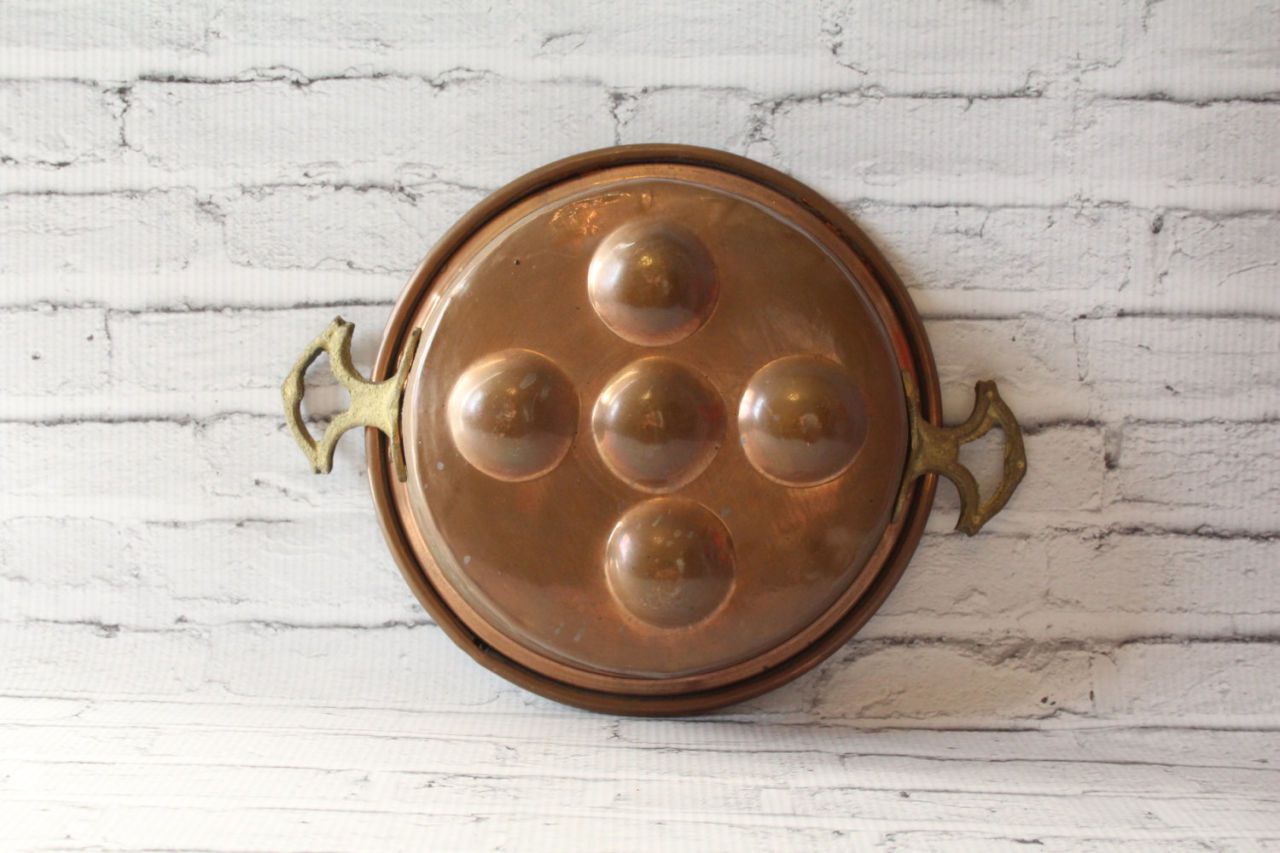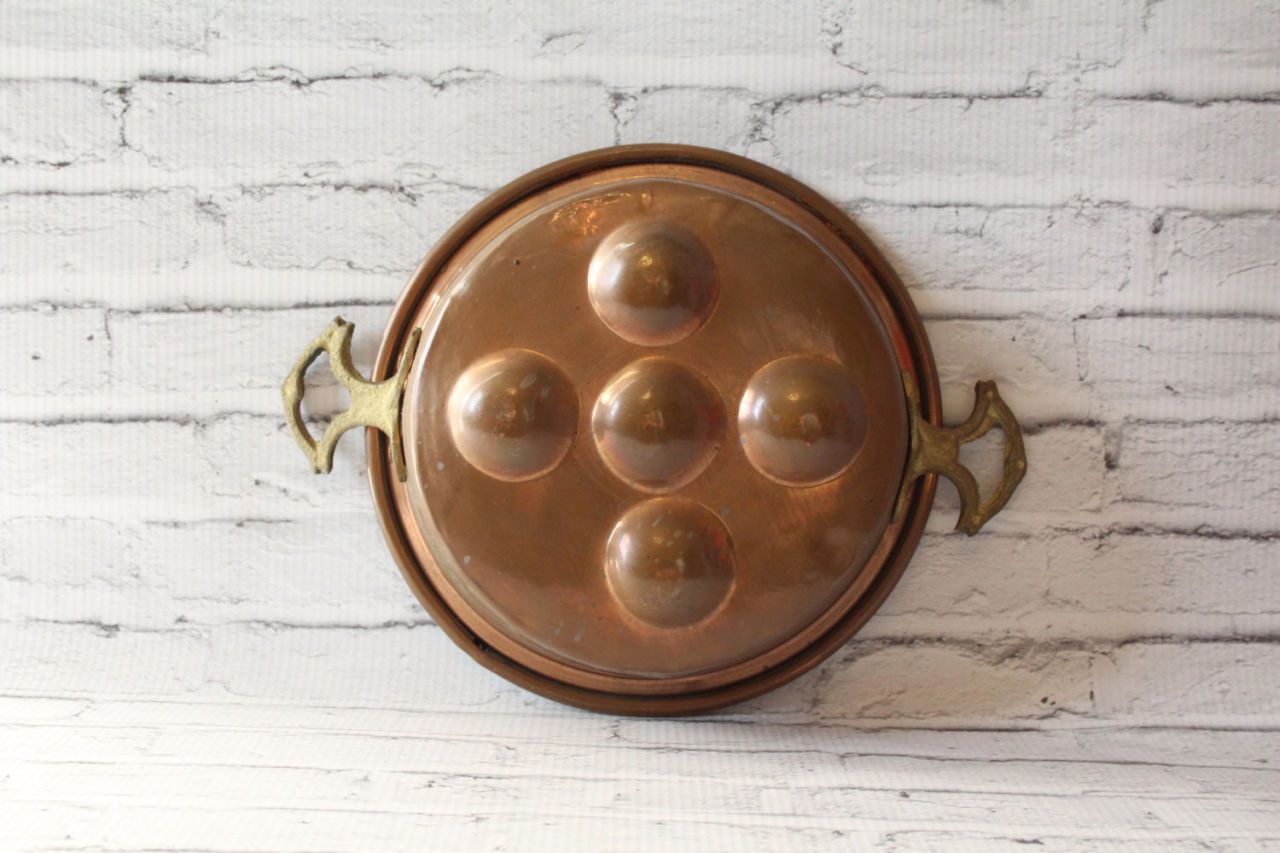 If you ever wanted your eggs poached for Sunday brunch, you could always count on your handy-dandy egg poacher pan.
7. Food Mill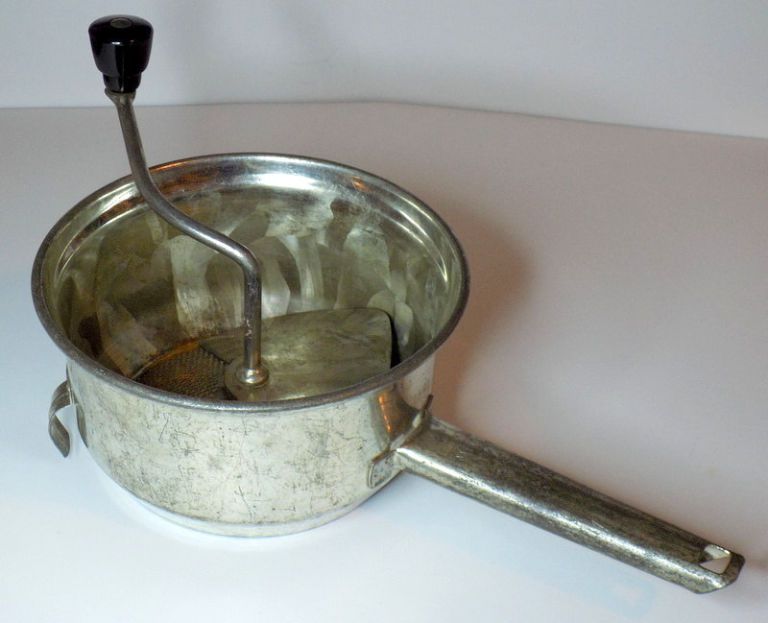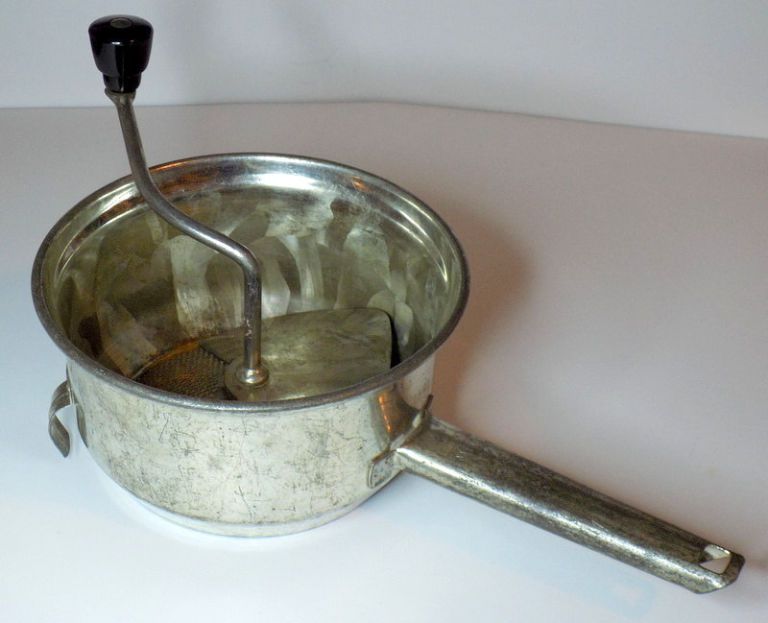 Who needs a blender when you have a Food Mill? This was the old-fashioned way of pureeing all types of food from baby food to applesauce.
8. French Fry Cutter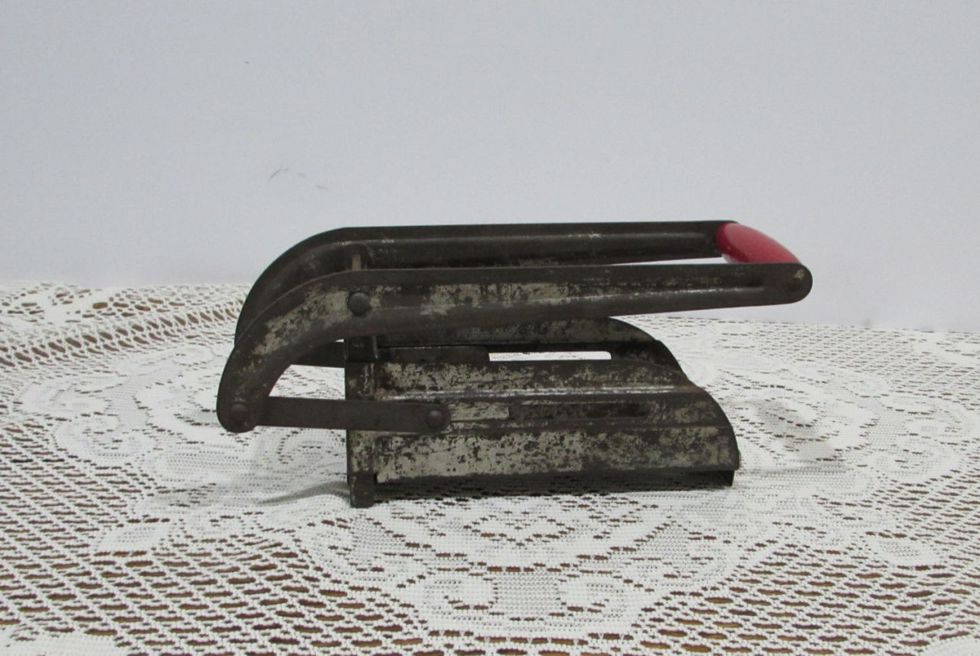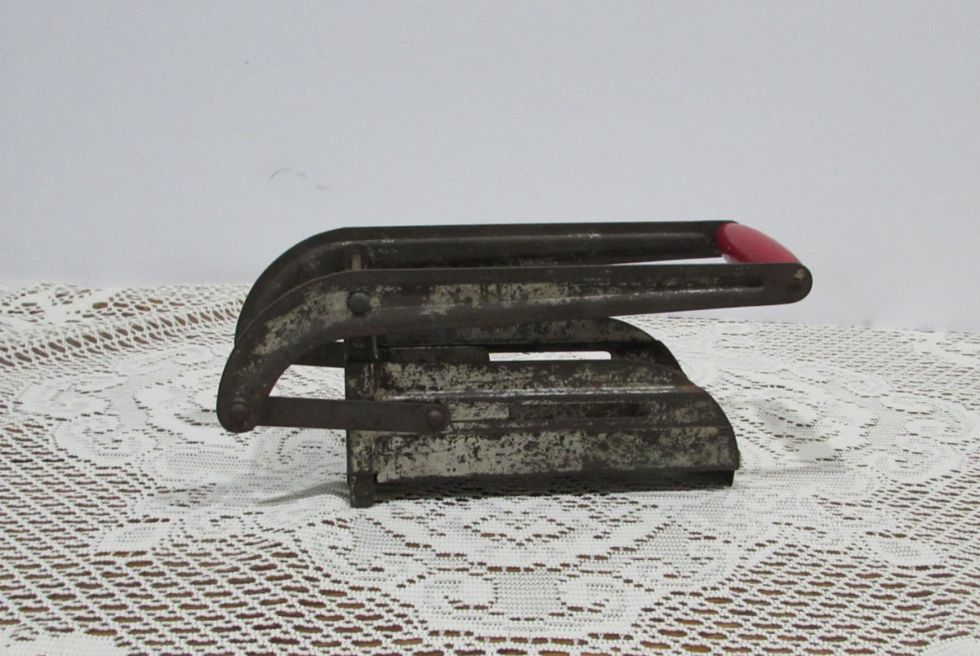 This is another way to get those homemade fries perfectly cut and crisp. Nowadays we can just buy frozen french fries and pop them in the oven, but cutting your own french fries definitely sounds more appealing!
9. Meat Tenderizer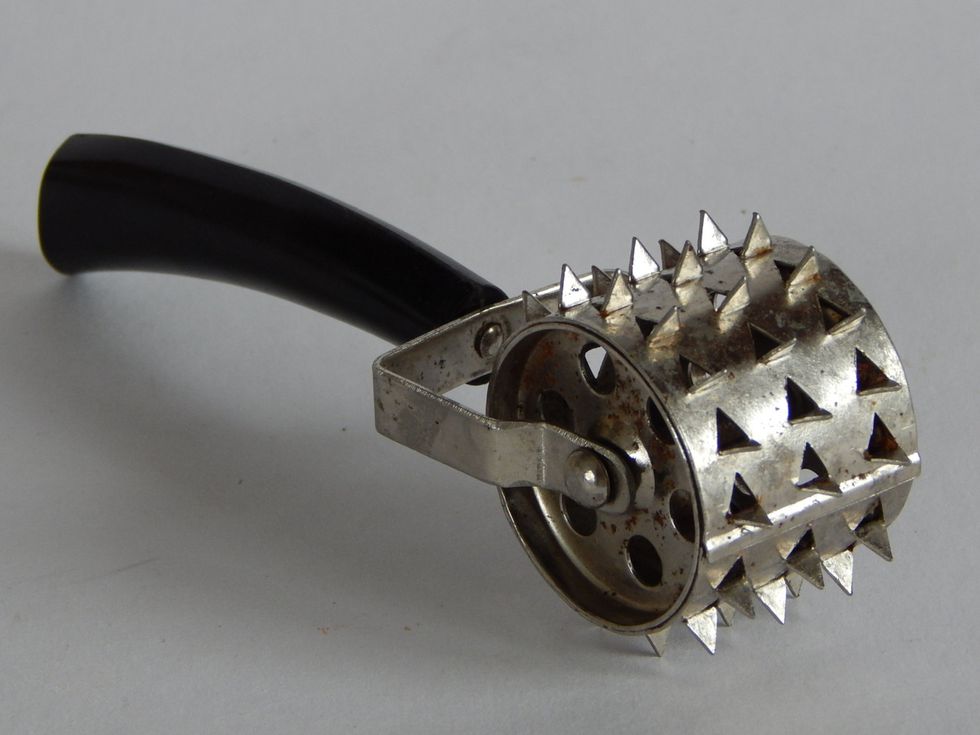 Now, this is one of those scary-looking '50s items. We now know tenderizers as looking much different and less harmful than this bad boy.
10. Vintage Pyrex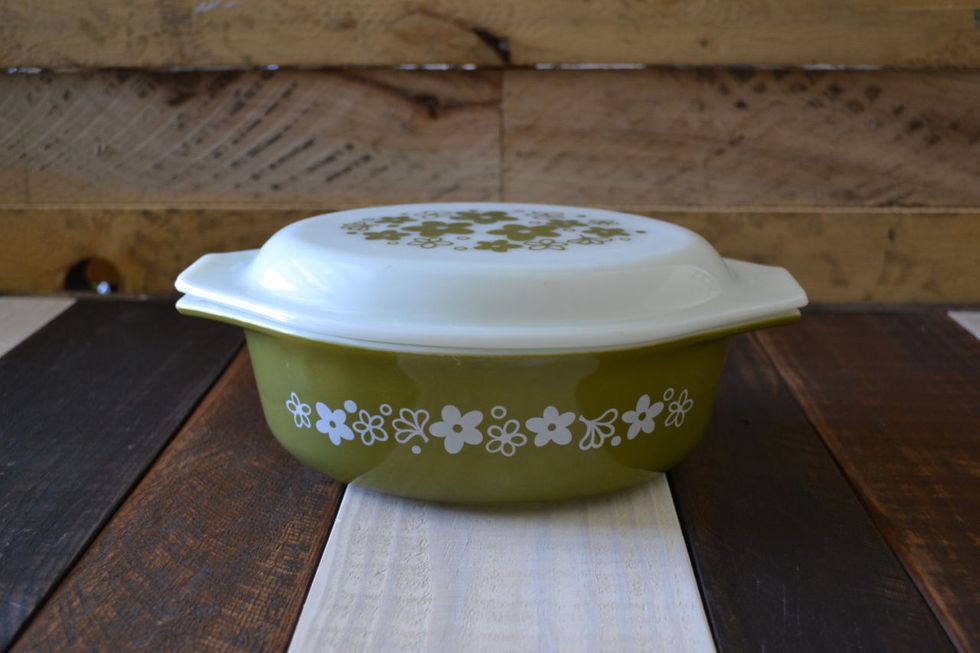 Pyrex was everyone's favorite household name and if you didn't own at least one casserole dish, what were you doing? Pyrex is still one of the best and most popular brands out there for cooking.
11. Colston Countertop Dishwasher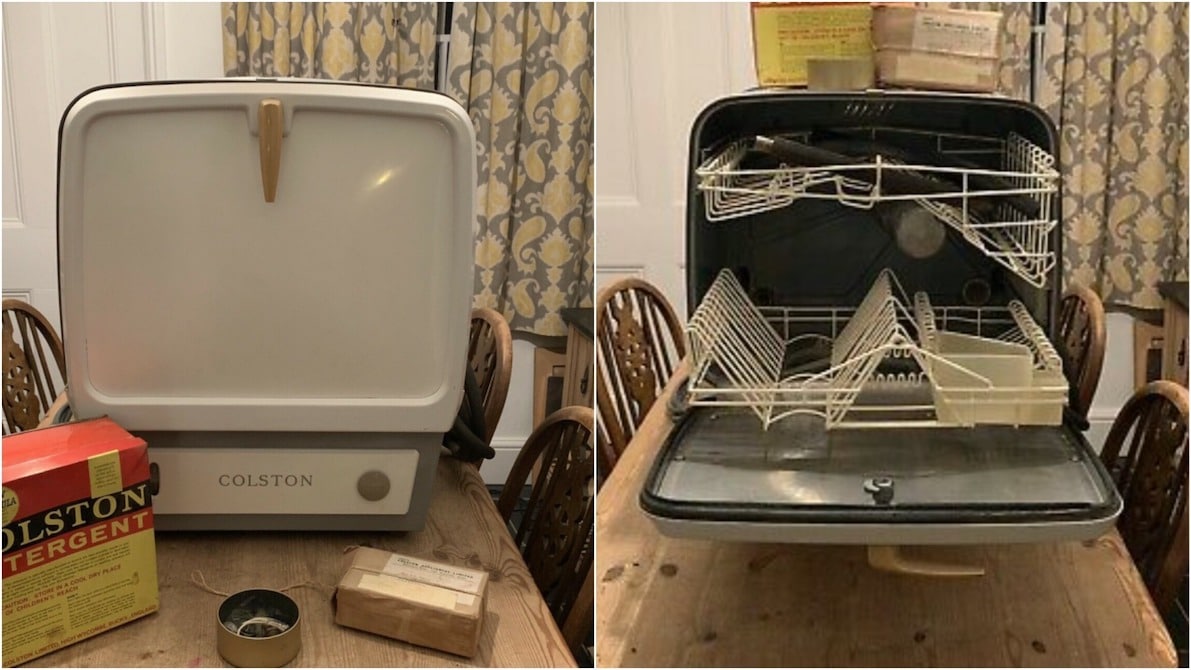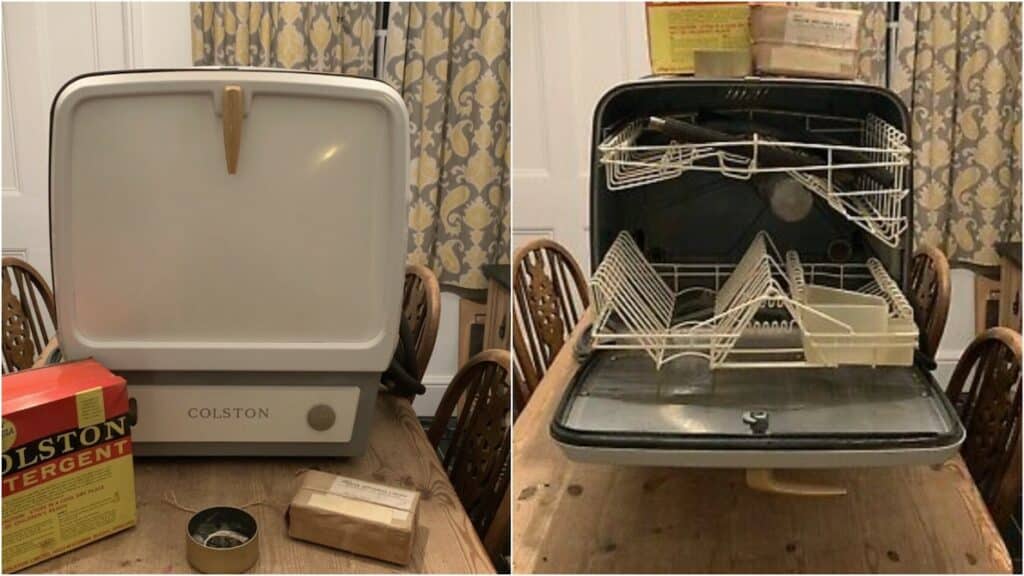 This is one of those items we find hard to believed existed, but we're thrilled that it done due to the fact that it's just so unique. This was about the size of a breadbox, so obviously the number of dishes it could wash at a single time was pretty low, but for living in a small apartment, it would have been perfect.
12. Ice-O-Mat Ice Crusher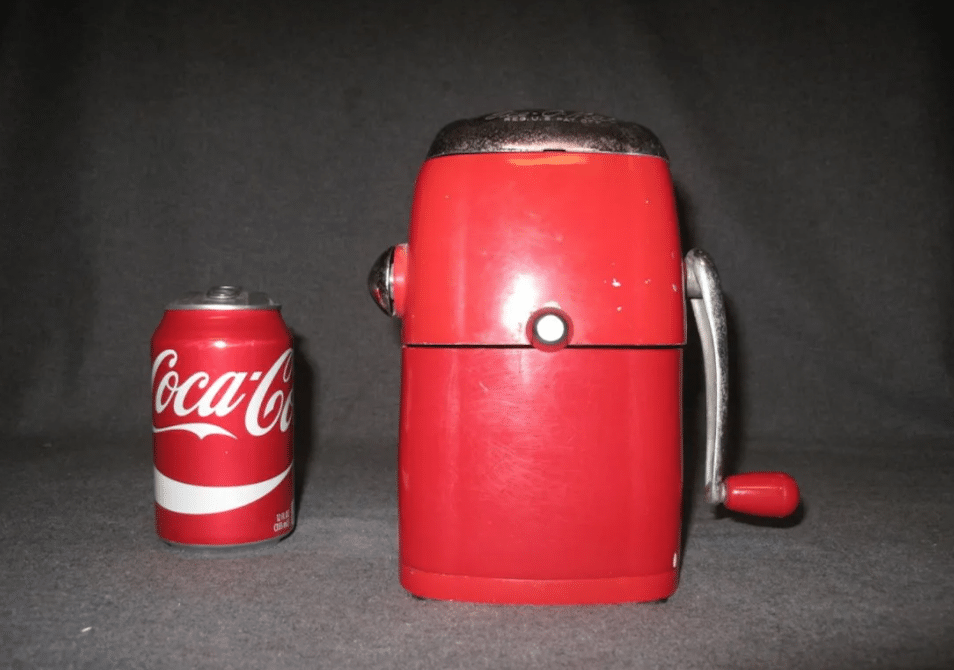 In the mood for a snow cone or maybe don't enjoy having cubes of ice in your drinks? In either case, this ice crusher from Ice-O-Mat was the perfect kitchen accessory in the '50s.
13. Breadbox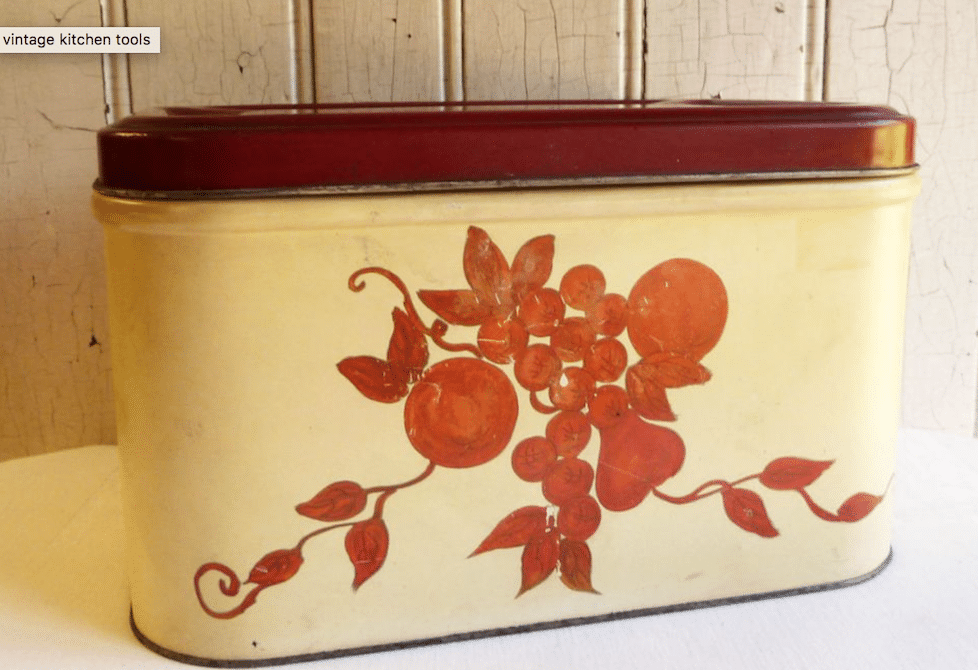 In the days before bread was filled with preservatives to keep it fresh or wrapped in plastic, breadboxes were the perfect way to do so. They would keep the bread at room temperature, had lids loose enough to allow airflow and reduce condensation, yet were tight enough to slow the drying process and block access from rodents or insects. Most of them were large enough to fit between one and two loaves of bread.
14. Automatic/Electric Kettle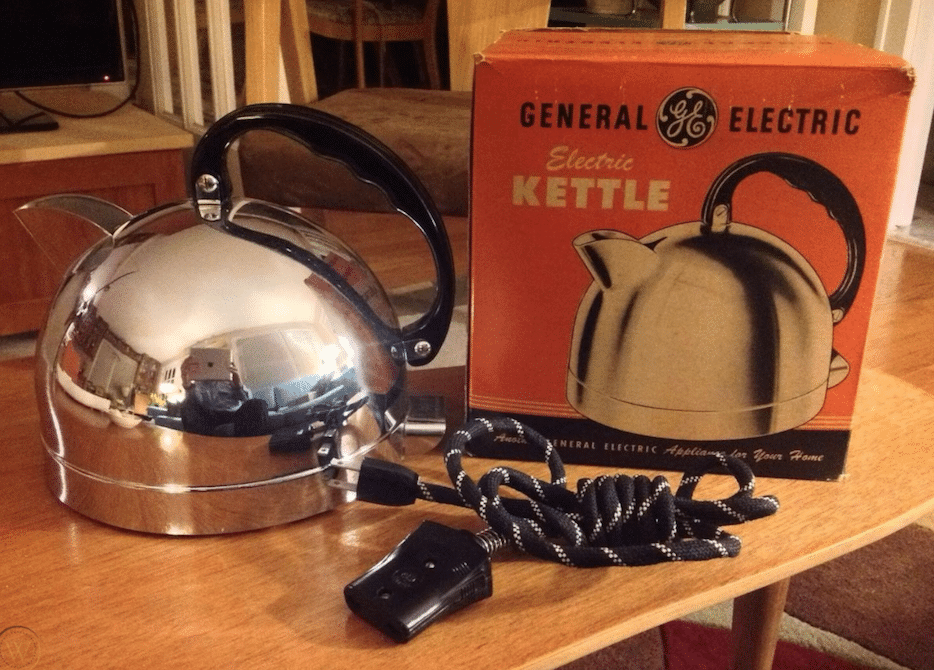 Much more common today, but this was pretty innovative back in the 1950s. Rather than setting up a kettle of water and needing to stay nearby while you waited for it to boil, this item was equipped with an internal thermostat that would automatically shut the kettle off just as the boiling began.
15. The Kelvinator Foodarama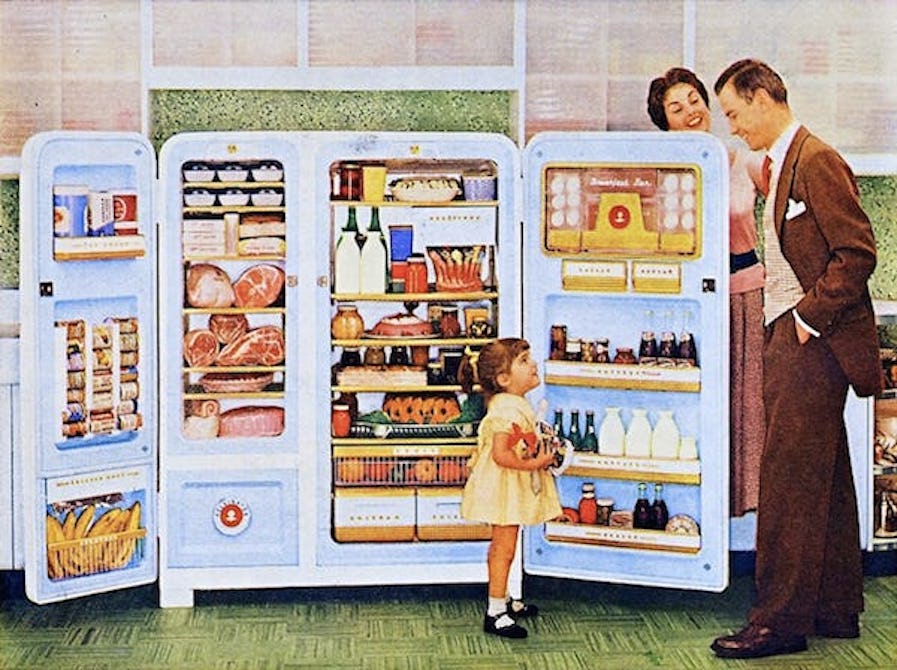 We'll give you that it's a refrigerator, but, man, what a refrigerator it was! Sold as the "Rolls Royce of Refrigeration," it was so huge — considered opulent even in the 1950s — that it featured side-by-side freezer and refrigerator, a specific area for eggs and juice (called a "Breakfast Bar"), a crisper bin, butter keeper, aluminum foil dispenser and a non-refrigerated section designated for bananas.
Do you remember any of these vintage '50s kitchen items? Be sure to SHARE this article if you do!
If you remember these, maybe you'll remember these 10 STRANGE Dishes from the Past!