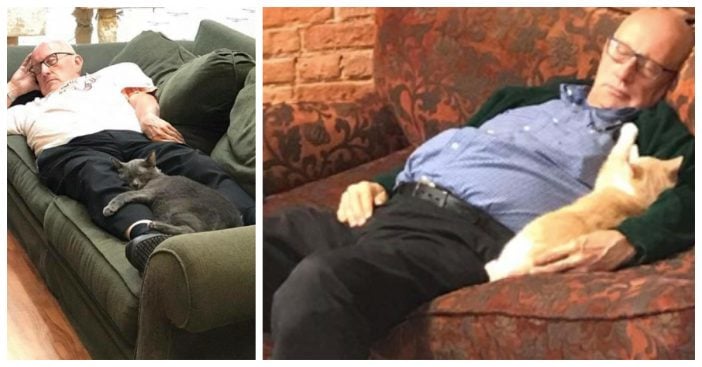 What if we told you that you could volunteer at a shelter and literally just take cat naps with cats? That's what this man, Terry Lauerman, did and the Internet cannot get enough of him! He began visiting the Safe Haven Pet Sanctuary about six months ago, and over the last few months, began coming in every day just to be with the cats and give them attention.
The Safe Haven Pet Sanctuary is a nonprofit organization that rescues cats with disabilities from places where they would be at risk of euthanasia. The organization usually holds 20-30 cats at a time and they have adopted nearly 300 cats with special needs within the last 2 years, since their opening in 2016.
https://www.facebook.com/safehavengb/posts/945286912330240?__xts__%5B0%5D=68.ARAoGeORhLWIC1k9bRm7oEita4-m6KlmfeKk4FVZUWQGncv_wZYyEC7VrWtiBKwgisfxJGNmJKSl7Ima2F3hQ7LpzYqMsbQiBOw2vVKGgc4kM_Ij8XpiHAazG_4YsHTVoqc5_Bj3tUJDD9k7N1JszF6-Crl2fwlHEGshLm9OWA47IhPNkoXq&__tn__=-R
Elizabeth Feldhausen, the founder of Safe Haven Pet Sanctuary, could not believe the attention that the Facebook post of Terry was receiving.
"Yesterday, when I told him he hit 400,000 views he said he hoped all those people would donate," she said of Terry, "I kept telling him, 'Terry, you're famous,' and he would just do his modest laugh and go back to petting cats."
https://www.facebook.com/safehavengb/photos/a.222568374602101/946841605508104/?type=3&theater
Feldhausen went into more detail about the sanctuary and the values behind the team and what they stand for. "We are a cage-free sanctuary that was designed to be a therapeutic environment, especially for our cats that are recovering from trauma," she said.
The Facebook post featuring Terry sleeping with some of their cats has reached over 70,000 reacts, over 5,000 comments, and almost 20,000 shares. Since Terry doesn't understand how Facebook works, according to Feldhausen, he doesn't necessarily mind the 'Internet fame'. "I don't know if he realized how big of a deal it was," she said.
Seriously, people cannot get enough of Terry. The comments are overwhelmingly positive and the official Safe Haven Pet Sanctuary Facebook account is trying to respond to every single one!
Sounds like Terry really has an 'in' with his community! He's about to have thousands, even millions more, to his community of fans.

If Terry had a Facebook or any form of social media, he'd probably be overwhelmed with the amount of love he's been receiving unknowingly!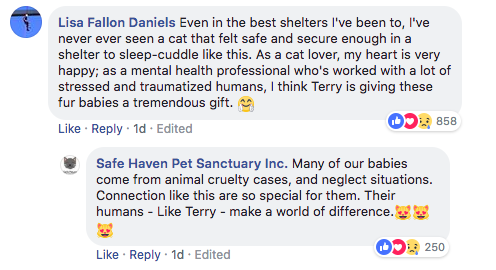 You heard it here first from a mental health professional, folks. Cuddling with cats is both good for the human and the animal. There needs to be more of this!
https://www.facebook.com/safehavengb/photos/rpp.205400626318876/945849322273999/?type=3&theater
Terry is hoping that all of these people who are giving him and the sanctuary attention will help the kittens by donating $5 to the nonprofit. Those who are interested in helping out can donate by visiting their official website.
Please SHARE this article to spread this wonderful story around!