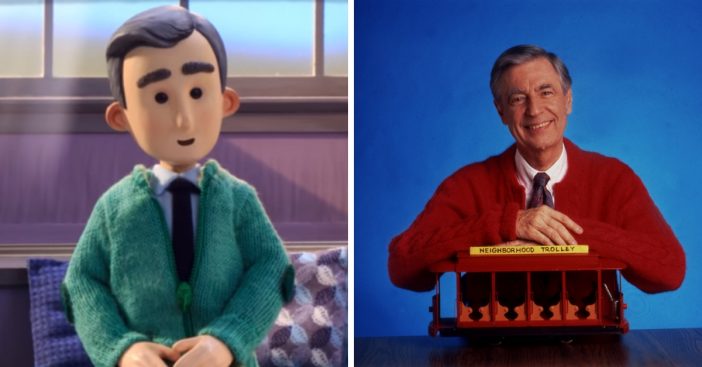 Today, Google released a stop-motion animation in honor of the anniversary of the first episode of Mister Rogers' Neighborhood. On September 21, 1967, the first episode of the show was taped in Pittsburgh. It was a beautiful day in the neighborhood, indeed.
Mister Rogers' Neighborhood was on the air from about 1967 to 2000, but episodes aired many years after production stopped. Mister Rogers was truly an inspiration, teaching children and adults everywhere that kindness is the most important thing.
Google's video on their search page was created by Fred Rogers Productions, the non-profit Fred Rogers Center, and BixPix Entertainment. It shows Rogers strolling along through a neighborhood helping children, eventually ending up on a television screen. It is such a beautiful tribute to Rogers and his iconic show.
According to USA Today: "The Doodle aims to be a reminder of the nurturing, caring, and whimsy that made the show feel like a 'television visit' between Mister Rogers and his young viewers," said Hedda Sharapan, a child development consultant at Fred Rogers Productions, in a statement. "Everyone was welcome in this Neighborhood."
While the show's production stopped in 2000, there is an animated spin-off show called Daniel Tiger's Neighboorhood, based on a character on the show.
Sadly, Rogers passed away in 2003, at the age of 74 years old. Recently, a new biography about Rogers' life was released named "The Good Neighbor: The Life and Works of Fred Rogers".
Check out Google's video below! It is sure to put a smile on your face. If you want to sing along, here are the lyrics to his intro song courtesy of PBS Kids:
"It's a beautiful day in this neighborhood,
A beautiful day for a neighbor.
Would you be mine?
Could you be mine?…
It's a neighborly day in this beauty wood,
A neighborly day for a beauty.
Would you be mine?
Could you be mine?…
I've always wanted to have a neighbor just like you.
I've always wanted to live in a neighborhood with you.
So, let's make the most of this beautiful day.
Since we're together we might as well say:
Would you be mine?
Could you be mine?
Won't you be my neighbor?
Won't you please,
Won't you please?
Please, won't you be my neighbor?"
What do you think of Google's Doodle about Mister Rogers? Do you think it is a nice tribute to his legacy? Did you use to watch Mister Rogers' Neighborhood all the time?
If you enjoyed this article and love Mister Rogers and his classic show, please SHARE with all of your friends and family who might need a smile today.