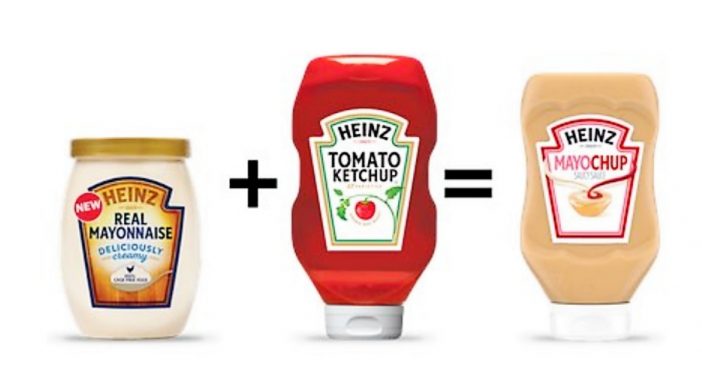 Do you regularly mix mayonnaise with ketchup? Some call it fry sauce, some call it secret sauce, while others call it special sauce… and Heinz calls it "Mayochup"? Earlier this year, someone posted a photo of this Heinz Mayochup that is available in the Middle East.
People lost their minds and Heinz noticed. Heinz then released a Twitter poll, asking if they should bring this condiment to the United States. Many, many people voted yes and Heinz listened. Mayochup is now coming to America.
Who's up for #mayochup?
It's up to you in the UK … 50,000 votes for Yes and we'll put it on the shelves!

— Heinz Mayo (@heinzmayo) September 18, 2018
Heinz then released a Twitter poll to let people decide what city will get to taste this delicious condiment first. Three lucky cities are competing to be the first to get a "food truck takeover" which means free french fries and Mayochup, before everyone else in the United States gets to try it.
#Mayochup is here. And these saucy cities Tweeted #Mayochup the most. Vote for your city by Tuesday, 9/18 by 11:59 PM CST to be among the first to taste it.

— Heinz US (@HeinzTweets) September 17, 2018
The three cities are Culver City, CA; Chicago, Illinois; and Brooklyn, New York. If you don't live in any of these cities or near them, don't worry, you can still get a taste of Mayochup soon! Later this month, it will be available on Amazon and at Walmart. It also appears on Twitter that you can nominate your city and if it gets enough votes, it just might win and beat out these three cities! It looks like Houston, Texas is now in the mix to win.
Breaking news… there's still time to vote for your city. Vote by putting the name of your city after #Mayochup Click to join the convo: https://t.co/NLNxgQ17f5 pic.twitter.com/iWHEkWuih6

— Heinz US (@HeinzTweets) September 17, 2018
This isn't a limited time offer either. Heinz announced that Mayochup will be one of the brand's products for life. It will come in a 16-ounce squeeze bottle, but eventually may be available in other sizes. It is rumored to sell for about $3.49.
Mayo and ketchup just had a baby and Twitter has strong feelings about it. Are you going to try #Mayochup ? pic.twitter.com/fVko7zdQVz

— njdotcom (@njdotcom) September 17, 2018
Some people are complaining about the name and suggesting that it should be called "tomayo" or as most people call it, fry sauce. What do you think? Mayochup does seem like a handful to say but it doesn't seem like Heinz will change the name anytime soon.
If you have seen the movie Stepbrothers, you might remember the funny scene where they call the mayo and ketchup hybrid "fancy sauce." Check out the clip below for a laugh!
What do you think about Heinz releasing Mayochup? Will you purchase it or will you continue to make this sauce on your own?
If you enjoyed this article and are excited about Heinz Mayochup, please SHARE with all of your friends who will love to hear this news or who live in the cities above and might be able to try it for free!