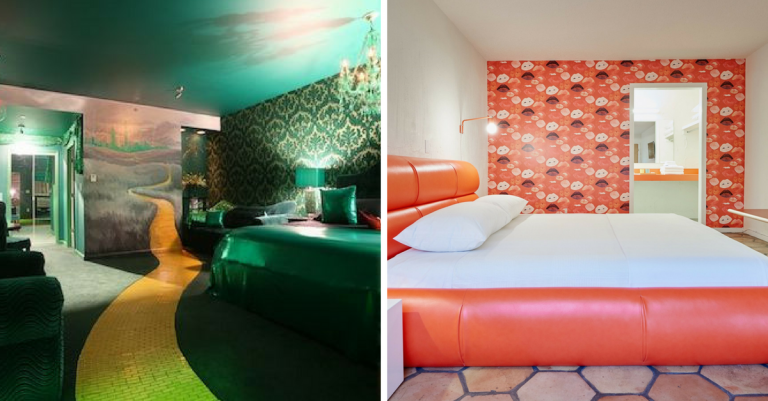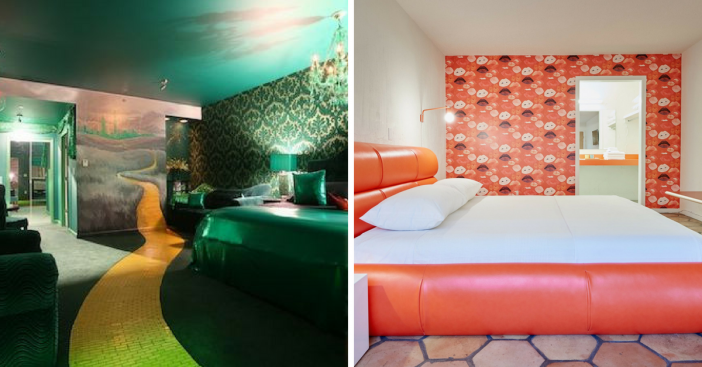 Remember all of the fads from back in the day that you thought you'd never see again in modern times? Well, the love for all things vintage and nostalgia have seeped their way into these amazing retro styled hotels. The following hotels have everything from those old herringbone wood floors, to rotary phones on nightstands, to various nods to old film and music.
If you also have burning love and passion for all things nostalgia, then you might want to start booking your trip and check out these 12 retro hotels that take you away from the now and take you to trip into the past.
1. The Roxbury Motel (New York)
https://www.instagram.com/p/BQbEDI1AARc/?tagged=theroxbury
Located in the southeastern part of New York in the Catskill Mountains, The Roxbury Motel pays homage to the films and TV shows made throughout the 1960s and 1970s. This retro hotel has rooms inspired by The Wizard of Oz, The Addams Family, Gilligan's Island and many more! If you are film and television lover, this motel is the place for you!
2. Austin Motel (Texas)
https://www.instagram.com/p/BiSGqYQn1fe/?taken-by=austinmotel
This groovy motel, located in Austin, Texas, is sure to give you that feel-good vibe of the late 60s and early 70s. This psychedelic hotel pays homage to the designs of hotels back in the day with its heavily infused pop art walls, large kidney-shaped pool, and vintage styled sign that greets you with retro catchphrases that read, "So Close Yet So Far Out."
3. The Edgewater (Seattle, Washington)
https://www.instagram.com/p/Biz5eH8ACAP/?taken-by=theedgewater
Fun Fact: This is one of the many hotels that The Beatles stayed in during their iconic run in the United States, aka the Beatlemania era. The Edgewater is the only waterfront hotel in the city. This hotel pays homage to their stay and has recently added an entire suite dedicated to the legendary band that you can stay in. If you are a Beatles fan, this is the hotel that you should visit.
4. Phoenix Hotel (San Francisco)
https://www.instagram.com/p/BgmKUFMjBzU/?taken-by=phoenixhotelsf
For many reasons, San Francisco is an amazing place to stay. This retro hotel further proves that you will indeed leave your heart in San Francisco. This place, built in 1956 and then rebuilt in 1987, has everything nostalgic to offer from old red rotary phones, to classic rock posters, in all of the suites. Surely, if you are a fan of retro rock n roll and all things nostalgic, this is the place for you!
5. Graduate Lincoln (Nebraska) 
https://www.instagram.com/p/BUz_Lv7Fk8d/?taken-by=gradlincoln
The Graduate Lincoln pays homage to many decades of the past. For example, it treats its guests to 1950s television designed nightstands that honor legendary talk show host Johnny Carson (who studied at the University of Nebraska). The nightstands also have vintage shiny-black rotary phones on top of these nightstands that just give you that nostalgic icing on the cake.
6. Skyview Los Alamos (California)
https://www.instagram.com/p/Bij3Lughs4G/?taken-by=skyviewlosalamos
Originally built in the 1950s, the Skyview Hotel in Los Alamos is designed to give you that good old California pool party feel of the late 50s to late 60s. The pool is one of the standouts in terms of nostalgia but it also pays homage to character Norman Bates portrayed by Anthony Perkins from the book and film Psycho by naming its restaurant "Norman."
Check out the next page to see six more retro hotels!