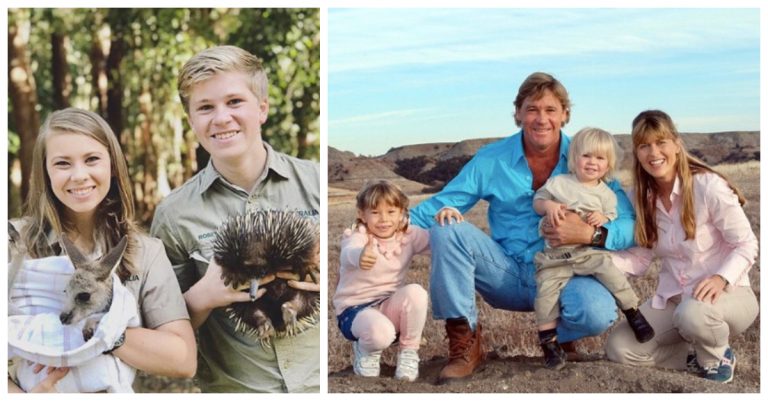 The Irwin children recently shared some old videos and photos of their late father, Steve Irwin, in honor of Australia's Fathers Day, which was on September 2nd. These posts come just days before the anniversary of Steve Irwin's death.
Steve Irwin, also known as The Crocodile Hunter, has two children named Bindi and Robert Irwin. Both children are just as involved with wildlife as their father was and are no doubt doing his legacy proud. Bindi posted an adorable video on her Instagram account from when she was dressed up in a lion costume as a little girl. Robert posted a photo of his baby self with his late father during a photoshoot.
https://www.instagram.com/p/BnM2Cb8H5mA/?taken-by=bindisueirwin
Bindi Irwin currently helps out at the Australia Zoo in addition to Wildlife Warriors Worldwide. Besides following in her father's footsteps, she is also an actress, a dancer, and a television personality. She is well-known for winning season 21 of Dancing with the Stars, but perhaps might be best-known for being the daughter of Steve Irwin.
https://www.instagram.com/p/BnNQm5hBK75/?taken-by=robertirwinphotography
Robert Irwin is truly the mini-me of Steve Irwin. He may have been set up for success in the wildlife industry since he was little, but he sure takes it just as seriously! He, too, helps out at the Australia Zoo and Wildlife Warriors Worldwide. He gets up close and personal with animals for his official photography Instagram and has been a guest on many talk shows (with animal guests)!
https://www.instagram.com/p/BllxqEShNB3/?taken-by=robertirwinphotography
It's clear that the Irwin children have a true calling for wildlife, but also have a passion for being family-oriented and loving each other while they still can. Their late father, Steve Irwin, died at the age of 44 after being stung in the heart by a stingray barb. He was filming an underwater documentary at the time called Ocean's Deadliest.
https://www.instagram.com/p/BnSUqc8nh32/?taken-by=bindisueirwin
Steve Irwin died on September 4th, 2006. He was best known for starring in the television show, The Crocodile Hunter, which aired from 1991 to 2006. He additionally starred in other spin-offs overtime such as Croc Files (1997), Mystery Hunters (2002), and Lights! Croc! Action! (2002). There were also shows aired posthumously that featured archived footage of the personality before his death.
https://www.instagram.com/p/Bkm_Yrtn32g/?taken-by=bindisueirwin
If you want to see just how much young Robert Irwin is like his father, you can check out this clip of him on The Tonight Show Starring Jimmy Fallon. He really could be Steve's double, right?
Be sure to SHARE this article if you love the Irwin family!