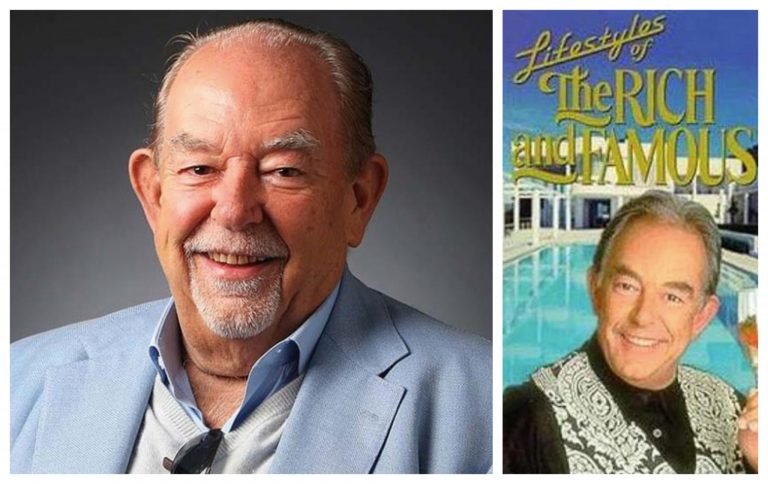 Robin Leach, the host of the hit TV series Lifestyles of the Rich and Famous, has been reported dead at the age of 76. He had also been working as a celebrity columnist for the Las Vegas Review-Journal.
Leach had been hospitalized since November 2017 after suffering a stroke and recently suffered a second stroke which caused him to succumb to the already apparent complications. He would have been 77 on August 29th, 2018.
https://www.instagram.com/p/Bm3bgW6HS__/?tagged=robinleach
Robin Leach was born on August 29th, 1941. He began his career as a writer and journalist at the age of 18. Throughout his career, he also worked for publications like People Tonight on CNN, Entertainment Tonight, and also helped the start-up of Good Morning Australia and The Food Network. These roles helped usher in the celebrity-focused culture and entertainment for which he might be most remembered for.
https://www.instagram.com/p/Bm3fg-4lD-f/?tagged=robinleach
Despite being well-known for being a huge influencer in celebrity-focused culture, his true passion was for writing. He spoke to the Las Vegas Sun in 2011 about his passion, saying, "I wanted no other job than to work in newspapers. I was fascinated by the process of collecting information, talking to people and having the story appear in a paper that would be delivered in your letterbox."
https://www.instagram.com/p/Bm3Z45PnOX9/?tagged=robinleach
A few statements were provided by not only other columnists but also his family.
A statement by John Katsilometes read, "Sad to report the death of famed celeb reporter, friend and colleague #RobinLeach @ 1:50 a.m. in #LasVegas. He would have been 77 Wednesday. He suffered a second stroke Monday. He in hospice care. He'd been hospitalized since Nov. 21, after suffering a stroke in Cabo San Lucas."
The statement that was given by the family (through columnist Katsilometes) read, "Despite the past 10 months, what a beautiful life he had. Our Dad, Grandpa, Brother, Uncle and friend Robin Leach passed away peacefully last night at 1:50 a.m. Everyone's support and love over the past, almost one year, has been incredible and we are so grateful. Memorial arrangements to follow."
https://www.instagram.com/p/Bm3dmWgACQK/?tagged=robinleach
Leach will always be remembered as a sharp television personality, a witty news reporter, and an all-around entertaining guy who was extremely well-liked and respected.
Please SHARE this news to honor his legacy. May he rest in peace.