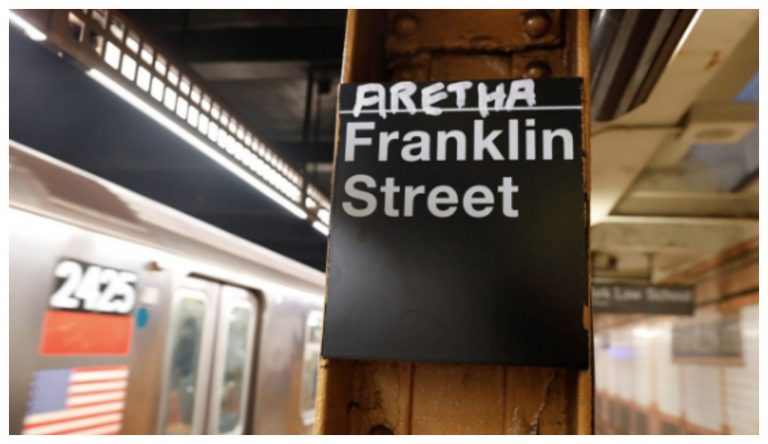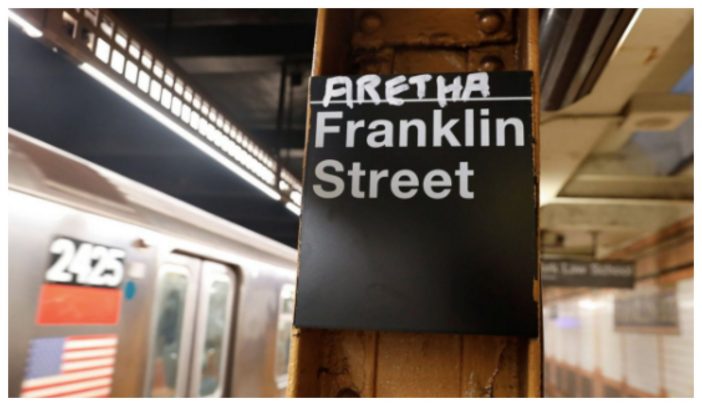 Some stencil artists just made their way to Franklin Street subway station in New York to pay tribute to the Queen of Soul, Aretha Franklin, who recently passed away at age 76. The graffiti including adding the first name 'Aretha' to the Franklin Street sign, in addition to stenciling and spray painting lyrics to some of her best songs around the station.
This project received praise all over the Internet. Even those who don't agree with defacing any sort of property were absolutely touched by this public display of appreciation for the late singer. In addition to this absolutely amazing tribute to Franklin, an outpouring of love shook up the world on August 16th when news broke that she had died.
Aretha Franklin honored in subway graffiti https://t.co/cdc6bdz1ax pic.twitter.com/Wxcfq34kpH

— New York Post Metro (@nypmetro) August 16, 2018
Celebrities, politicians, and artists (just like these stencil artists) paid tribute to Franklin. Singers dedicated some songs to her at their concerts while some politicians like former President Barack Obama and current President Donald Trump also expressed their sadness and condolences to her family at this time.
New York City's Franklin Street Subway stop pays homage to the late Aretha Franklin. pic.twitter.com/khxuWwJCra

— NBC Nightly News with Lester Holt (@NBCNightlyNews) August 16, 2018
Franklin was best known for her hit songs, "(You Make Me Feel Like) A Natural Woman" and "Respect". She received many honors throughout her life, including induction into the Rock and Roll Hall of Fame in 1987. She was also listed in the 100 Greatest Artists of All Time and the 100 Greatest Singers of All Time in Rolling Stone magazine.
Spreading Love to the #QueenOfSoul, It's The Brooklyn Way. #RipArethaFranklin pic.twitter.com/5rJdNBopIk

— Chris Wallace Way BK (@CWWayBK) August 16, 2018
The late singer had been dealing with a number of health issues leading up to her death. A lot of it stemmed from issues with her weight and, ultimately, pancreatic cancer. She was in hospice for the last few weeks of her life, surrounded by family.
— fightthepower (@heathencandor) August 17, 2018
Since the news broke of Franklin's death, her hit song "Respect" sits in the Top 5 of the R&B/Soul Charts on iTunes and the #1 playlist is currently "Aretha Franklin Essentials," which includes all of her top hits.
This should be PERMANENT. https://t.co/bStf4qawHr

— Vernon Reid (@vurnt22) August 17, 2018
With how influential and life-changing Franklin was and continues to be, this might just end up being permanent.
I'm not a big fan a defacing public property, but I'd let this one stand. https://t.co/Adr6xwlhfc

— In memory of Gimmeabreak (@gimmeabreak41) August 16, 2018
People from all walks of life (with different opinions on stencil art) are coming together to pay tribute to the Queen of Soul. No matter which way it's expressed.
Brooklyn County of Kings paying R-E-S-P-E-C-T to the #QueenofSoul Aretha Franklin with temporary street art @BPEricAdams @RobertCornegyJr @cmlauriecumbo @TishJames @RepJeffries @RepYvetteClarke @News12BK @NY1 @bklyner @TIDAL @Daydog @LondellMcMillan @Essence @TheRoot @BKStreetArt pic.twitter.com/asj8v13mGM

— Chris Wallace Way BK (@CWWayBK) August 16, 2018
Be sure to SHARE this article to honor Aretha Franklin's legacy!