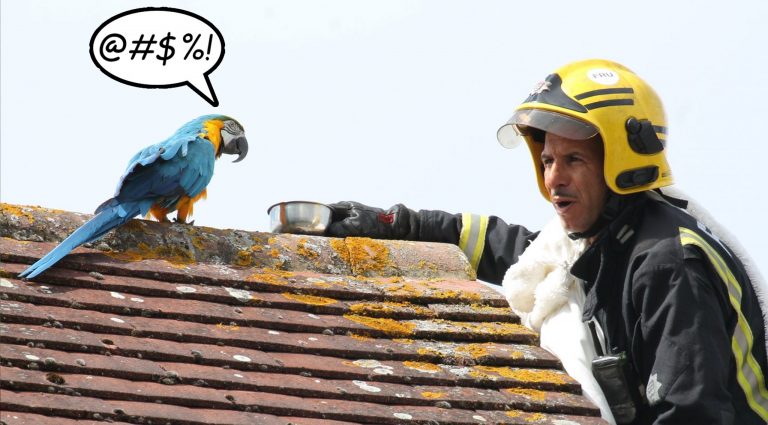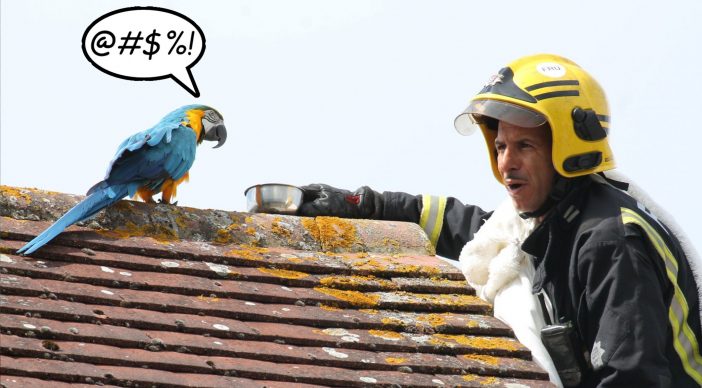 You probably know that parrots have the ability to learn words and to talk. One blue macaw used her words to tell someone exactly how she felt. Jessie, a blue macaw, from North London, flew away from her home and landed on a roof nearby.
She stayed on the roof over the weekend. The bird's owner tried to coax Jessie back down from the roof but she wouldn't budge. Not knowing what to do, the owner called the RSPCA and the London Fire Brigade for help.
Parrot owner: To bond with her say 'I love you'
Firefighter: 'I love you'
Jessie the Parrot: 'I love you'
Jessie then turned the air blue & flipped the firefighter the bird. Read the story of the potty-mouthed parrot in Cuckoo Hall Lane https://t.co/Th2nlVkOJ8 © @PaulWood1961 pic.twitter.com/FSRCElx80V

— London Fire Brigade (@LondonFire) August 14, 2018
Firefighters arrived to help but the bird was not too happy when they arrived. They figured that Jessie might be hurt because she wouldn't move off the roof. The firefighters were told to go up to the roof carefully and slowly with a towel and food. They were told to greet the parrot with "I love you" to hopefully get her to come closer and get down from the roof.
At first, Jessie seemed happy to see the firefighter and said: "I love you back". But, soon after, she started cursing. She told the firefighter to "F*** off!" along with many other curse words. We can't help but cringe and laugh at this silly bird.
The firefighter continued to try to rescue the bird and coax her over to him. He also tried speaking to her in Greek and Turkish, which Jessie also speaks with her owner. Eventually, I guess Jessie got sick of cursing at the firefighter and flew off by herself. She reunited with her owner and didn't have any injuries.
Firefighters urged others who lose a pet or if their pet gets stuck in a high place to call for help. They know what to do in an emergency with animals and they have the special equipment that might be needed to get them down, uninjured.
What do you think about this story? Have you ever heard a parrot swear? Why do you think it was swearing at its rescuers? It is pretty funny!
If you enjoyed this article, please SHARE with your friends, especially if they own a parrot!