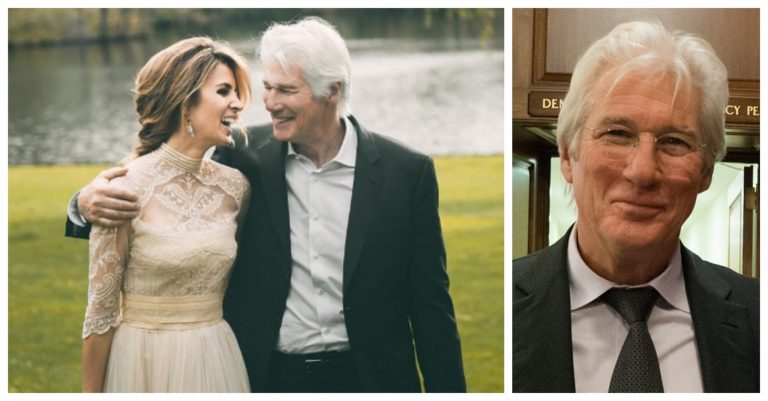 At 69 years old, rumors are surfacing that actor Richard Gere might be in the process of becoming a father again! His wife of only a few months, Alejandra Silva Gere, are believed to be expecting their first child together. Alejandra is 35 years of age.
The news originated from the Spanish TV host Lydia Lozano, who hosts the Spanish gossip show called Sálvame Deluxe. Lozano first reported the news on July 25th that Alejandra was pregnant with Gere's child and that he would be a father again in a matter of six months. However, Gere's publicist claims that there is no confirmation on whether the couple is expecting a child or not.
https://www.instagram.com/p/Bl00lKsBb8g/?taken-by=alejandragere
If Gere and Silvia are expecting a new baby, it will bring the entire gang up to a handful. He already has another 18-year-old son, Homer, with his second wife, Carey Lowell. Alejandra additionally has a 5-year-old son named Albert with her ex-husband, Govind Friedland. Gere has yet to confirm any news about having a baby on the way.
https://www.instagram.com/p/Bjo_c2OD-Le/?taken-by=alejandragere
The couple married in April of this year, and they followed up with a big family celebration at Gere's Westchester County, NY estate on Cinco De Mayo. A source who is close to Gere spoke to People magazine about the happy couple, saying Gere, "has been much happier in this half of his life because he is settled, confident, and doing what he likes."
https://www.instagram.com/p/BcJ2Kd5lrq7/?taken-by=alejandragere
The two met about twenty years ago when Silva was still a teenager. Gere had borrowed a boat from her father to shoot a television commercial ad. The two became an official couple in 2014. Gere is best known for his role in the hit 1990 film Pretty Woman and is still active in the film industry today. Silva is a Spanish publicist and businesswoman.
https://www.instagram.com/p/Bkfe9m9D9uy/?utm_source=ig_embed
While the two and their spokespeople have been quiet on the accuracy of the rumors, many media networks are hopping on the news. Furthermore, some are providing theories centered around their use of social media at this time in addition to being so quiet. Yahoo Entertainment theorized that a recent photo on Silva's Instagram might have been a throwback photo in an effort to avoid any pregnancy rumors. Only time will tell!
https://www.instagram.com/p/BbrnuFQlG_V/?taken-by=alejandragere
Be sure to SHARE this article if you're pumped about Richard Gere possibly becoming a father again!