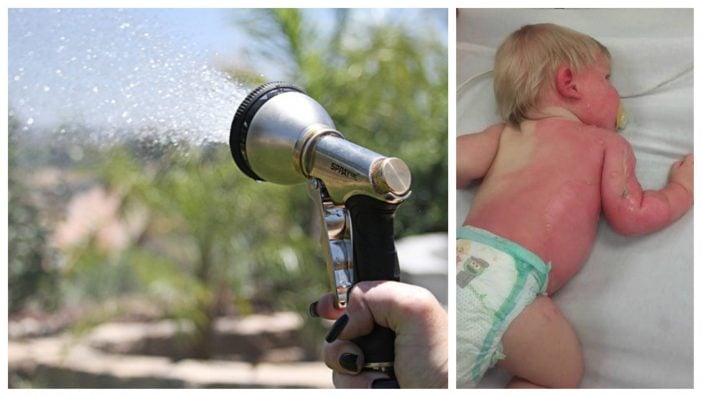 There have been several incidents involving the sun's hot rays and overall heat. Heat advisories, watches, and warnings have been plaguing the country all summer. Whether it's a bad burn or a child being left in a hot car, it's apparent that people are still trying to figure out the best way to beat the heat.
After a news story arose about a child getting a bad burn, experts advise parents to be cautious of letting their kids around water hoses baking in the sun. Why? It could expose your child to a second or third degree burn.
https://www.facebook.com/ABC15/photos/a.151332821358.116295.18356341358/10153773798611359/?type=3
A 9-month-old boy in San Tan Valley, AZ was accidentally sprayed with scalding hot water from the garden hose as his mother was trying to fill his kiddie pool. About 30% of his body suffered bad burns and blistering, including on his face and back.
"He had blisters all over the right side," his mother said in a statement, "All of it was peeling."
An Excessive Heat Warning is now in effect for the greater Phoenix area Monday! Highs 109-112 for much of the area. 1-2 deg. cooler Tuesday. Take appropriate precautions and stay hydrated! #azwx pic.twitter.com/n883BVgiRl

— NWS Phoenix (@NWSPhoenix) August 5, 2018
Despite the fact that the mother was told her son would recover just fine, this still raises awareness for caution when deciding to pick up the garden hose. According to Dr. Kevin Foster, director of the Arizona Burn Center, water that's been sitting out in the hot sun (in addition to a garden hose) can reach up to 190 degrees. "It doesn't reach boiling, but it does get almost there. It's about as hot as coffee coming out of the pot," he says, "A burn happens almost instantaneously at that temperature."
Prepare for some more summer swelter in the Northeast today. Heat advisories are in effect as many will see the heat index approach or exceed 100 degrees today and tomorrow.https://t.co/asAP108BNk pic.twitter.com/ZYC9fnO5Af

— National Weather Service (@NWS) August 6, 2018
Excessive heat watches and warnings were issued for millions of people living in southern California, southern Nevada, and western and southern Arizona. Temperatures in Arizona tend to rise well above 100 degrees, which is when sitting water can become a threat to children playing outside. In addition to the heat warnings, the mix of hot and humid air causes the heat index to rise well above 100 degrees as well.
Deadly heat is forecast throughout the Desert Southwest on Monday as temperatures warm to 112-115°F across the lower elevations. Remember to stay hydrated and avoid any outdoor activity during this heat! #AZwx #CAwx pic.twitter.com/uKo3jmeBKS

— NWS Phoenix (@NWSPhoenix) August 6, 2018
Most burns, despite being super painful, can usually be treated at home. Cool water (not ice cold) and compresses can typically help soothe a burn. Anything that is larger or deeper than a pink, blistery burn should be checked out by a doctor.
Be sure to SHARE this article to spread awareness about your garden hose this hot summer!