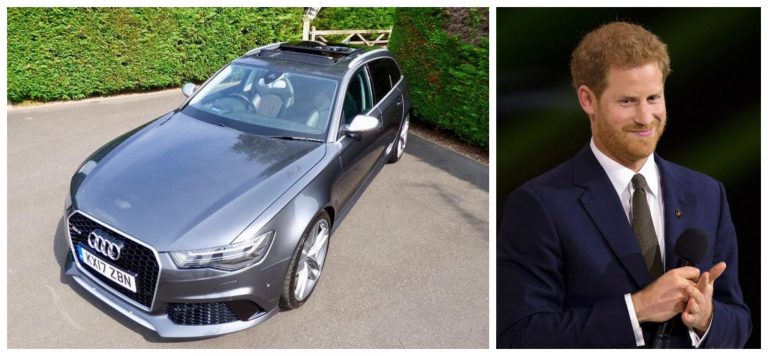 Do you want to be the next proud owner of Prince Harry's old Audi? You can pick it up at Auto Trader for £71,900, which equates to almost $94,000 USD. The Prince used this car to escort Meghan Markle to Pippa Middleton's wedding reception last year, which may be notable to some hardcore Royal Family fans.
Auto Trader's editorial director, Erin Baker, shares her thoughts on the Prince selling his car. She says the car is, "17 reg and low mileage, so it begs the question, why is the Prince selling so soon?… Maybe he's on the market for a bigger family car." Spokespeople for Overton Prestige are confident and happy that the car was used personally by the Prince over the last few years, in which case will sell well.
Got a spare £71,900? If you have, then you can treat yourself to Prince Harry's Audi which is listed on @AutoTrader_UK https://t.co/wQvUZeVXsm pic.twitter.com/sxyGF8PA1f

— ITV News (@itvnews) August 1, 2018
The Audi RS6 Avant is not the first car to be up for sale in the Royal Family. Just recently, it was announced that Queen Elizabeth II would be auctioning off her vintage Rolls Royce for over $2 million. Additionally, Prince Charles and late wife Diana auctioned off a Range Rover for $133,000. Seems like the Royal Family is on the hunt for some new vehicles in the near future!
A car fit for a Prince, and not a corgi hair in sight… pic.twitter.com/uQdfrscWmO

— AutoTrader (@AutoTrader_UK) August 1, 2018
Speculation has surfaced among Royal Family fans that the Duke and Duchess of Sussex might be looking for a bigger family vehicle, sprouting the idea of children soon. The Audi that is being sold comes with a panoramic sunroof, privacy glass, heated front and rear seats, and more. It's an automatic and incredibly spacious as well.
https://www.instagram.com/p/Bl-iTIDAZd-/?tagged=princeharry
The full listing can be found here on the official Auto Trader UK website. It is officially listed as a 'used car' as an Audi RS6 Avant 4.0 Avant Tiptronic Quattro 5dr.
The vehicle description on the website is listed as, "SELLING PRINCE HARRY'S OLD CAR RS6 AVANT WITH MASSIVE SPEC.VAT Q AUDI RS6 IN DAYTONA GREY WITH THE FOLLOWING FITTED OPTIONS: PANORAMIC SUNROOF, PRIVACY GLASS, DYNAMIC PACK, Top speed restriction increase,RS Sport suspension plus with Dynamic Ride Control (DRC), Dynamic steering NIGHT VISION ASSIST, DAYTONA GREY, 21″ ALLOYS 5 TWIN SPOKE ALLOYS, PARKING PACK, SPORTS EXHAUST , HEADS UP DISPLAY, HEATED FRONT & REAR SEATS, LIST PRICE WAS £91,530.00 WITH THE £11,330.00 OPTIONS FITTED. , EXCELLENT FUNDING SOLUTIONS AVAILABLE TO SUIT YOUR NEEDS., 1 owner, £71,900."
https://www.instagram.com/p/Bi9lyTWAEeK/?taken-by=kensingtonroyal
Be sure to SHARE this article to spread the news about Prince Harry's car!