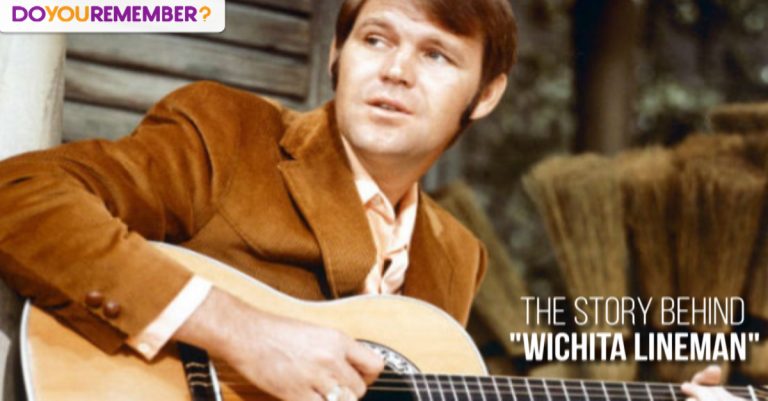 Glen Campbell is most known for "Wichita Lineman". Glen Campbell rose to prominence with his songs that he recorded in the late 1960s. Those include "Wichita Lineman" and "By the Time I Get to Phoenix". Let's take a look at his most successful song, Glen Campbell's "Wichita Lineman" from October 1968.
"Wichita Lineman" Glen Campbell
This song was written by Jimmy Webb, who also wrote Campbell's "By the Time I Get to Phoenix" and "Galveston." He was driving along the Kansas-Oklahoma border when he saw a lonesome telephone lineman working atop a telephone pole. This gave him the idea for the song.
Glen Campbell told the Daily Mail about his excitement on first hearing this song. He recalled that Webb used to write in the studio as Campbell did his recording.
When the songwriter sang to him the parts of this song that he'd initially written, Campbell knew it was a hit. He continued: "I implored him to finish it, and even offered to help. But he told me to go and play my guitar and leave the writing to him." Webb added in our interview: "On certain songs, the magic is undeniable: 'Wichita Lineman' and 'By the Time I Get to Phoenix.' And it's almost as though the song was waiting for the singer and the singer was waiting for the song."
(source)
"Wichita Lineman"
I am a lineman for the county and I drive the main road
Searching in the sun for another overload
I hear you singing in the wire
I can hear you through the whine
And the Wichita lineman is still on the line
I know I need a small vacation
But it don't look like rain
And if it snows
That stretch down south won't ever stand the strain
And I need you more than want you
And I want you for all time
And the Wichita lineman is still on the line
And I need you more than want you
And I want you for all time
And the Wichita lineman is still on the line
RELATED: Glen Campbell's Widow Demands $500,000 In Legal Battle With His Estate