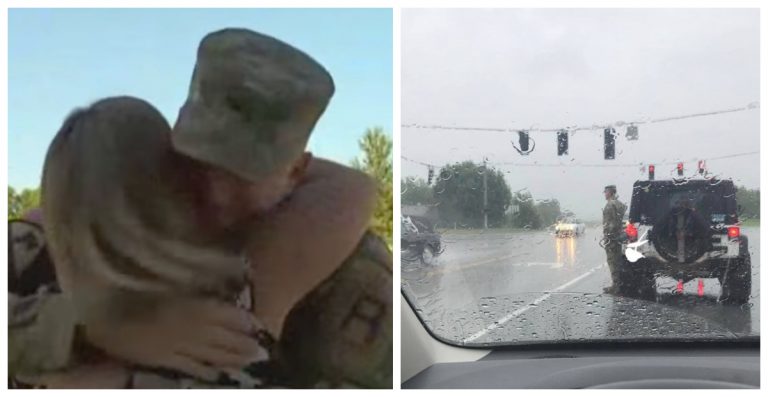 A soldier got out of his car to salute and stand at attention right in the middle of the road. The woman in the car behind him realized why and nearly broke down in tears. He was saluting a funeral procession that was passing by. Erin Hester, the woman in the car behind him, recalls the moment as, "the most memorable amount of respect" she's ever seen.
Both the soldier and Erin did not know the family who's funeral was proceeding through the traffic. Erin thought it to be the most touching form of respect she's ever seen. When asked about why he did it, soldier Colonel Usrey said, "Family hurting, bad day, rain makes it worse. Maybe I can help. And I just did it."
https://www.facebook.com/lovewhatreallymatters/photos/a.710462625642805.1073741828.691679627521105/1586593031363089/?type=3&theater
Erin pulled over to the side to let the funeral procession pass through and to watch the soldier stand at attention. She went home later in the day and shared her experience on Facebook. Part of her post read, "I always get frustrated when I see cars that don't pull to the side and stop for a procession, but this gentlemen went above and beyond. I feel pretty confident that there isn't a military rule that soldiers have to do this."
https://www.facebook.com/photo.php?fbid=10213759407003417&set=ecnf.1353461721&type=3&theater
Many people have taken directly to the Facebook post to share similar experiences and express praise for the soldier who did this.


"This is what America is about. Not your race, religion or anything else about you. Common decency and respect for others." Agreed!

No matter whether you're a law enforcement officer, a firefighter, or a normal everyday person, it seems like this notion of respect is becoming a mannerism of life.


Hats off, indeed!
We might never know the family involved in the funeral procession, but both Colonel Usrey and Erin didn't let that stop them from eventually meeting. "I feel like I should give you a hug," Erin says as she approaches the soldier with a warm embrace. It left such a lasting impression on Erin that she felt the need to meet him and thank him for his services.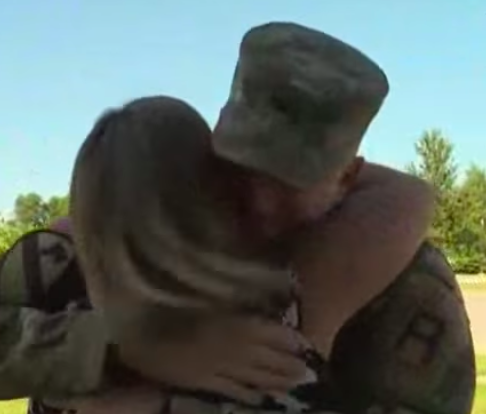 Be sure to SHARE this heartfelt story of faith in humanity!