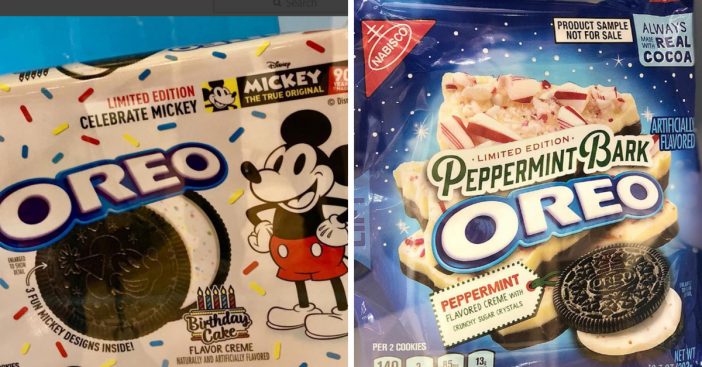 Do you love Oreos? Most of us can't get enough of those sweet sandwich cookies with filling in between. Oreo has many different flavors these days and they recently announced six new flavors for 2018. They are even partnering with Disney for one special flavor and bringing us Mickey Mouse Oreos! Here's the scoop on all six new flavors:
1. Mickey Mouse Oreos
https://www.instagram.com/p/BjG0_aXAUTi/?tagged=mickeymouseoreos
These Oreos will have three different designs of Mickey on the cookie and will be birthday cake flavored. Perfect for a kid's birthday party!
2. Rocky Road Trip Oreos
https://www.instagram.com/p/BjH1Uninb-4/?utm_source=ig_embed
Do you love Rocky Road ice cream? If you do, you'll probably want to sink your teeth into these cookies. They should taste just like the popular ice cream flavor.
3. Chocolate Peanut Butter Pie Oreos
https://www.instagram.com/p/BcQ0xtGFRN-/?utm_source=ig_embed
Another delicious dessert turned Oreo cookie. Rumors are that it will have graham cracker flavored cookies and the filling will be part peanut butter and part chocolate. Sounds amazing don't you think?
4. Good Humor Strawberry Shortcake Oreos
https://www.instagram.com/p/Bkh8lePHyTO/?taken-by=junkbanter
Remember those strawberry vanilla ice cream bars? They were covered in cookie crumbs and are very reminiscent of childhood. Hopefully, these Oreos taste exactly the same!
5. Peppermint Bark Oreos
https://www.instagram.com/p/BjIRRxkn421/?utm_source=ig_embed
There are already Peppermint Oreos, but these are said to have a twist. Rumors are there will be crunchy sugar crystals in the peppermint cream. Sounds perfect for wintertime to dunk into hot cocoa!
6. Pistachio Oreo Thins
https://www.instagram.com/p/BcPzHLrFh81/?utm_source=ig_embed
Lastly, they will be releasing a new flavor of their newer, thinner Oreos. These Oreos will have pistachio cream between two thin chocolate cookies. Sounds great, especially if you love all things pistachio!
Specific release dates are not known, so you'll just have to be patient and see when the flavor you anticipate biting into will hit stores. When do you predict each one will be released?
What are your favorite flavor Oreos? Which Oreos on this list are you most excited to try?
If you enjoyed this article, please share with an Oreo-loving friend!