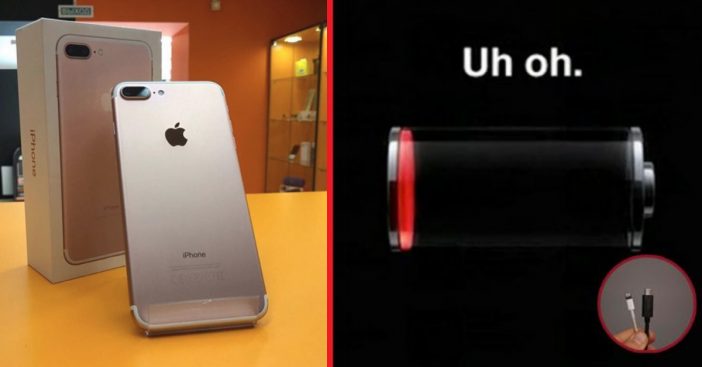 Recently, a ZDNet contributor opened up about his experience with his Apple iPhone and numerous trips to the Apple Store. What one Apple Store employee told him rattled his mind, and it rattles ours, too!
Upon entering the Apple Store and talking to a Genius Bar representative about his phone not charging, he received an answer that he wasn't quite ready for. He's been charging it the wrong way.
https://www.instagram.com/p/BkeW0H-ASW4/?tagged=iphone8plus
Who knew there was a right way to charge an iPhone? According to ZDNet contributor, Chris Matyszczyk, he had been using an iPhone 6 for a few years and everything was fantastic until the phone began exemplifying some strange behavior. His original iPhone 6 had encountered some water, which was virtually unfixable. So, he had to replace that iPhone 6 with another one.
https://www.instagram.com/p/Bkfo8DYHPxF/?tagged=iphone8plus
Only a few months after replacing the first water-saturated iPhone 6, the same strange charging patterns began to occur again. Chris went back to the Apple store to meet with a Genius Bar representative and try to get to the bottom of this odd phone mystery.
Chris even went as far as to plug in the lightning cable to show the rep that it was not charging properly.  "There's your problem," the rep said.
"You're charging it wrong."
https://www.instagram.com/p/BkYaVeLlO6M/?tagged=iphonecable
The rep went on to tell Chris that he was being "too aggressive" when he put the cable in the charging port. He advised Chris to put the cable in a bit more gently because apparently the inside of the port wasn't "designed for shoving". He also told Chris that because of his aggressive shoving of the cable, it wrecked the inside of the port.
This brought on yet another replacement iPhone 6.
https://www.instagram.com/p/BkfgGIBDmPs/?tagged=applestore
A year passed with the even newer replacement and he had been doing everything the Genius Bar rep told him to do. Everything was going perfectly until, you guessed it, the phone began exhibiting strange charging behavior again. His wife, a die-hard Samsung Galaxy user, couldn't help but laugh at the continuous misfortune.
https://www.instagram.com/p/BkYEokyH09V/?tagged=ipad
Yet, his two iPads have never had any charging problems. The mystery continues!
What did you think about this surprising iPhone charging story? Be sure to SHARE this with your friends!