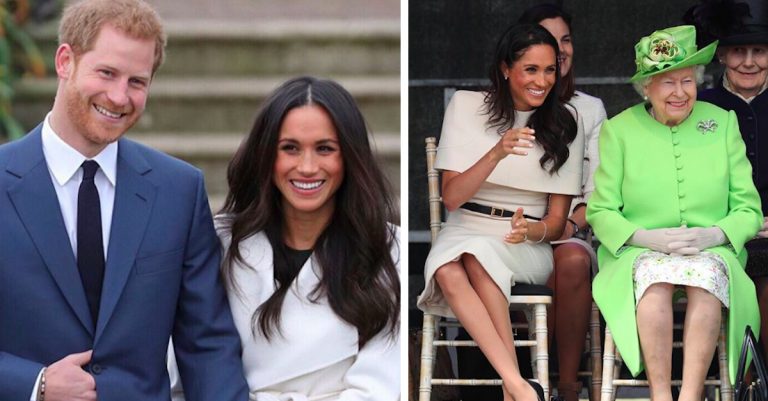 If you've been following the royal family as of late, you know that Meghan Markle is officially the Duchess of Sussex now, ever since her wedding to Prince Harry took place on May 19, 2018. Before and after the royal wedding, Meghan's every move has been followed closely by the media.
It would appear that even though she's been married for only a month, the Duchess has already formed a close relationship with Queen Elizabeth II. The two just embarked on their first joint engagements together in Cheshire.
https://www.instagram.com/p/Bj3KFYRAaUT/?hl=en&taken-by=kensingtonroyal
They attended the opening of the Mersey Gateway Bridge and watched schoolchildren put on a performance together. Throughout their entire day of engagements, the Duchess and Queen were snapped smiling and laughing multiple times. It would seem they've become fast friends! Surely, the Queen took a great liking to Meghan as they were able to bond over their love of dogs.
https://www.instagram.com/p/BkAeLBcAQSl/?hl=en&taken-by=kensingtonroyal
While it would appear that Meghan and Queen Elizabeth II are quite close, that doesn't mean that Meghan is calling the Queen by her first name, or even calling her grandma. There is a proper way for this to all go about and Meghan is following this royal protocol.
According to Majesty editor, Ingrid Seward, there are a few different names that Meghan will call the Queen. To start out, at the beginning of their relationship (right now), Meghan will call her "Your Majesty."
https://www.instagram.com/p/BkAZm5Wgu9S/?hl=en&taken-by=kensingtonroyal
Once they get closer, Meghan can switch to calling the Queen "Ma'am" and she could possibly stick to calling her that for life. However, if Meghan were to follow in her husband's late mother's footsteps, she might call the Queen "Mama" like Princess Diana once did. That title is held for people who are especially close to the monarch.
During the last decade of her life, Princess Diana called the Queen "Mama." Meghan can use this nickname, according to Ingrid. During an interview with Grazia, Ingrid explained when she can use the nickname, but also explained a pet name that Meghan won't ever get to use.
https://www.instagram.com/p/BkAEtX9gkTy/?hl=en&taken-by=kensingtonroyal
"This can be shortened to Mama, when Meghan gets to know her as Diana did. But never her pet name Lilibet, which is reserved for very close family and friends."
In private, Prince Harry calls the Queen Granny, along with his brother, who once called her "Gary" when he hadn't quite mastered the nickname yet. Prince William's son, Prince George, calls her "Gan Gan" in private. Since George started using the nickname, apparently Harry, Will, and their father, Prince Charles, has picked up using it, according to American biographer Kitty Kelley.
https://www.instagram.com/p/BkAaBVlghlD/?hl=en&taken-by=kensingtonroyal
Which nickname do you like best for the Queen?
H/T: Redbook