French artist Benedetto Bufalino has truly performed the unexpected and impossible! He completely alters the function of everyday things like cars, ovens, and phone booths.
One of his most recent projects was turning an old Ford into a wood-burning pizza oven. His latest project was turning a caravan into a mobile pool!
need to beat the heat? benedetto bufalino turns a seat ibiza sedan into a #jacuzzi fit for fun http://t.co/3tUDQYY9HY pic.twitter.com/nOGoX1rlzd

— designboom (@designboom) July 28, 2014
What was originally an old camping trailer has been turned into a mobile pool just in time for summer.
To transform the camping trailer into a swimming pool, Benedetto removed the roof, emptied the interiors, and properly fit the body of the car to hold the water. Additionally, a ladder was placed on the backend of the vehicle. This allowed people to jump right into the pool.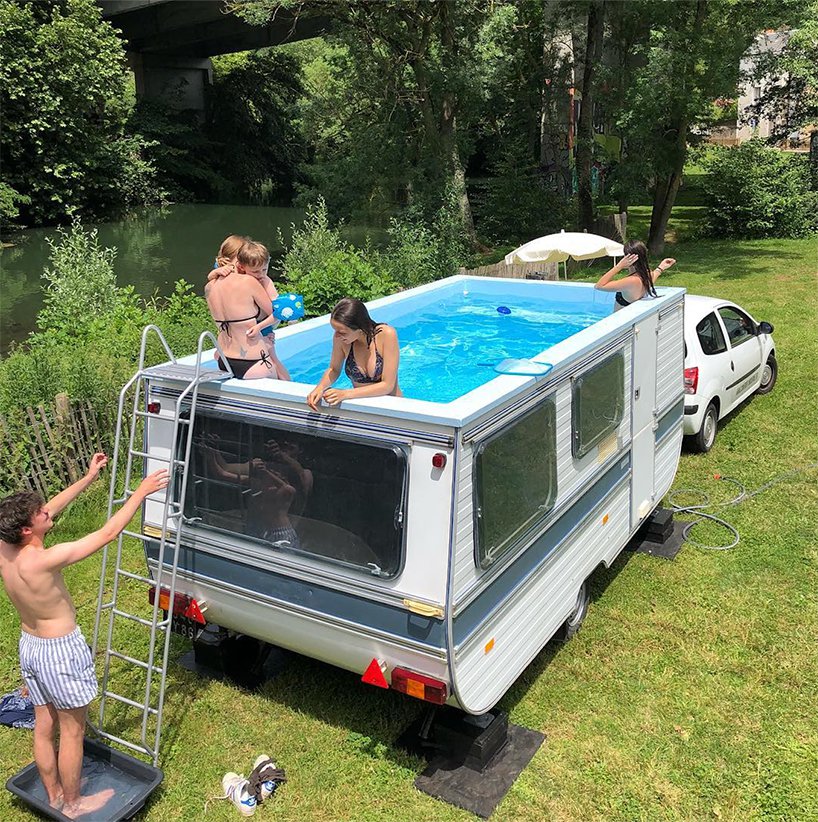 It really is the perfect mini-pool for hopping in on a hot day to cool off. Not only that, but you can take it absolutely anywhere! People all over the Internet couldn't believe these newly found functions for everyday things. After some research, Benedetto became virtually famous for his "inventions."
French artist Benedetto Bufalino is turning old cars into pizza ovenshttps://t.co/Ao6i75JDfh pic.twitter.com/ABY8iHSlAm

— Jalopnik (@Jalopnik) June 9, 2018
Yes, that is really Benedetto putting a pizza into a burning car. We'll take some of that!
artist benedetto bufalino has turned an old car into a playable ping pong table https://t.co/mMQG0lBf8t pic.twitter.com/sOHhtyqqwK

— designboom (@designboom) June 20, 2016
Benedetto also turned an old car into a fully functional ping pong table. When in doubt, use the underside of a car!
Yes, this "mobile telephone" is actually mobile. Equipped with wheels, it can actually drive down the road or sidewalk.
benedetto bufalino makes a mobile phone…literally https://t.co/CnV465UJaP pic.twitter.com/hokNOT1rJJ

— designboom (@designboom) August 15, 2017
Benedetto Bufalino has his own website chock full of his projects and his portfolio. He also has a 'videos' section that links directly to his YouTube channel, where you can see his projects come to life. It's no secret that Benedetto's projects may be the new pathway to the future. Reusing worn down products to create new inventions is definitely a keeper in our book!
Did you absolutely love these incredible, cool inventions? Be sure to SHARE this article with your friends if you did!