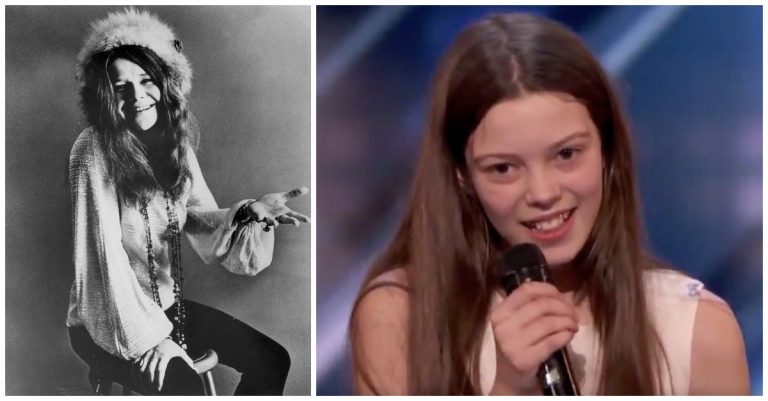 The popular television show America's Got Talent came back on May 29, 2018 for its 13th season. So many amazing acts have come and gone on this popular show, but some of these talents make you stop in your tracks.
A young girl, 13-year-old Courtney Hadwin, delivered one of those jaw-dropping performances. She came on stage and seemed very shy and nervous. However, after a pep talk from judge Mel B, she began to sing and what happened next seems unreal.
Thank you so much for all the lovely comments and support still hasn't sunk in yet thank you to the judges tyra and the full @AGT @nbc team #AGT #DREAMS pic.twitter.com/XaLLCX5tIV

— Courtney Hadwin (@CourtneyHadwin) June 13, 2018
Her performance will blow you away. It is almost like when she starts performing, she becomes another person (and that person looks and sounds a whole lot like Janis Joplin).
I didn't know what to expect when I auditioned for @AGT but the golden buzzer was more than I ever could have dreamed of. Thank you so much @howiemandel I am so happy and can't thank you enough xx https://t.co/qqNKUWyzVk

— Courtney Hadwin (@CourtneyHadwin) June 13, 2018
Janis Joplin was an amazing performer with a unique sound who died way too young. She died of a heroin overdose at just age 27. Howie Mandell talks about Janis Joplin's career to Courtney and it seems as though Courtney already knows a lot about her famous inspiration.
Courtney sang "Hard to Handle," a song originally by Otis Redding and re-recorded by the Black Crowes for her America's Got Talent audition and brought down the house. So much so that one of the judges gives her the Golden Buzzer!
Check out the video to see Courtney's amazing performance and find out which judge gives her the Golden Buzzer, allowing her to head right to the live show.
Courtney Hadwin has also been seen on The Voice Kids UK Season 1 in 2017. She sang "Nutbush City Limits" for her audition. Her coach was Danny Jones and she ended up being a finalist on the show.
Do you watch America's Got Talent? What do you think of Courtney Hadwin's performance? If you enjoyed this article and video, please send it to a friend!