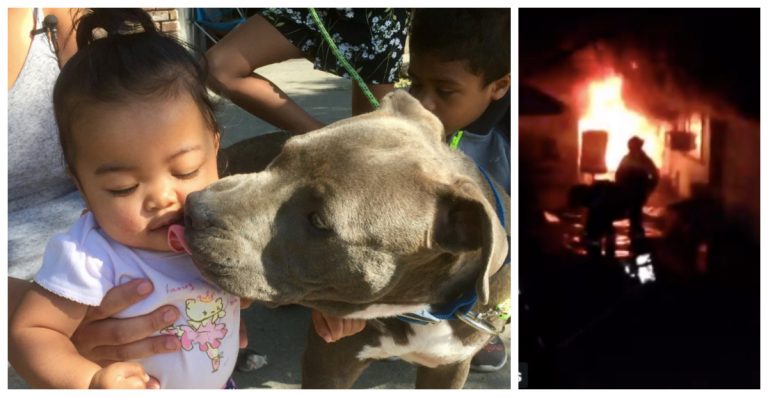 A Stockton, CA woman is praising her pit bull with saving her and her baby's lives. The dog woke them up when their house caught fire, providing more time to escape to safety.
Latana Chai claims that her dog, Sasha, threw herself against the outdoors backyard door just before midnight on Sunday. She wouldn't stop barking until Latana came outside. Afterwards, Sasha darted back inside to save the remaining residents of the complex when Latana noticed the house was on fire. Meanwhile, Sasha was grabbing the baby girl by the diaper, ready to drag her out of the burning house.
At Stockton family is crediting their eight-month-old pitbull Sasha with saving them by waking them up and grabbing the baby by the diaper when their house caught on fire pic.twitter.com/he5QI4Xum6

— Tom Miller (@TomMillerKXAN) June 8, 2018
As soon as Latana realized what was happening, her adrenaline kicked in and she sprang into action. She grabbed her baby, her dog, and the phone to dial 911. Firefighters were able to get to the scene in time to put out the flames, but both her house and her neighbor's houses are condemned.
This is the fire that a pit bull alerted her family to in Stockton! They credit her with saving their lives https://t.co/vHX2iEpTft pic.twitter.com/vDs1B5mnic

— Tom Miller (@TomMillerKXAN) June 8, 2018
Latana told ABC, "(Sasha) saved everybody, because if it wasn't for her, I don't think that any of us in this complex would have known anything… If she wasn't barking or really going at the door like that, I probably wouldn't have known nothing."
Meet Sasha, a courageous pit bull who alerted her family and helped a baby during a complex fire. #stockton #pitbull #dogsoftwitter pic.twitter.com/oZc2VkgwQg

— Mason Silva (@MasonSilvaKCRA) June 8, 2018
Latana has set up a GoFundMe page to help her family find a new home in addition to replacing the clothes and food destroyed in the fire. The cause of the fire is still under investigation, but everyone credits Sasha the pit bull as the one to save the day!
About time this beloved family breed gets a headline to show the true character of them. Back in the 1800's the were loved and called the nanny dog as they would be left to watch over the kids.

— Tallie L. Sengwong (@YSHomes) June 8, 2018
Pit bulls have had a reputation in the past of being dangerous and an inherently ill-intentioned breed. Many have taken to social media amid this story to praise the breed which has been so wrongfully accused of violence. Way to go, Sasha!
Good kisses… I love a story where the pit bull pup is the hero! They are wonderful dogs… loving, funny and goofy. More people are now getting in the know and adopting them!! Woo Hoo!!

— Florri Beckley (@FlorriBeckley) June 8, 2018
What an amazing story. Did you find this family rescue story incredibly heartwarming? Be sure to share this article if you did!