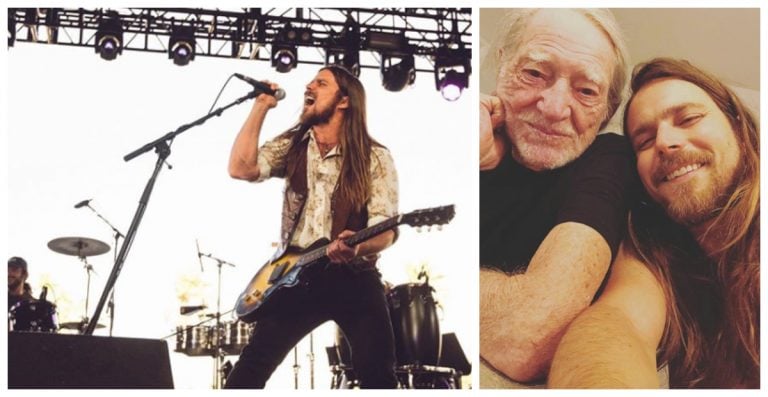 Willie Nelson is a long-time musician who has made his mark in the music industry. At 85 years old he's still going strong with music and live performances. The country and blues singer also has a son named Lukas who is following closely in his father's footsteps.
While Lukas dabbles in more country rock music, he's definitely keeping up with his father's image and doing his legacy proud.
https://www.instagram.com/p/Bj5p-dDHvV2/?taken-by=lukasnelsonofficial
Lukas currently creates music and tours with his band called "Promise of the Real." The group formed in 2008 when he met his current drummer at a Neil Young concert. Shortly after, the two began playing music together and it was all uphill from there.
Lukas dropped out of college to pursue music full-time, and it definitely wasn't difficult with Willie Nelson as his father. Lukas Nelson & Promise of the Real was released on August 25th, 2017. The album scored #1 on the Americana Radio Chart in early November.
https://www.instagram.com/p/Bj-JxhCH40e/?taken-by=lukasnelsonofficial
In addition to 4 studio albums, Nelson is also co-scoring music for the film remake A Star is Born. He's working alongside Lady Gaga in co-producing lyrics for the music in the film, directed by Bradley Cooper. Lukas will be appearing in the film with his band! Nelson also announced that he would be part of the line-up for the C2C: Country to Country music festival in the UK.
Lukas and the Promise of the Real already have tons of tour dates up on their website, with tickets available for purchase. Furthermore, his music can be bought and streamed on all music platforms. Lukas also follows in his father's footsteps by being an advocate for giving back. There is a complete list of organizations in which he gives back to and why on his website.
https://www.instagram.com/p/BjNtiSwngkY/?taken-by=lukasnelsonofficial
Be sure to SHARE this article if this father/son dynamic duo just warms your heart!
https://www.instagram.com/p/Bi2lbaInTA0/?taken-by=lukasnelsonofficial