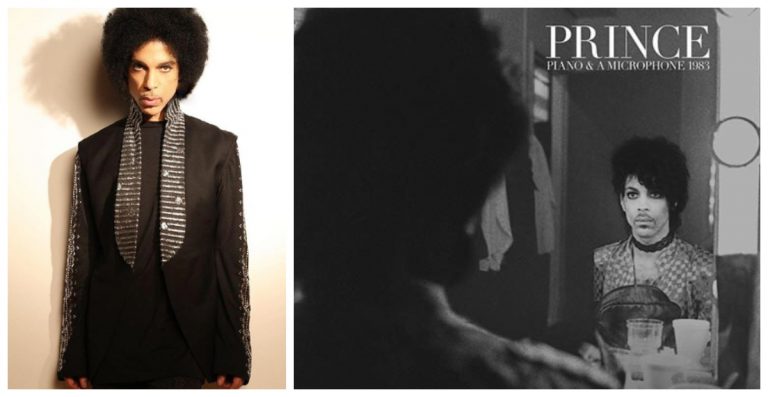 Prince fans will be getting a special treat for what would've been the singer's 60th birthday. New music!
The Prince Estate and Warner Brothers announced that a new album, titled Piano & A Microphone 1983, will be released September 21st. The track will be compiled of nine songs and it will be 35 minutes in length.
https://www.instagram.com/p/BDtuZSxmLVS/?taken-by=prince
The album is chock-full of unreleased material that was recorded in Prince's home studio in Chanhassen, MN. It was recorded in 1983. The album includes early versions of songs, including "Purple Rain," "17 Days," and "Strange Relationship."
The cover art Piano & A Microphone 1983 will consist of a rare photo of Prince backstage during a 1999 tour, taken by the singer's photographer at the time.
https://www.instagram.com/p/BCyNv63GLXp/?taken-by=prince
The first single from the album is a cover of Mary Don't You Weep, which is now available on most music-streaming platforms. In addition to all of these promotional announcements for the album, it is also available for pre-order. It will be released digitally, alongside CD and vinyl versions.
According to Rolling Stone, fans may find a deluxe edition featuring both a CD and LP. It will come with a booklet featuring notes from his former engineer, Don Batts, who oversaw the original sessions. Furthermore, the booklet will contain never-before-seen photos of Prince.
https://www.instagram.com/p/9KXm1MGLb3/?taken-by=prince
Prince was only 57 years of age when he was found dead in his Paisley Park estate, April 21st, 2016. Cause of death was presumed to be exceedingly high amounts of fentanyl, or in layman's terms, accidental overdose. Needless to say, fans are surely excited for the revival of Prince's memorable tunes and vocals.
Hearing that Prince's Estate will release an albums worth of unheard music from 1983 brings happiness to my soul

— Jake (@JacobBertsche) June 7, 2018
Many took to social media to express their happiness. We can agree!
A beautiful tribute to #Prince on his 60th birthday, the coming release of a classic 1983 rehearsal with just the man & his piano, recorded as he was working on Purple Rain. Glad to see the estate honoring him so well. https://t.co/iHRzwSj24w

— find me at @[email protected] or anildash.com (@anildash) June 7, 2018
What a truly beautiful way to honor a legendary artist.
Are you excited for the release of Piano & A Microphone 1983? Make sure to share this around and pre-order the album!
Listen to Mary Don't You Weep in the video below: