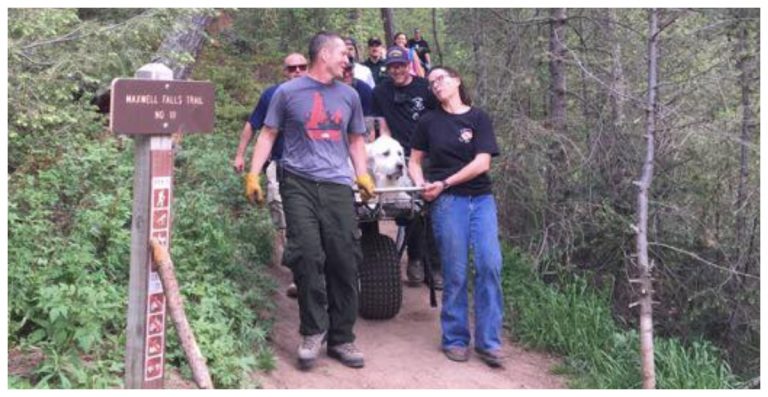 A rescue team in Evergreen, CO received a call on Sunday about a dehydrated pooch who couldn't finish the rest of his hike with his owners. 120-pound dog Kato and his owners were hiking Maxwell Falls when the dehydration set in.
When the rescue team heard the 'dog in distress' signals come through, they did not hesitate to ship out for help. Kato was just one mile from the end of the route, but he simply could not go on.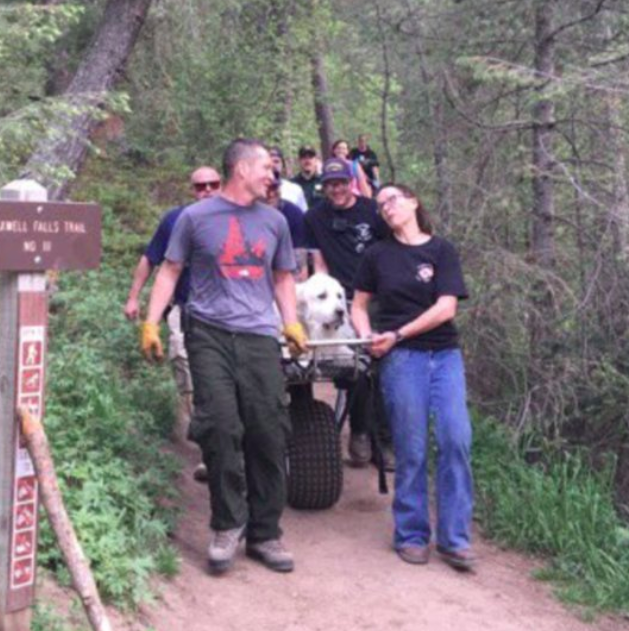 The best part? When the rescue team showed up, they carried the 5-year-old pup down the trail on a stretcher. It was truly fit for King Kato!
Kato was deemed likely dehydrated, but was still conscious and healthy — just tired. Because Kato is so heavy and also very fluffy, it's no surprise that the strenuous hike made a him a little tuckered out.
It seems as though the owners and rescue team were getting along just fine, laughing off the incident in pictures. Any excuse to get close to an adorable dog, despite the situation!
Evergreen Fire Rescue documented the experience on their official Facebook page, having a few pictures handy. The post received much praise from their Facebook audience, applauding them for their excellent work.
Many others took to Twitter to express their happiness about the outcome of the rescue call.
No man or dog left behind!

— psychic allie | readings open (@AlliePsychic) June 7, 2018
Never a dog left behind! Thank goodness the rescue team sprung into action.
me after walking up a mountain https://t.co/rA2s3BAxbJ

— Patrick Smith (@psmith) June 7, 2018
Patrick has a point here. I think this is all of us, especially on a hot day!
I love that he was relaxing on a stretcher on the trip back.

— Sky Tilley (@tilleys89) June 6, 2018
Who could be mad about proper pup pampering?
There's no doubt that after Kato was lifted into the stretcher and carried down the trail, he was much more relaxed and less distressed. We are so happy to hear Kato is back to normal!
Did you find this dog rescue story absolutely adorable? Be sure to share with your friends if you did!