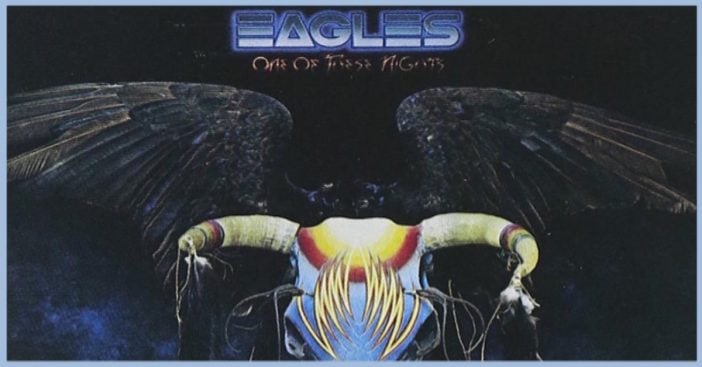 The Eagles started a 5 week run at No.1 on the US album chart with 'One Of These Nights'. This was the Eagles second #1 single in America, preceded by "Best Of My Love" a year before.
Written by Glenn Frey and Don Henley, this song was inspired by the soul music Frey was listening to when he started writing it on the piano. Artists like B.B. King and Al Green were a big influence on many songs on the album.
In a 1975 interview with Phonograph Record, Frey explained: "It's like, puttin' things off… Everybody I'm sure has said, 'One of these nights I'm gonna…' Gonna drive back to that restaurant an' take that waitress in my arms, whatever. Find that girl, make that money, buy that house. Move to that country. Any of that stuff. Everyone's got his ultimate dream, savin it for 'someday' And someday is up to you.
(source)
"One Of These Nights" – A 5 Week Run
One of these nights
One of these crazy old nights
We're gonna find out
Pretty mama
What turns on your lights
The full moon is calling
The fever is high
And the wicked wind whispers
And moansYou got your demons
You got desires
Well, I got a few of my ownOo, someone to be kind to in
Between the dark and the light
Oo, coming right behind you
Swear I'm gonna find you
One of these nightsOne of these lost and lonely dreams
We're gonna find one
One that really screamsI've been searching for the daughter
Of the devil himself
I've been searching for an angel in white
I've been waiting for a woman who's a little
Of both
And I can feel her but she's nowhere
In sight
Oo, loneliness will blind you
In between the wrong and the right
Oo, coming right behind you
Swear I'm gonna find you
One of these nights
One of these nights
In between the dark and the light
Coming right behind you
Swear I'm gonna find you
Get 'ya baby one of these nights
One of these nights
One of these nights
I can feel it
I can feel it
One of these nights
Coming right behind you
Swear I'm gonna find you now
One of these nights..[etc.]