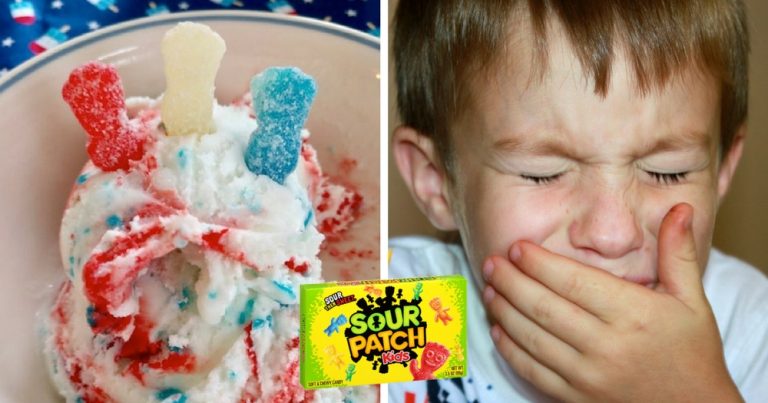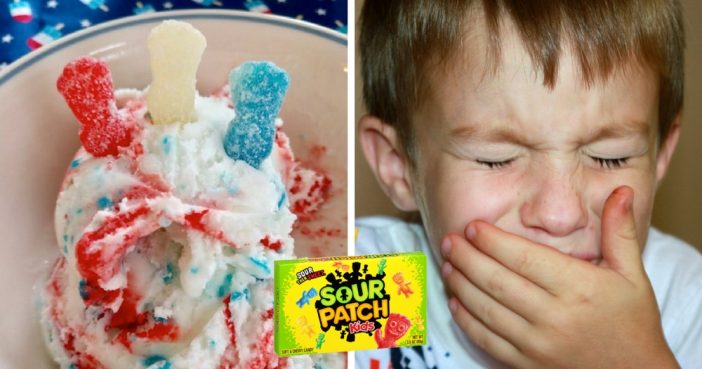 There's no arguing about it, Sour Patch Kids are one of the most delicious sweets on the planet. And so, obviously, when we saw they'd be made into an ice cream, we were super excited. The term that most commonly refers to the sour-to-sweet taste of Sour Patch candy is "Sour. Sweet. Gone." There is nothing better than ice cream or ice pops during the summer and with the season right around the corner, this new flavor ice cream at Walmart brings our beloved candy to containers.
Delish first reported that the ice cream is called Sour Patch Kids Red, White & Blue and has just started to hit Walmart's shelves. The 1.5-quart tub is a mix of lemon sorbet and vanilla light ice cream with a Redberry swirl and — wait for it — actual chunks of the gummy candies!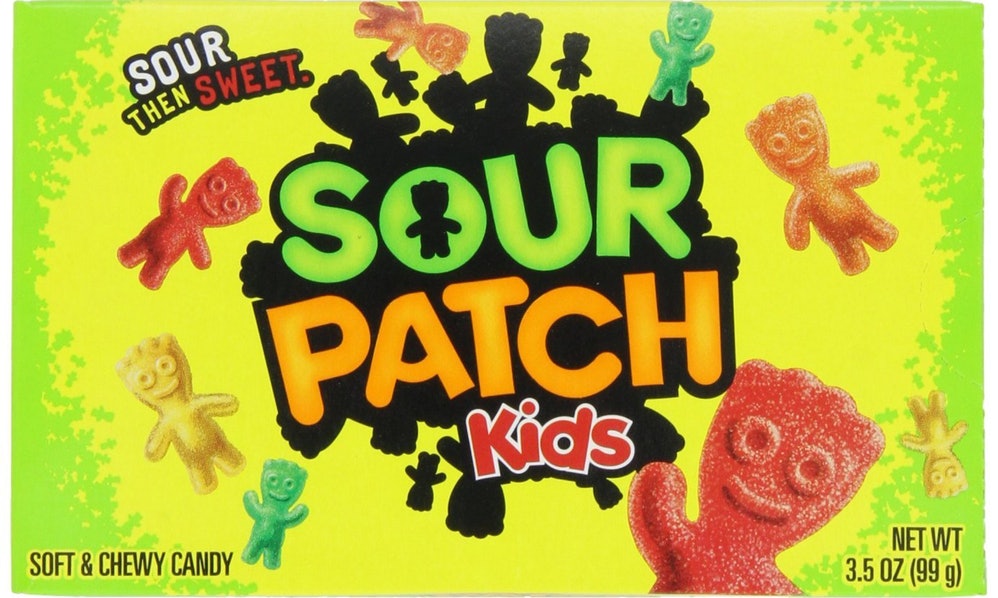 The ice cream was recently discovered by Instagram blogger JunkFoodMom who shared an image of the ice cream, which is multicolored and comes in a Sour Patch Kids themed tub, online. The tub is made up of both lemon sorbet and vanilla ice cream.
Junkfoodmom, said the sorbet/ice cream combo works well and that the new treat is "amazing."
It has a redberry swirl, which is said to be like liquid Sour Patch Kids.
https://www.instagram.com/p/BhUttGNnRpV/?utm_source=ig_embed
It's then filled with chunks of the gummy sweets. JunkFoodMom wrote: 'Couldn't wait any longer to bust into this. From Nestle Dreyers, Ice Cream Company here's Sour Patch Kids Red, White and Blue Light Ice Cream, and sorbet.
'Lemon sorbet and vanilla light ice cream with a Redberry swirl and blue Sour Patch Kids Bitz. This stuff is amazing. 'If sour is what you're looking for it's here.
The combo ice cream/sorbet works great and has a tart lemon flavor.
https://instagram.com/p/BhaxvhVh-zc/?utm_source=ig_embed
'The Blue Bitz are actual pieces of sp Kids – most pieces are small but I got a few half-sized pieces. 'What makes this Sour is the Redberry Swirl. Yikes- if you get a spoonful of it I guarantee your face will pucker up.'
Tubs have been spotted mainly in Walmart. Which means, as you guessed it, this beautiful concoction is not available in the UK *sob*. So check out the Walmart freezer near you. And if you aren't into ice cream, you can find Sour Patch ice pops at stores across the U.S. and Canada.
Credits: metro.co.uk and WKBW