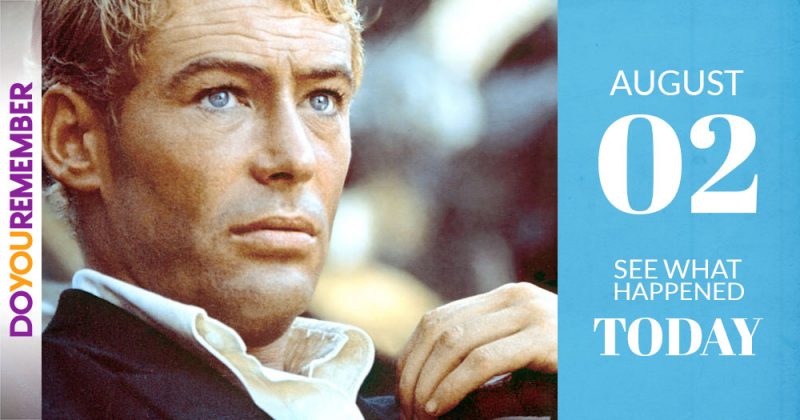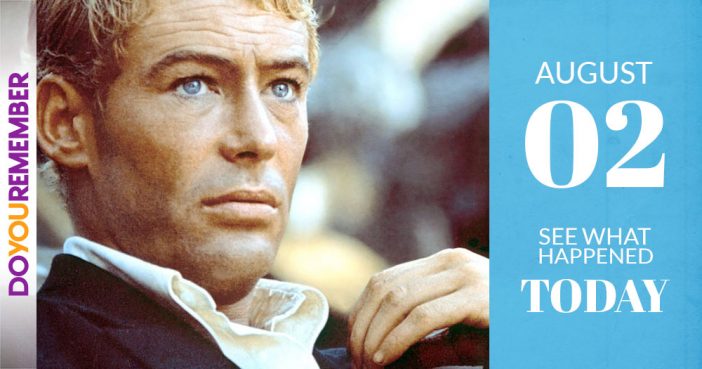 "Born Today"
Hallie Eisenberg (23)
Charli XCX (23)
Nadia Bjorlin (35)
Aaron Staton (35)
Donna Air (36)
Edward Furlong (38)
Sam Worthington (39)
Jacinda Barrett (43)
Kevin Smith (45)
Alice Evans (47)
Mary-Louise Parker (51)
Cynthia Stevenson (53)
Victoria Jackson (56)
Apollonia (56)
Butch Vig (58)
Anthony Crivello (60)
Butch Patrick (62)
Joanna Cassidy (70)
Betsy Bloomingdale (93)
Wes Craven (RIP)
Peter O'Toole (RIP)
Carroll O'Connor (RIP)
Myrna Loy (RIP)
"Died Today"
Shari Lewis (Born: January 17, 1933 / Died: August 2, 1998)

Warren G. Harding (Born: November 2, 1865 / Died: August 2, 1923)
"Movies"
"Music"
1960 – Johnny Kidd and The Pirates became No. 1 on the UK singles chart for their song "Shakin' All Over." This was their only No. 1 hit, since Kidd died in a car crash in 1966. Many artists covered the song including The Who, Led Zeppelin, Iggy Pop, and others.
1961 – The Beatles began as regular headliners at Liverpool's Cavern Club. They performed about 300 shows over the next two years.

1962 – Robert Allen Zimmerman legally changed his name to Bob Dylan. According to Daniel Mark Epstein in his biography,

The Ballad of Bob Dylan

, he changed his name at around the age 18. In CBS interview in 2004, Dylan explained, "You're born, you know, the wrong name, wrong parents. I mean, that happens. You Call yourself what you want to call yourself. This is the land of the free."

1967 – The Jimi Hendrix Experience played the first of five night at the Salvation Club in New York City. The Setlist included Foxy Lady, Hey Joe, The Wind Cries Mary, Purple Haze, and the Burning of the Midnight Amp.

1969 – Three Dog Night released the single "Easy To Be Hard." The song was ranked #33 on

Billboard Magazine's

Top

Hot 11

songs of 1969.
1969 – Blood, Sweat, & Tears song "Spinning Wheel" reached the top of the Easy Listening chart. In an interview with songfacts.com, Clayton-Thomas explained the reasoning of the song: "I came up with the song just picking it away on a guitar when I found some chord changes I liked. As for the lyrics, everybody was getting so serious about 'The Revolution' and everything else in those days. It was just kind of a way to say, 'Lighten up, people. Take it easy. It's all going to come full circle."
1969 – Zager & Evans remained at #1 with their everlasting classic "In the Year 2525." Tommy James & the Shondell's summer hit "Crystal Blue Persuasion" followed at #2. Both are members of

The Top 500 Songs of the Rock Era.

1975 – "Fight the Power, Part 1" became #1 for the Isley Brothers on the R&B chart.

1975 – Glen Campbell held the top spot for Adult Contemporary with the song "Rhinestone Cowboy"
1980 – Deep Purple hit #1 in the United Kingdom with their album

Deepest Purple

. The album was a compilation of their original hits before their 1984 reunion.

1976 – Pink Floyd's road manager, Peter Watts, was found dead in Notting Hill, England from a heroin overdose. Watts supplied the wild laughter on the groups,

The Dark Side of the Moon

album.

1980 – Rolling Stones album,

Emotional Rescue

, became #1, holding of Billy Joel's

Glass Houses

.

1980 – Olivia Newton-John's song "Magic" stole the #1 spot from Billy Joel's "It's Still Rock and Roll To Me." This was Olivia's fourth #1 song.
1983 – Popular Motown bass guitarist, James Jamerson, died in Los Angeles, California of alcoholism at the age of 47. Jamerson played on Marvin Gaye's "I Heard It Through The Grapevine," The Temptations "My Girl," Stevie Wonder's "For Once in My Life," and many more elite artists.

1986 – George Strait hit #1 on

Billboard's

country chart with "Nobody In His Right Mind Would've Left Her." The track was originally written by Dean Dillon, whose version made it #25 on

Billboard's

Hot Country Singles & Tracks in 1980.

1998 – Beastie Boys began a three week run at No. 1 on the US album chart with "Hello Nasty."

2000- Madonna's video "Music" premiered.
"TV/Radio"
1964 – Radio stations reported that the bodies of Jim Reeves and Dean Manuel were found in an aircraft wreckage. Reeves' was controlling the single-engine Beechcraft Debonair aircraft when it had crashed during a thunderstorm. Thousands of fans travelled to pay their respects at their funeral days later.

1962 – Aretha Franklin performed on

American Bandstand.

1969 –

Johnny Cash

ABC television music variety show included special guests O.C. Smith, Merle Haggard, Merrilee Rush, and Carl Perkins. Haggard performed 'The Fugitive/The Highway Is My Home' and Cash joined in for a duet on 'Sing Me Back Home.'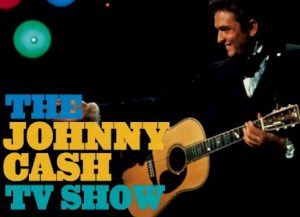 "Other Important Events…"
1977 – The Who bought Shepperton film studios in London for half a million dollars

1991 – Funk singer, Rick James, was arrested on sexual torture charges. It was reported by police that him and his 21-year-old girlfriend allegedly imprisoned and tortured a 24-year-old woman with a hot cocaine pipe for over three days at James' Hollywood Hills home.