These days it seems like you can't go anywhere in the world without being greeted by those familiar Golden Arches.
Sometimes the vision of them can be comforting, especially when you're traveling abroad and surrounded by mysterious, slightly intimidating food. Sometimes it can be annoying, like when you get off the interstate craving a steak and McDonald's is the only restaurant in sight. Usually, though, that meal of a Big Mac and fries is always welcomed.
Most McDonald's are comfortingly identical: the red-and-yellow color scheme, beige floors, plastic tables, cardboard cutouts of Ronald McDonald, and a ball pit for the kids. Around the world, though, there are some innovative examples of franchise owners creatively blending into (or standing out from) their surroundings, thanks to top architects hired by the brand. From the New Zealand location that incorporates a decommissioned airliner to the minimalist "Quarter Pounder" store in Tokyo, see the slideshow below to find out the top 10 coolest McDonald's locations in the world.
McDonald's in the Mountains
WHERE: Guangxi, Southern China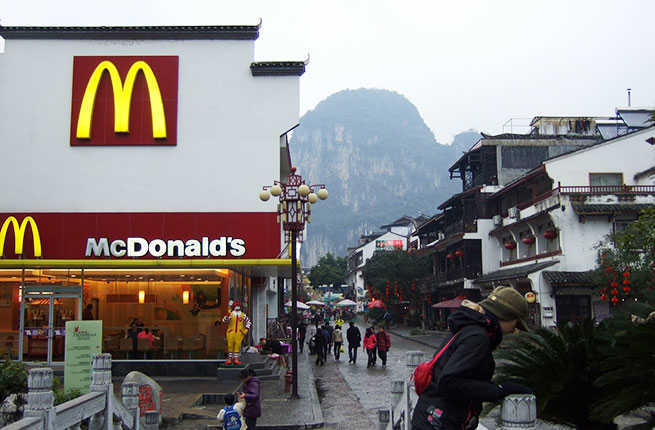 Nestled in the gorgeous, remote landscape of the scenic province of Guangxi in Southern China is…a McDonald's. This particular McDonald's is more exotic than most—it has its own bridge.
McDonald's With a Whole Plane Attached to It
WHERE: Taupo, New Zealand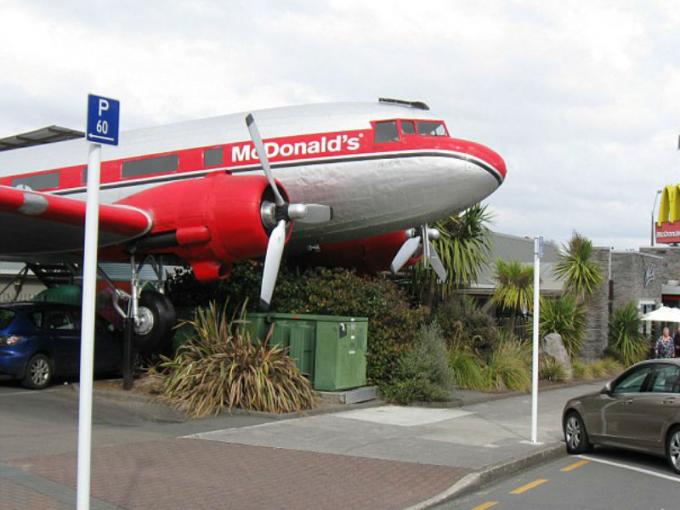 This McDonald's has a whole decommissioned plane as part of the store for some reason. You can even eat on the plane if you enjoy eating McDonald's on an airplane without the whole "flying" part. Before it retired and moved into a McDonald's, this plane was one of three used by South Pacific Airlines, from 1961 to 1966.
McDonald's That Looks Like a Space Observatory
WHERE: Tbilisi, Georgia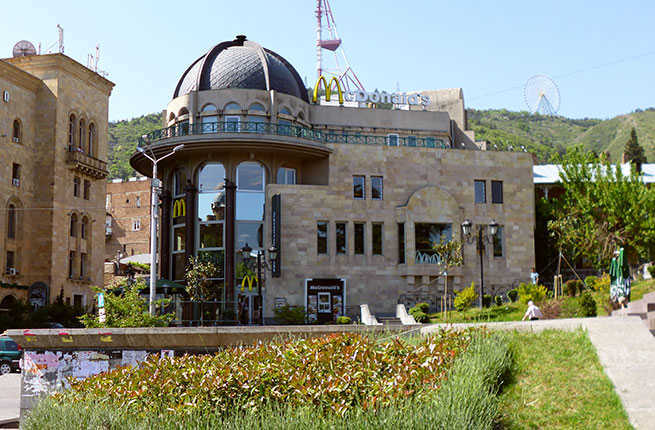 One might look at this building on the busy streets of Tbilisi and think, "Why does that space observatory say 'McDonald's' on it?" and then be startled to find out that the reason is "because it is a McDonald's and not a space observatory." It looks like a space observatory though, so it's an honest mistake.
Boat McDonald's
WHERE: St. Louis, MO
This McDonald's is a riverboat, on the Mississippi River. It's a whole boat and also it is a McDonald's.
Spaceship McDonald's
WHERE: Roswell, New Mexico
This McDonald's is shaped like an actual spaceship, which isn't surprising because of Roswell's history of UFO activity.