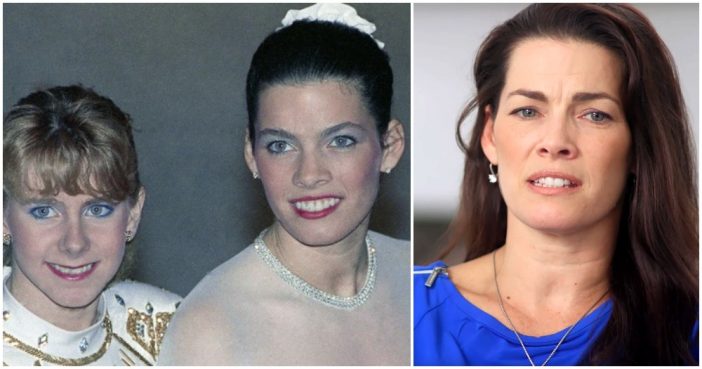 Nancy Kerrigan is finally breaking her silence on Tonya Harding's redemption tour for "I, Tonya."
The movie — which brings back to light the figure skater's infamous feud with Harding 24 years after she was kneecapped before the Lillehammer Olympics — has received major recognition this awards season. While Harding has sat down for multiple interviews, even appearing on the red carpet at the film's Los Angeles premiere and attending the 75th Annual Golden Globes Awards, Kerrigan has stayed hush… until now.
In a new interview with the Boston Globe, Kerrigan admits she has not seen the movie and doesn't "really have anything to say about it."
"I've been busy," Kerrigan, who competed on season 24 of Dancing With the Stars, explains. "I was at the national [figure skating] championships this week, so I didn't watch the Golden Globes. I haven't seen the movie. I'm just busy living my life."
"It was really fun," she said of her time at the championships in San Jose, California. "It was like a reunion. They were celebrating the 1988 Olympic team. That was a team I should have been part of, not because I was good enough then, but I just got along with them so well."
The film, which stars Suicide Squad actress Margot Robbie as Harding, focuses on how Harding rose to fame, highlighting her allegedly abusive relationships with her mother, LaVona Golden (Allison Janney), and ex-husband, Jeff Gillooly (Sebastian Stan), telling the story through Harding's point of view. Since its release earlier this month, everyone's been talking about the embattled figure skater. So, how does Kerrigan feel about it?
Click Next Watch Nancy Kerrigan Respond And Discuss Her Feelings About The Movie