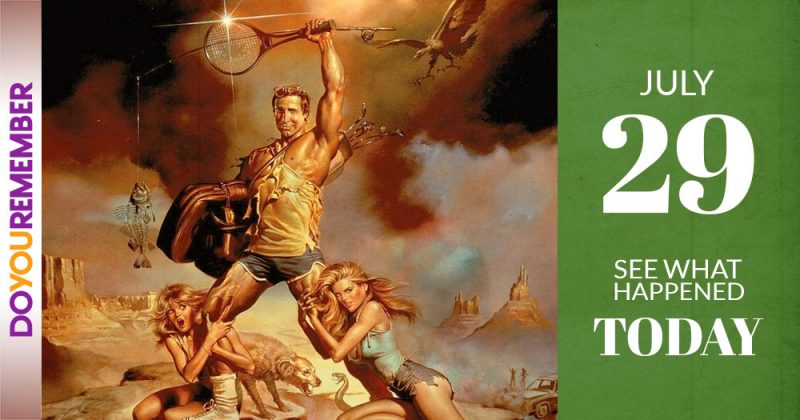 "Born Today"
Joey Essex (25)

Rachel Miner (35)

Danger Mouse (38)

Josh Radnor (41)

Wanya Morris (42)

Wil Wheaton (43)

Martina McBride (49)

Alexandra Paul (52)

Danielle Staub (53)

Cynthia Rowley (57)

Ken Burns (62)

Tim Gunn (62)

Geddy Lee (62)

Patti Scialfa (62)

Leslie Easterbrook (66)

Tony Sirico (73)

David Warner (74)

Stephen Dorff (42)

Clara Bow (RIP)
"Died Today"
Mama Cass (Born: 

September 19, 1941 / Died: July 29, 1974)

Vincent Van Gogh (Born: 

March 30, 1853 / Died: July 29, 1890)

David Niven (Born:

March 1, 1910 / Died: July 29, 1983)

Tom Snyder (Born: May 12, 1936 / Died: July 29, 2007)
"Movies"
Click on the movie title to watch it's trailer.
"Music"
1956 – Carl Perkins was on the UK singles chart with his debut UK hit 'Blue Suede Shoes'.

1963 – Elvis Presley was at No.1 on the UK singles chart with '(You're The) Devil In Disguise'.

1965 – The Beatles film "Help!" premiered in London.

1967 – The Doors started a three week run at No.1 on the US singles chart with an edited version of 'Light My Fire'.

1968 – The first recording session of The Beatles seven-minute epic 'Hey Jude' took place at Abbey Road studios London.

1972 – Gilbert O'Sullivan started a five week run at No.1 on the US singles chart with 'Alone Again, (Naturally)'.

1978 – The film soundtrack to Grease featuring John Travolta and Olivia Newton-John went to No.1 on the US album chart.

1978 – Kenny Loggins "Whenever I Call You Friend" was released.
1980 – David Bowie made his theatrical debut when he opened in the title role of "Elephant Man."
1981 – The debut album "Time" was released by The Time.

1991 – The

Metallica single "Enter Sandman" was released.
"TV/Radio"
1957 – Jack Paar began hosting the "Tonight" show on NBC-TV. The name of the show was changed to "The Jack Paar Show."
"Other Important Events…"
1950 – Disney's adaptation of Robert Louis Stevenson's "Treasure Island" was released.

1981 – England's Prince Charles and Lady Diana Spencer were married.
1983 – Steve Garvey (Los Angeles Dodgers) set the National League consecutive game record at 1,207.
1985 – General Motors announced that Spring Hill, TN, would be the home of the Saturn automobile assembly plant.