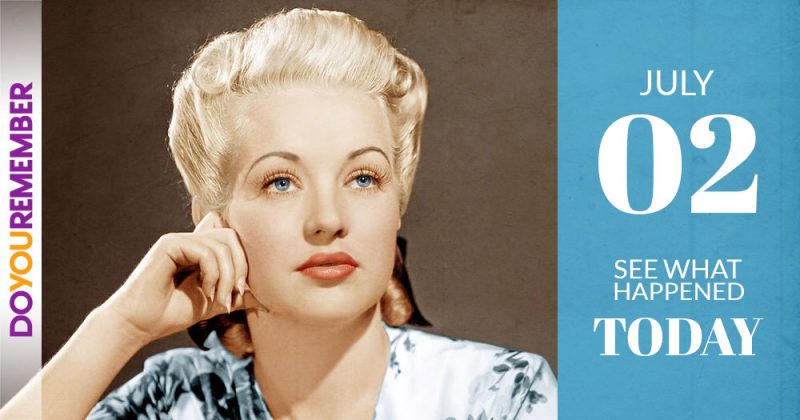 "Born Today"
J

ohnny Weir (31)

Margot Robbie (25)

Lindsay Lohan (29)

Ashley Tisdale (30)

Michelle Branch (32)

Owain Yeoman (37)

Erin Burnett (39)

Peter Kay (42)

Yancy Butler (45)

Monie Love (45)

Jose Canseco (51)

Samy Naceri (54)

Bret Hart (58)

Jerry Hall (59)

Wendy Schaal (61)

Larry David (68)

Richard Petty (78)

Thurgood Marshall (RIP)
"Died Today"
Ernest Hemingway (Born:

July 21, 1899

/ Died: July 2, 1961)

Jimmy Stewart: (Born:

May 20, 1908

/ Died: July 2, 1997)

Mario Puzo: (Born:

October 15, 1920

/ Died: July 2, 1999)

Betty Grable: Born:

December 18, 1916

1916 / Died: July 2, 1973)(Featured Above)

Beverly Sills: (Born: 1929:

May 25, 1929

/ Died: July 2, 2007)

Lee Remick: (Born: December 14, 1935 / Died: July 2, 1991)
"Movies"
Click on the movie title to watch it's trailer.
"Music"
1956 – Elvis Presley recorded "Hound Dog" and "Don't Be Cruel."
1956 – Buddy Holly's first single "Blue Days, Black Nights" b/w "Love Me" was released.

1961 – The Drifters released the single "Sweets For My Sweet."

1966 – Frank Sinatra went to No.1 on the US singles chart with 'Strangers In The Night'.
https://www.youtube.com/watch?v=hlSbSKNk9f0
1969 – Working on tracks for the Abbey Road album, Paul McCartney recorded 'Her Majesty'. Then Paul, George, and Ringo record 15 takes of 'Golden Slumbers/Carry That Weight'.

1976 – For the first time in 12 years, Brian Wilson joined the Beach Boys on stage.

1971 – Queen appeared at Surrey College, England.

1981 – Bruce Springsteen played the first show ever at the 21,000 seat Brendan Byrne Meadowlands Arena in New Jersey.

1983 – Rod Stewart started a three week run at No.1 on the UK singles chart with 'Baby Jane'
1984 – Epic Records set a record as two million copies of the Jacksons' "Victory" were shipped to stores.

1988 – Tracy Chapman started a three-week run at No.1 on the UK album chart with her self-titled debut LP.

1988 – Michael Jackson became the first artist to have five number one singles from one album when 'Dirty Diana' went to the top of the US charts
1991 – "Dr. Demento 20th Anniversary Collection: The Greatest Novelty Records Of All Time" was released.
"TV/Radio Today"
1955 – ABC Television premiered "The Lawrence Welk Show."
1998 – Cable News Network (CNN) retracted a story that alleged that U.S. commandos had used nerve gas to kill American defectors during the Vietnam War.
"Other Important Events…"
1881 – Charles J. Guiteau fatally wounded U.S. President James A. Garfield in Washington, DC.

1937 – American aviation pioneer Am

elia Earhart disappeared in the Central Pacific during an attempt to fly around the world at the equator.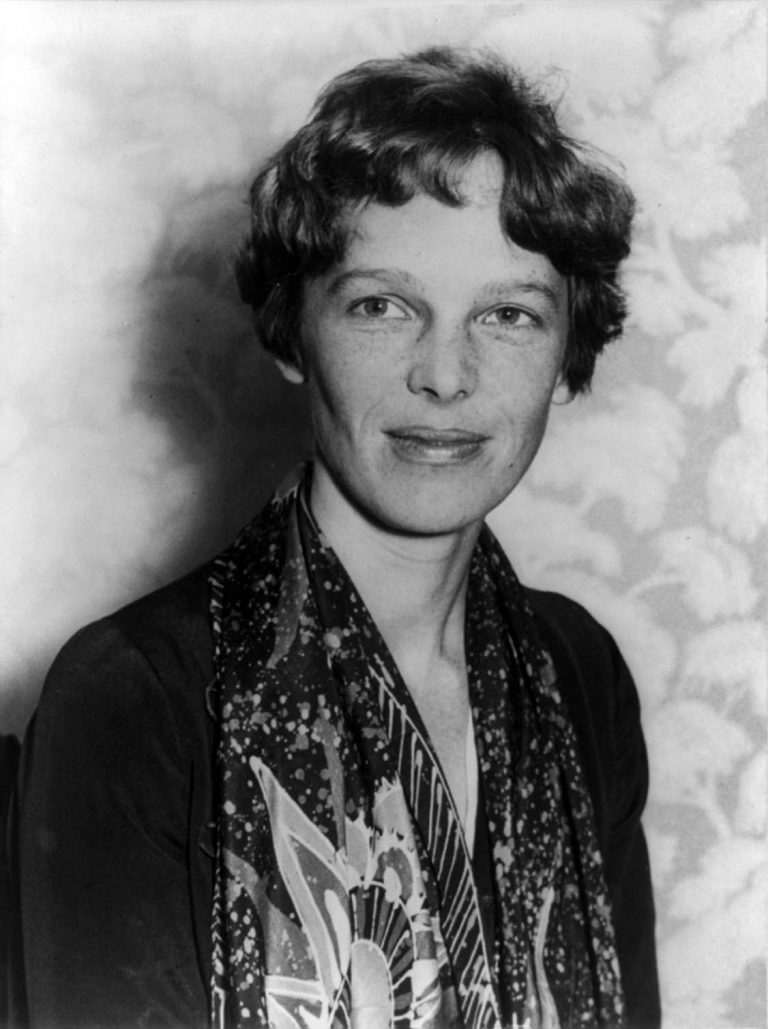 1939 – At Mount Rushmore, Theodore Roosevelt's face was dedicated.

1962 – Wal-Mart Discount City opened in Rogers, Arkansas. It was the first

Walmart

store.

1962,

Jimi Hendrix

 

was honourably discharged from the 101st Airborne Paratroopers, after breaking his ankle during his 26th and final parachute jump.

1964 –

U.S. President Johnson

signed the "Civil Rights Act of 1964" into law. The act made it illegal in the

U.S.

to discriminate against others because of their race.

1976 – North Vietnam and South Vietnam were reunited.

1979 – The U.S. Mint officially released the Susan B. Anthony coin in Rochester, NY.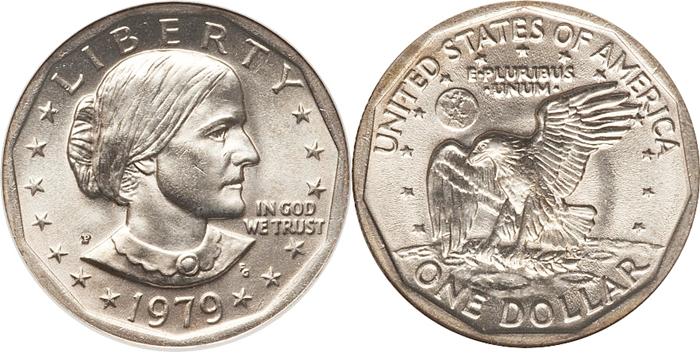 1980 – U.S. President Jimmy Carter reinstated draft registration for males 18 years of age.

1982 – Larry Walters ("Lawnchair Larry") took flight in his homemade airship that consisted of a lawnchair with 45 helium-filled weather balloons attached to it. He stayed in flight for about an hour.

1985 – General Motors announced that it was installing electronic road maps as an option in some of its higher-priced cars.

1991 – Axl Rose (Guns 'n' Roses) sparked a riot during a concert outside of St. Louis when he jumped off the stage and attacked a fan who was videotaping the concert. 60 people were hurt.

1995 – "Forbes" magazine reported that Microsoft's chairman, Bill Gates, was the worth $12.9 billion, making him the world's richest man.