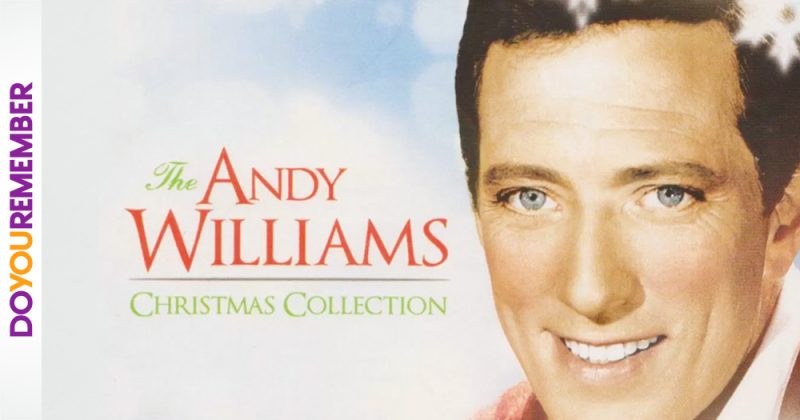 Christmas time was always synonymous with Andy Williams and Christmas Specials! Andy Williams has sung countless Christmas Carols that we listen to every year as we wait for Old St. Nick to stop by. But why only listen in December? 
It's the most wonderful time of the year, and Andy Williams has the song for you! I bet this song makes you want to roast marshmallows and tell some scary ghost stories. And it just so happens that this is Andy Williams' number 1 song.
This was family television meant for everybody. I remember all the family would sit and watch together. Mom would make popcorn on the stove, Dad would turn off the lights, the Christmas tree was all lit up, we kids were in our pajamas lying on the floor.
It felt so warm, so cozy, so safe. It was Christmas and Andy was a part of that.
More than just the Christmas specials…
Andy Williams is known for more than just his Christmas music, however. During his lifetime, Williams recorded a total of 44 albums. Many of them reached a high level of success, and 15 of them are gold-certified. In addition, 3 of his albums became platinum-certified. His song, 'Moon River', was his most popular tune.
It influenced the naming of the Moon River Theatre in Missouri, and he used the song for the theme music to "The Andy Williams Show" that he hosted in the 60's. His show earned him a total of 3 Emmy awards for Outstanding Variety Program.  
Lyrics to Andy Williams' "Moon River"
Moon river, wider than a mile
I'm crossing you in style some day
Oh, dream maker, you heart breaker
Wherever you're going, I'm going your way
Two drifters, off to see the world
There's such a lot of world to see
We're after the same rainbow's end, waiting, round the bend
My Huckleberry Friend, Moon River, and me
Moon river, wider than a mile
I'm crossing you in style some day
Oh, dream maker, you heart breaker
Wherever you're going, I'm going your way
Two drifters, off to see the world
There's such a lot of world to see
We're after that same rainbow's end, waiting, round the bend
My Huckleberry Friend, Moon River, and me
"Danny Boy"
RELATED: WATCH: Susan Boyle Earns Golden Buzzer By Singing "Wild Horses" On 'America's Got Talent'