If you had a child in the 90's or were a child of the 90's, chances are you're VERY familiar with what is now known as the Disney renaissance period, think anything from 1989 to 1999. This era in Disney cinema history gave birth to dozens of beloved characters but none were quite as magical, as Aladdin's Genie!
Genie, voiced by the incomparable Robin Williams, brought an amazing twist on the original character from the classic Ali Baba tale and showed us all we'd never had a friend like him before. As a comedic genie, trapped inside his bottle for what were probably eons, once Aladdin let him out, went over the rules (yes there are rules when it comes to granting wishes) and showed him what he was made of (cue never had a friend like me) he pulled out all the stops!
As we went along with Aladdin's tale Genie was always there for him, giving him guidance and assuring him that there was no need for magic when it came to fulfilling his dreams and getting the girl, that he should just "Bee" himself. He was the ever-constant voice of reason, the one that made you laugh, the one that cheered you on as you fought the most evil/powerful serpent sorcerer who stole your girl, your genie and control of your city.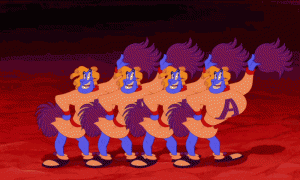 Genie taught us all what it really meant to be a friend, no matter what!