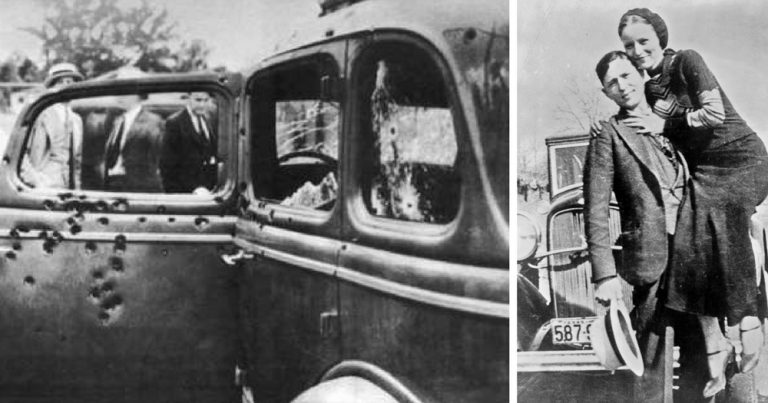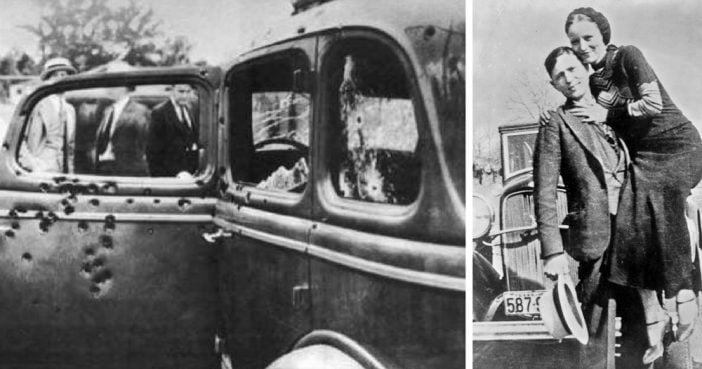 7. A car accident impaired Bonnie's walking.
On the night of June 10, 1933, Clyde, with Bonnie in the passenger seat, was speeding along the rural roads of North Texas so quickly that he missed a detour sign warning of a bridge under construction. The duo's Ford V-8 smashed through a barricade at 70 miles per hour and sailed through the air before landing in a dry riverbed. Scalding acid poured out of the smashed car battery and severely burned Bonnie's right leg, eating away at her flesh down to the bone in some places. As a result of the third-degree burns, Bonnie, like Clyde, walked with a pronounced limp for the rest of her life, and she had such difficulty walking that at times she hopped or needed Clyde to carry her.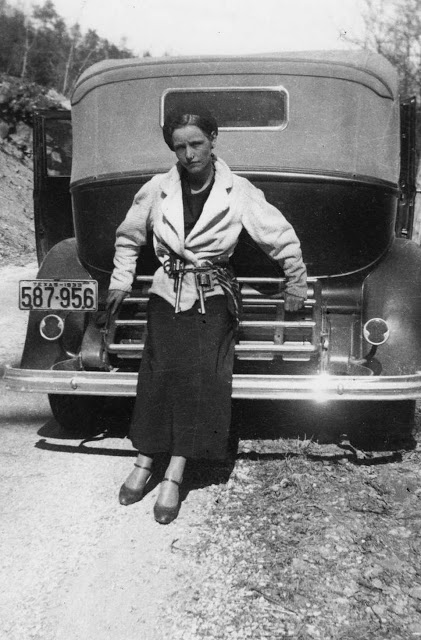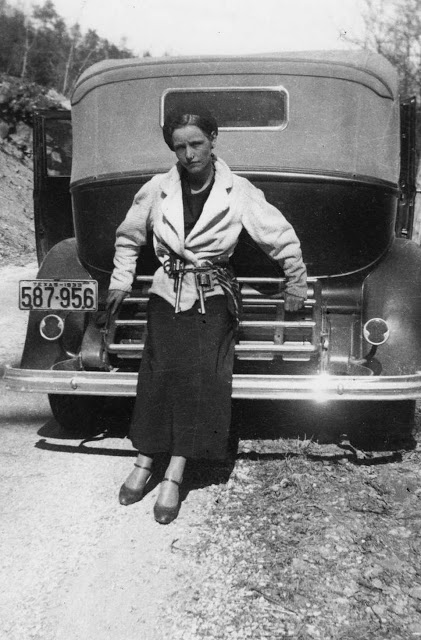 8. Souvenir hunters tried to cut off parts of Bonnie and Clyde at the scene of their deaths.
On May 23, 1934, a six-man posse led by former Texas Ranger captain Frank Hamer ambushed Bonnie and Clyde and pumped more than 130 rounds of steel-jacketed bullets into their stolen Ford V-8 outside Sailes, Louisiana. With acrid gunsmoke still lingering in the air, gawkers descended upon the ambush site and attempted to leave with macabre souvenirs from the bodies of the outlaws still slumped in the front seat. According to Jeff Guinn's book "Go Down Together," one man tried to cut off Clyde's ear with a pocket knife and another attempted to sever his trigger finger before the lawmen intervened. One person in the throng, however, managed to clip locks of Bonnie's hair and swathes of her blood-soaked dress.
9. Their bullet-riddled "death car" is on display at a casino.
Following the ambush of Bonnie and Clyde, a Louisiana sheriff who was a member of Hamer's six-man posse claimed the pockmarked Ford V-8 sedan, still coated with the outlaws' blood and tissue. A federal judge, however, ruled that the automobile stolen by Bonnie and Clyde should return to its former owner, Ruth Warren of Topeka, Kansas. Warren leased and eventually sold the car to Charles Stanley, an anti-crime lecturer who toured fairgrounds with the "death car" and the mothers of Bonnie and Clyde in tow as sideshow attractions. Still speckled with bullet holes, the "death car" is now an attraction in the lobby of Whiskey Pete's Casino in Primm, Nevada, a small resort town on the California border 40 miles south of Las Vegas.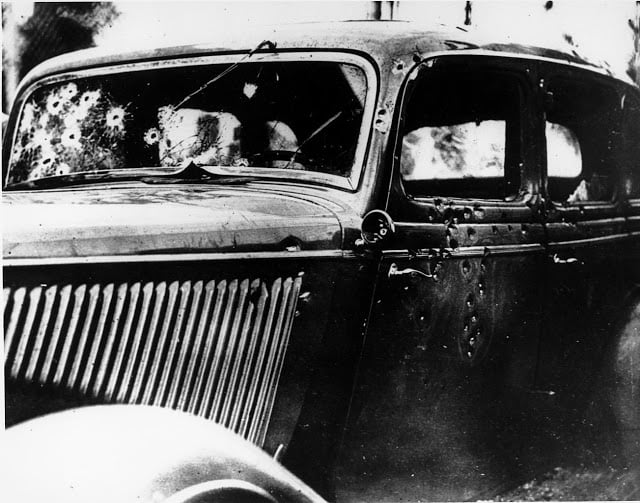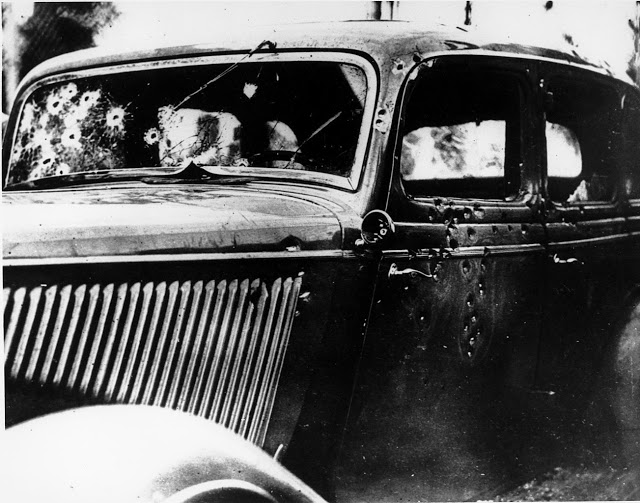 10. Bonnie and Clyde were buried separately.
Although linked in life, Bonnie and Clyde were split in death. While the pair wished to be buried side-by-side, Bonnie's mother, who had disapproved of her relationship with Clyde, had her daughter buried in a separate Dallas cemetery. Clyde was buried next to his brother Marvin underneath a gravestone with his hand-picked epitaph: "Gone but not forgotten."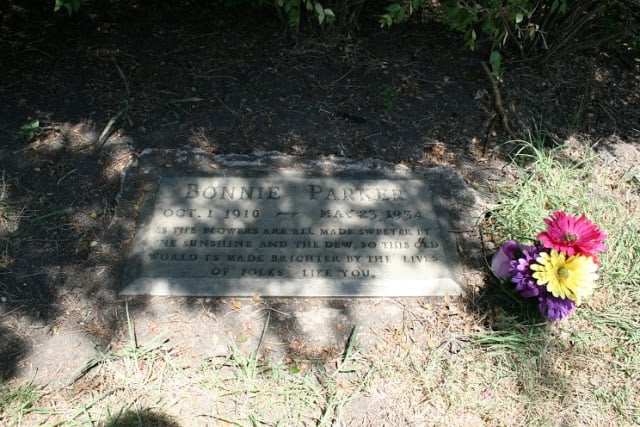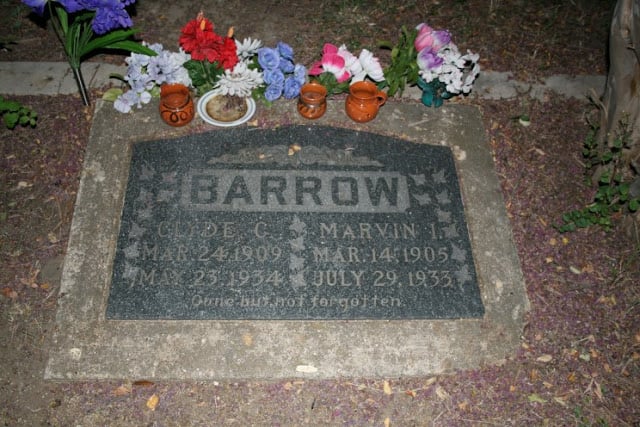 11. Bonnie and Clyde were both short.
Bonnie was only 4'11" and Clyde 5'4″ at a time when average heights for women and men were about 5'3″ and 5'8″.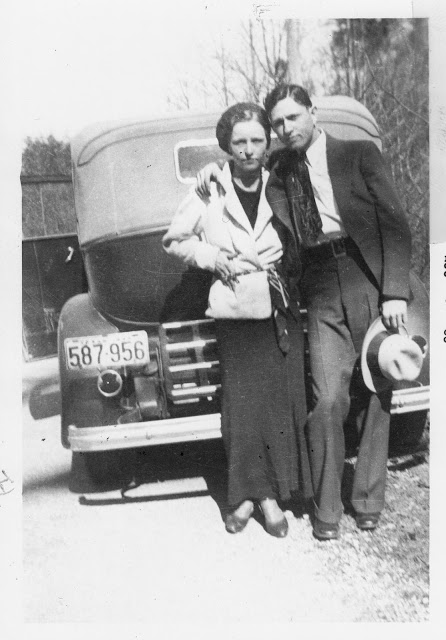 12. Bonnie didn't smoke cigars.
The most famous picture of Bonnie Parker shows her holding a pistol, her foot up on the bumper of a Ford, a cigar clamped in her mouth like Edward G. Robinson in Little Caesar. This is part of a collection of comic photographs clearly made for Bonnie and Clyde's own amusement. They were found on undeveloped film that was abandoned at the gang's Missouri hideout when police attacked the house. In one picture, Bonnie points a rifle at Clyde's chest, as he half surrenders with a smile on his face; another picture shows Clyde kissing Bonnie in exaggerated movie-star fashion.
These photographs, as well as Bonnie's poems, also found at the hideout, were largely responsible for making Bonnie and Clyde famous. Newspapers all over the country reprinted the cigar picture. All evidence shows, however, that Bonnie was a cigarette smoker like Clyde (Camels seemed to be their preferred brand). The mythic image of Bonnie as a mean mama puffing away on a stogie is just that: an image. On the other hand, Bonnie liked to drink whiskey, and several eyewitnesses from the time remember seeing her drunk. Clyde shied away from alcohol, feeling that it was important for him to be alert in case they needed to make a fast getaway.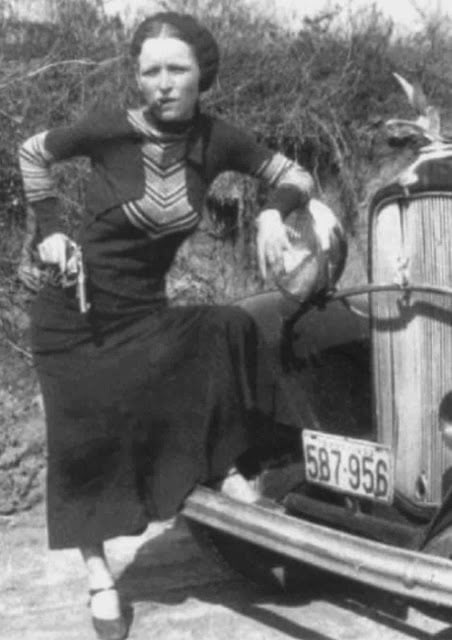 Credits: history.com  vintag.es