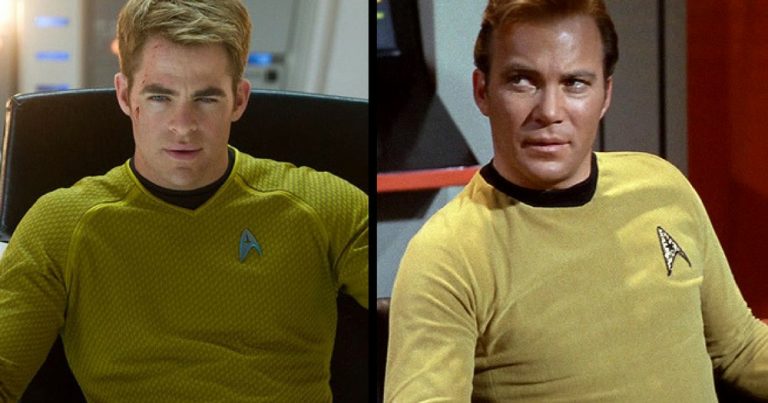 Hollywood star William Shatner hopes to boldly go where no Star Trek actor has gone before – return from the dead in the next big screen version of the sci-fi hit.
In an exclusive interview with DailyMailTV, the 86-year-old actor revealed a virtual reality production company has shown him how he can return to the screen as a younger Captain James T Kirk from the 60s TV era.
And while his version of the character has been laid to rest for more than 20 years now, Shatner says he is onboard for being beamed up for the fourth modern day film, which is likely to be written by Quentin Tarantino.
In the sci-fi film's modern reboot, the captain of the USS Enterprise is played by actor Chris Pine.
Late actor Leonard Nimoy, who starred as the original Dr. Spock alongside Shatner, was also included in the previous three flicks, but older Kirk was not.
Die-hard fans know that Kirk was killed in the 1994 Generations movie, but Shatner has found a way that 'opens the door' to the possibility of him coming back.
'I recently connected with a virtual reality company Ziva and they have virtual-realized me in 240 cameras all around shooting me,' he told DailyMailTV.
'So they can now produce my body and my face in any way, shape, or form – including what I was like 50 years ago.
Shatner is referring to Vancouver, Canada-based production firm Ziva Dynamics which he says has the technology to transform him into a youthful Captain Kirk.
He feels a comeback in the role, which made him a global star, would be roundly welcomed by fans.
However, Shatner noted that Star Trek film director J.J. Abrams has 'never indicated' bringing him back for the franchise, but the actor believes he can entertain the idea since he's discovered a way to revert to his youth.
'I don't know how you would do that 50 years later and how would you rationalize my present appearance, as compared to what I was like 50 years ago,' Shatner said.