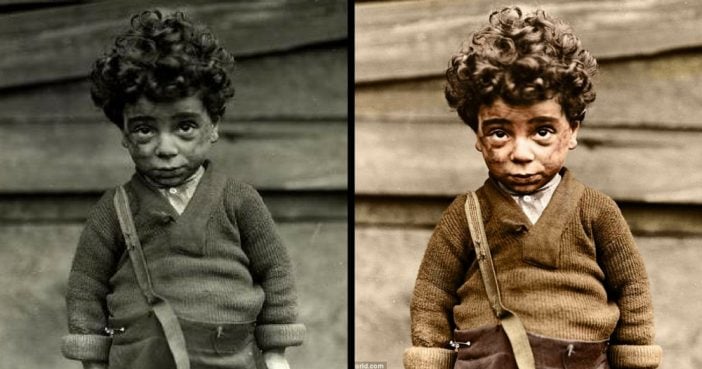 "There is work that profits children, and there is work that brings profit only to employers. The object of employing children is not to train them, but to get high profits from their work" – Lewis Wickes Hine (1874-1940)
Lewis Wickes Hine was an American sociologist and photographer, whose work was instrumental in changing child labor laws in the United States.
Hine is an amazing photographer. Aside from being technically excellent, his black and white photographs are some of the most important ever taken. His record of the first half of the 20th century is a unique glimpse into the real lives of working-class America, and his work for the National Child Labor Committee (NCLC) was instrumental in bringing about change for the nation's children.
Hine's work was not without risk. The immorality of child labor was hidden away from the wider public at the time, and his exposure to the underhand practices posed a threat to the industry. He was threatened with violence and death from factory foremen and would resort to wearing disguises such as a fire inspector or industrial photographer (making a record of factory machinery) in order to gain access to the workshops.
As a photo colorizer, my aim is always to try and connect with the photo subjects on another level, something not always possible with a black and white photo. Hine's photos are perfect for this purpose as they are already very engaging pieces. The eyes of the children are often the first thing we notice, and his photos are so crisp and focused that I believe the addition of color really helps to bring them to life.
As always in the digital age, it is easy to scroll past black and white photos without giving them a second glance, so I hope people will stop to look at these photos and learn more about the children pictured.
9-YEAR-OLD JOHNNIE AND THE SHUCKING-BOSS, IN DUNBAR, LOUISIANA, MARCH 1911
Shucking is the process of removing shells from shellfish. The original caption states that the shucking boss pictured was also a 'padrone', an employer who exploits immigrant workers. The caption continues that for four years he has brought these people from Baltimore.
MICHAEL MCNELIS, AGE 8, A NEWSBOY
This boy had just recovered from his second attack of pneumonia and was found selling papers in a big rain storm. The photo was taken by Lewis Wickes Hine in Philadelphia, Pennsylvania in June 1910. The man taking the boy's details is likely Hine's assistant.
JENNIE CAMILLO, AN 8-YEAR-OLD CRANBERRY PICKER, PEMBERTON, NEW JERSEY, 1910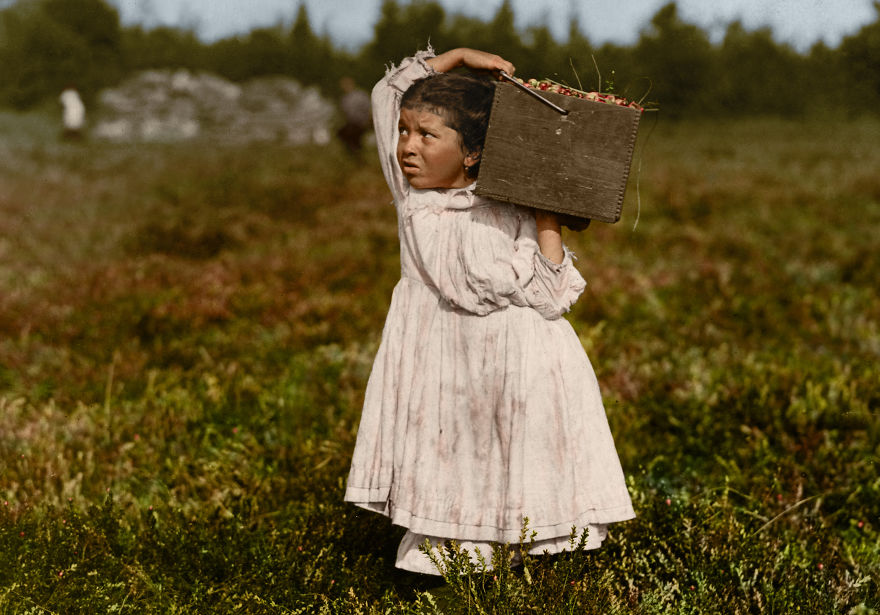 12 YEAR OLD NEWSBOY HYMAN ALPERT, WHO HAD BEEN SELLING NEWSPAPERS FOR 3 YEARS WHEN THIS PHOTO WAS TAKEN IN MARCH 1909, IN NEW HAVEN, CONNECTICUT
THIS PHOTO SHOW GARMENT WORKERS KATRINA DE CATO (6), FRANCO BREZOO (11) MARIA ATTREO (12) AND HER SISTER MATTIE ATTREO (5) AT 4PM, 26TH JANUARY 1910 IN NEW YORK CITY
A LITTLE SPINNER IN GLOBE COTTON MILL IN AUGUSTA, GEORGIA