These unexplainable photos are not for the faint of heart. Be warned: some of these are truly scary. I wouldn't look at these by myself or late at night. The rule with reading about ghosts is only doing it when it is still safe to feed a Mogwai.
1. "GHOST" HAUNTS THIS WOMAN'S NEW HOME
After just moving into a new house in England, Michelle Midwinter went outside to take a quick picture of home sweet home. It wasn't until Michelle looked back at the pic later that she noticed a face staring through the downstairs window. When she posted the picture online, a local historian, Andrew Jones, determined that the man in the photo could have been the apparition of "Old Man Kent," who was a suspect in a famous murder case in 1860. As a non-ghost believer, Michelle initially thought it was nothing more than a reflection of the flower bush in her front yard. But after seeing the picture, hearing weird noises coming from the walls, and seeing her lights flicker, she couldn't help but wonder if it was, in fact, the face of the man.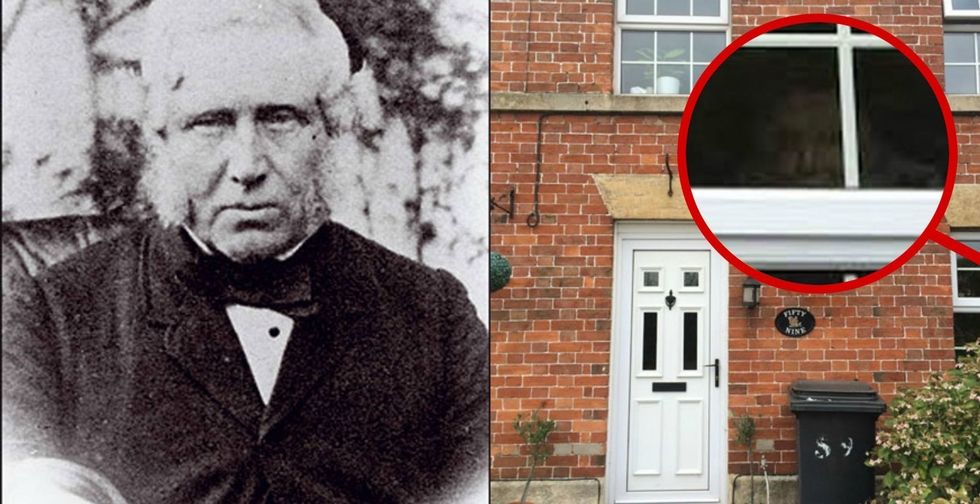 2. LITTLE GIRL PHOTOBOMBED IN JAPAN BY WHAT PEOPLE CALL "THE GHOST OF A SAMURAI"
While innocently minding her own business and posing for a vacation picture at a Japanese burial ground, this little Canadian girl appears to have awoken what some think is the spirit of a dismembered Samurai warrior. The dad who took the photo, which was then posted to Reddit by his friend, claims that no one else was around he snapped the photo—or, so he thought.
3. GEORGE WASHINGTON "GHOST" RANDOMLY SHOWS UP IN HOME
According to one Imgur user, the ghost of our first president appears to have recently shown up on a bedroom wall. "Didn't believe my girlfriend when she said she saw a face on the wall," Imgur user Mahurtma wrote on the post. "Then I took a picture of it." Some Imgur commenters think it's the spirit of Albert Einstein, while others are sure it's definitely George Washington. Either way, those are two pretty cool ghosts to be haunted by, right?
4. "SPIRIT OF A FAMED CROSS-DRESSER" PHOTOBOMBED THIS COUPLE'S RESTAURANT SELFIE
When Ian Wrin and April Russ stopped by Tujague's, New Orleans' second oldest restaurant, they were shocked to discover that a ghost had been hovering behind them in one of their selfies. Poppy Tooke, the radio host of Louisiana Eats, explained that the "ghost" was Julian, a famous actor of the silent film-era, who once starred alongside Rudolph Valentino in Aisle of Love. In addition to being quite the thespian, Julian, a cross-dresser whose alter ego was Vesta Tilley, had his own makeup line and his picture had been hanging on the restaurant's wall since 1917…until two years ago when it was relegated to the attic. Not so pleased with the move, Julian has apparently been haunting the restaurant ever since.