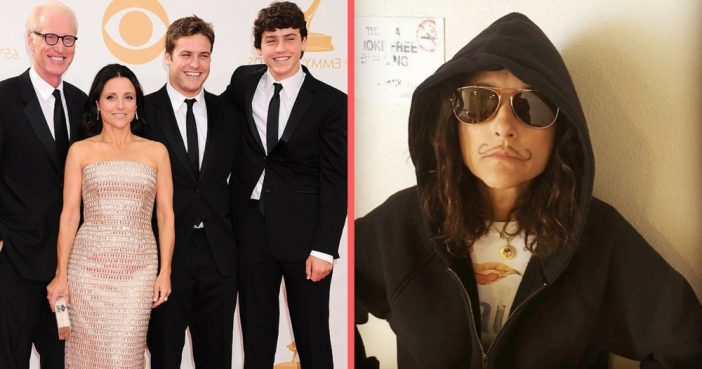 Julia Louis-Dreyfus' sons have been cheering her on every step of the way during her breast cancer battle, and on Thursday (January 11th) the duo sent a special message to their mom on her last day of chemotherapy.
I couldn't be more thankful for the outpouring of support for my mom yesterday. Here's a picture of us taken last year. Love to you all. pic.twitter.com/Kd2QrE4Qb4

— Henry Hall (@henryhallmusic) September 29, 2017
The "Veep" star, 56, shared a video of her boys, Henry Hall, 25, and Charlie Hall, 20, pumping her up by performing a ridiculously over-the-top lip-sync to Michael Jackson's "Beat It."
Watch the video here: 
https://www.instagram.com/p/Bd0nh3QH-Xm/?taken-by=officialjld
The short clip finds Henry and Charlie — whose dad is Louis-Dreyfus' hubby, actor, and comedian Brad Hall, 59 — demonstrating they've both inherited a bit of their parents' comedy chops.
https://www.instagram.com/p/Bb4kWdWjz9u/
"My beauty boys @henryhallmusic @charlie_hall made this for me today, my last day of chemotherapy. Pretty swell, right? Ain't they sweet?" proud mama Julia wrote in the caption.
In September, Louis-Dreyfus announced she had been diagnosed with breast cancer a day after winning her sixth consecutive Emmy for her role as Selina Meyer on "Veep." The star shared the news on Twitter, writing, "One in eight women get breast cancer. Today, I'm the one."
Just when you thought… pic.twitter.com/SbtYChwiEj

— Julia Louis-Dreyfus (@OfficialJLD) September 28, 2017