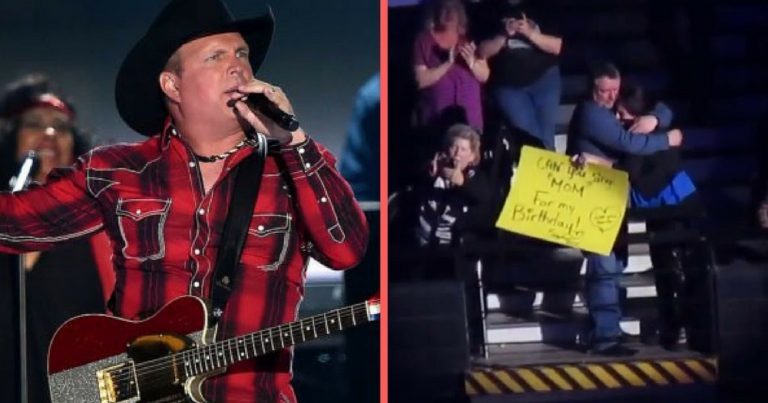 In 2016, Garth Brooks held a concert which had plenty of his fans in attendance. Neither Garth, nor the audience had any idea of how emotional and special his concert that day was going to turn out to be. Half way though the concert, Garth sees a woman in the crowd holding up a yellow sign.
This woman was Sophie, whose husband, Gary took her to the concert as a birthday present. The yellow poster read that it was Sophie's birthday. As soon as Garth had a look, he started singing "Happy Birthday" and the whole stadium joined in.
But that wasn't all that the yellow sign held by Sophie read. Taking a closer look, Garth read, "Can you sing 'Mom' for my birthday?" Garth was a little surprised and although he was going to give her the birthday present, he could not help but ask Sophie the reason for wanting to listen to his 2014 song "Mom."
The reason moved everyone in the concert to tears. Sophie lost her three and half year old son on Sept. 23, 2011. It was for him that Sophie wanted to listen to her favorite song by Garth.
Garth lost no time in obliging to her sweet request. But before starting, he said, "It should never go in that order. So let's sing this, cause where babies come from, that's where babies go to. Garth began to sing, and directly to Sophie! It was a moment charged with heavy emotions and one that Sophie will remember for a lifetime.
Later, Sophie took to social media to express her joy and gratitude after the concert. This was her message –
The most memorable birthday I could ever ask for! Thank you Garth Brooks, Gary for taking me to the show for my birthday, to the fan who took this video (I could't even remember half of what happened. I was so stunned!) and to Antoine for showing up on my birthday in a spectacular way!

I had requested to Antoine and God in a prayer before the show that Garth sings this song for me especially. I never imagined it would turnout to be such a divinely well orchestrated moment!

Garth Brooks is nothing short of a class act. That is what I love the most about him, the quality of his heartfelt lyrics, his genuine love for his fans and of course, his God given talent.

Antoine left us on September 23rd, 2011. He was only 3 and 1/2.

Fly away precious little Antoine, until we meet again Angel!

Much love, Sophie xoxo
And here's the moment that choked everyone up…
Credits: Inspiremore.com