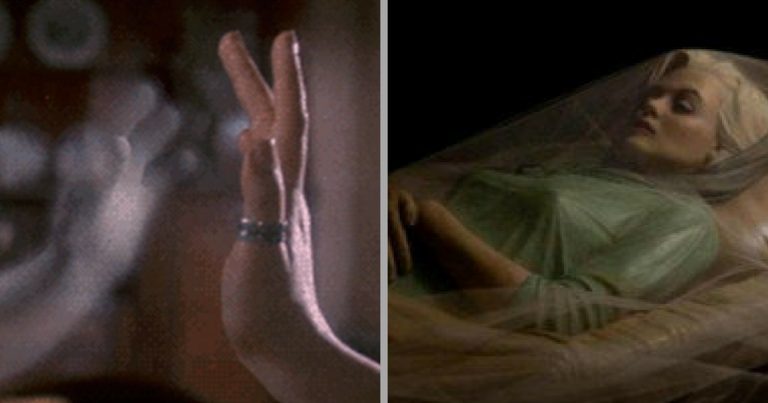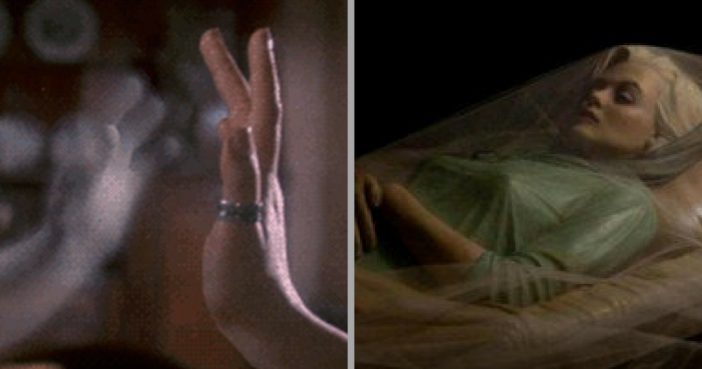 Not so long ago 67-year-old pop star Cher claimed that her late husband, Sonny Bono, is the reason why the lights flicker in her million-dollar home. "I have a beautiful chandelier that he makes the light go on when it is impossible, there is no power on," she says. Either Bono has too much time on his hands in heaven or Cher is nuts behind on her electricity payment. Nevertheless, this wouldn't be the first time a deceased star makes a special appearance. Here's a list of the afterlife's busiest celebrities and where you might go to find them.
1. "Marilyn Monroe"
A creature of habit, the bombshell hasn't strayed far from her usual haunts. Monroe has appeared to guests of the Hollywood Roosevelt Hotel in a full-length mirror that was originally located in the poolside suite she inhabited early in her career. Some have reported seeing her in the Brentwood home where she fatally overdosed.
2. "Rudolph Valentino"
Want to catch a glimpse of Hollywood's original Playboy? You have to hit the sack. (How many girls didn't hear that when he was alive?) Valentino is known to lounge around his former bedroom, and in bed at what used to be his beach house in Santa Monica. Some have also spotted the actor at Studio Five at Paramount as well as at his final resting place, Hollywood Forever Memorial Park. There's also rumors of a cursed ring and sightings of his long gone dog roaming Hollywood's pet cemetery.
3. "Montgomery Clift"
Another one of the Roosevelt's friendly ghost is Montgomery Clift, who lived there for three months while filming From Here to Eternity. Guests of the hotel (the celebrity version of the Hotel California, it seems) report seeing his ghost on the ninth floor, playing the trumpet and pacing the hallways while reciting his old lines.
4. "George Reeves"
The Adventures of Superman actor's death was shrouded in mystery, as some believed that his alleged suicide was really a murder or accidental shooting. Reeves now supposedly haunts the Beverly Hills home where he died, though it's no surprise that such a gruesome death (he was found in his home with a single gunshot wound to the head) would result in eternal unrest.
5. "Ozzie Nelson "
The Adventures of Ozzie and Harriet star still wreaks havoc in his former home in the San Fernando Valley. Owners claim to hear Nelson run the faucet, open and shut doors, and make the lights flicker. A female tenant who claims to have felt the actor playfully move her sheets and kiss her on the neck reported the strangest sighting. A far cry from the wholesome family man we were used to seeing on television.
6. "Errol Flynn"
Flynn was Hollywood's original bad boy. In the 1940s, he was famous for the lavish, decadent parties he threw at his estate in the Hollywood Hills. In 1959, Flynn's hard-partying ways caught up to him and he died. For a while, there were no signs of paranormal activity in Flynn's old home. But in 1980, things started to get weird. The new owner's daughter reported all sorts of ghostly happenings. Could it have been Flynn still partying from beyond the grave?
7. "Lucille Ball"
Lucille Ball is arguably one of the most influential female performers of the last 100 years. When she died at age 77 in 1989, she left more than just a great legacy. According to the new owners of her former home, intense paranormal activity is the norm. For example, they say there are often loud voices coming from the attic as if there's a party going on up there.
8. "Al Capone"
Many people don't know that Al Capone, the most infamous prohibition-era gangster, was an avid banjo player. It's said that Capone's spirit still haunts his old cell at Alcatraz Prison. A guard at the prison reported that during his shifts, he would often hear banjo music coming from Capone's former cell.
9. "Elvis Presley"
While Elvis conspiracies abound, it's very likely that the king of rock and roll is in fact dead. This fact is backed up by reports that Elvis' spirit has taken up a new home in Nashville — the building where he recorded "Heartbreak Hotel." These days space is occupied by a TV production company. Allegedly, every time someone mentions the name "Elvis," the paranormal activity begins.
What celebrity ghost sightings do you know about? Let us know who we missed.