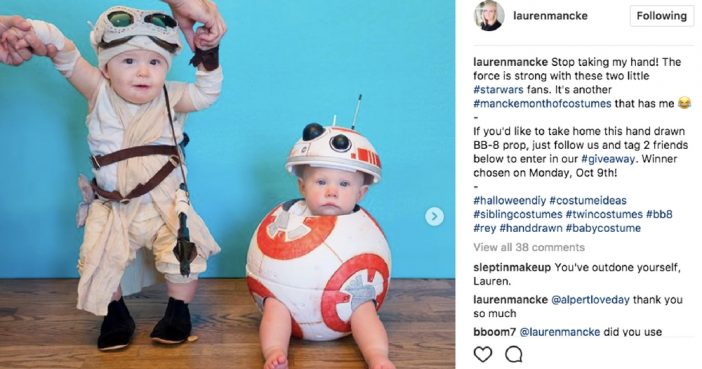 For two lucky babies, every day is Halloween once October rolls around.
PEOPLE interviewed Lauren Mancke — a designer, entrepreneur and costume connoisseur from Columbia, South Carolina — is making custom Halloween outfits during all of October for her 8-month-old twin girls, Lera and Marigold, using items she has laying around the house.
"I always loved making costumes when I was a kid," Mancke, 32, tells PEOPLE. "When I was a kid I never bought a costume, I always made it. I've always been a fan of Halloween, and I just love homemade costumes."
The project started with her 3-year-old son, Fox, back in 2015, when Mancke posted a collection of pictures featuring the then 16-month-old in fun costumes based off of popular television shows and classic movies, like Reno 911, Back to the Future and Indiana Jones.
"I felt he was going to want to choose his own costumes soon," Mancke recalls, "so I was trying to get all of that Halloween craftiness out of me while he was still a baby!"
Mancke skipped the following year because she was pregnant with the twins and needed some well-deserved rest, but now she's spending a few hours every morning making two outfits for little Lera and Marigold. Once the twins are dressed up, Mancke gives the girls some cereal puffs to distract them long enough to take a photo, which she'll post on her Instagram page to showcase her creations.
"I've just been doing it here and there — with twins, you don't have a lot of time!" Mancke says while laughing. "I've been making the costumes in the morning and shooting them after they had their first nap, so they're in a good mood."
The project leaves her with a ton of leftover costumes, so Mancke recently started a #ManckeMonthofCostumes campaign to give away some of the outfits in the lead-up to Halloween.
https://www.instagram.com/p/BZuNO4HHp6p/?tagged=manckemonthofcostumes
https://www.instagram.com/p/BZ1R1L8lbeU/?taken-by=laurenmancke
https://www.instagram.com/p/BZyy0Nrltlb/?taken-by=laurenmancke
October is still just beginning, and there are a lot of costumes to go, but Mancke says one set of costumes she has in mind will be based on a popular HBO show — so stay tuned.
The crafty mom says she hopes she can inspire other parents to venture into DIY costume-making, and, most of all, she hopes her pictures can bring a smile to those who see them.
"If it makes people happy, that's the main thing for me," she says. "It makes me happy to make them, and if it makes other people happy, that's really why I want to do it."
(Source: PEOPLE)
Follow Lauren Mancke on INSTAGRAM: #ManckeMonthOfCostumes and on TWITTER
https://www.instagram.com/p/BZq0uQ6lxmw/?taken-by=laurenmancke
(Source: PEOPLE)
Follow Lauren Mancke on INSTAGRAM: #ManckeMonthOfCostumes and on TWITTER